Leaving topics like sustainability and pollution entirely to government is plain stupidity. No matter how much subsidy our government gives us on our electricity, since it does not come from sustainable sources, it woulds soon run out. We need to find solutions through which we can make our share of contribution. For example, by using the best solar powered generators for home use, we can reduce our burden on the environment.
10 – Best solar powered generators for home use
Pollution levels have reached an all-time high as more factories and plants dot our landscape. Factories aren't the only places that need to change their mode of operations, however; residential houses also need to contribute to lowering the pollution levels and conserving natural resources, else all efforts would be redundant. One way we can do this is to switch to solar powered generators for home use. Since they run on the sun's energy, they don't emit pollutants and help conserve fossil fuels.
1. Powercube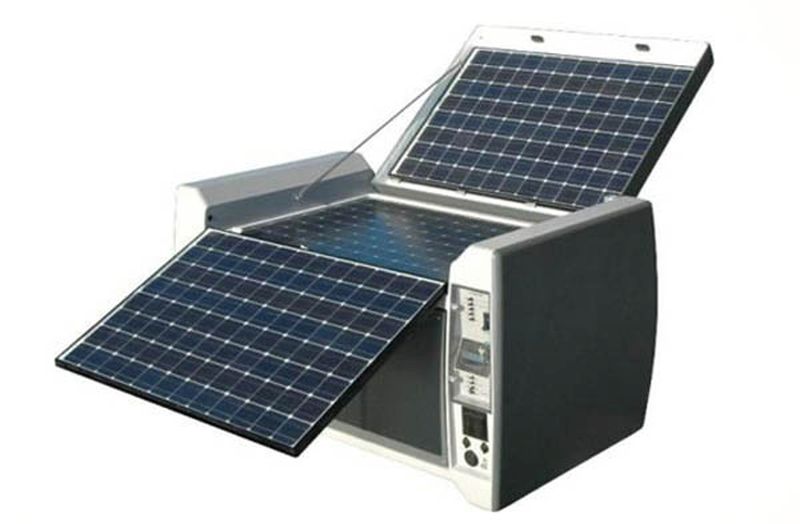 Lyman Morse has developed the Powercube, a solar and wind energy generator in a bid to go green. Contained in a fiberglass box, the generator will be available in two sizes, each costing $27,000 and $37,000. The batteries are said to be able to store a charge for three weeks as well as being able to provide 3.5kW of power in short spurts. For now, the generators are being tested for use in military applications. The makers say that the Powercube is ideal for areas like construction sites, cellphone towers, island camps and homes that can't make use of conventional power.
2. The Harvester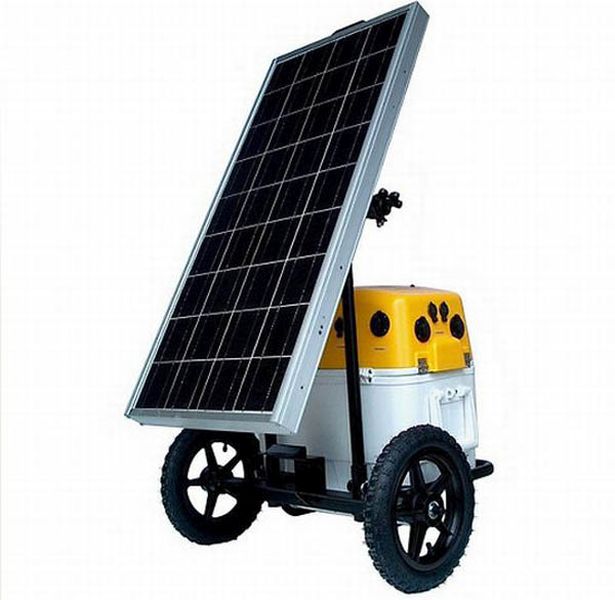 The aptly named, The Harvester, is a portable solar powered generator that's perfect for home use. Developed by Solar Marsh, the machine acts as a 750W, 12 Volt DC power source, which is able to push small gadgets like small power tools and small televisions into operation. While, its use may be slightly limited, it's ideal for camping, fishing and hiking trips as it recharges itself for free using a 50W solar panel. Its portability means that you can carry it to any place that doesn't have access to conventional power.
3. Wagan Tech five paneled solar powered generator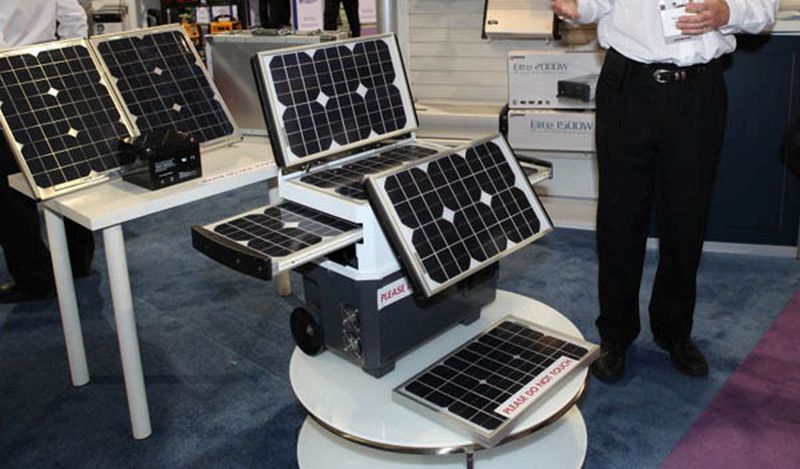 While most solar generators are equipped with a single solar panel, Wagan Tech has come up with one that comprises five. The rather powerful home generator is meant for appliances that use more energy, which is why the five paneled device is able to provide about 1,500W of power for around seven to eight hours. The unit has a 12 Volt battery with compartments that can hold two more. In addition, the unit can also accommodate another two panels to provide for higher power needs.
4. VSP3500 Solar generator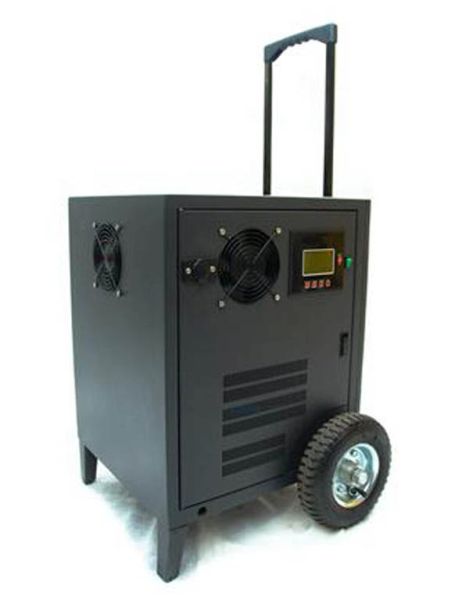 The VSP3500 Solar generator is an excellent choice for people having a higher power consumption but don't want to make use of conventional fuel based generators. Quiet and non-polluting, the VSP3500 can provide 3,500W of power with a 12 Volt DC. It has a low voltage alarm as well as high surge protection and an automatic overload shutdown system. Accessories include charge and link cables, a retractable handle to tow the cart easily as well as a solar charge system.
5. Household solar generator system
Manufacturer of solar panels and hybrid products is Guangzhou 3Hz Solar Technology Corporation Ltd. It has come up with a household solar generator system to power devices like televisions and other media devices. Said to be quiet and efficient, the generator uses a microcontroller to achieve automatic control. Moreover, it also provides real-time information on battery voltage, ambient temperature and charge, and discharge rates. The inverter of the generator is resistant to shock loads. This protects your appliances from damage.
6. Solman Mobile Solar Generator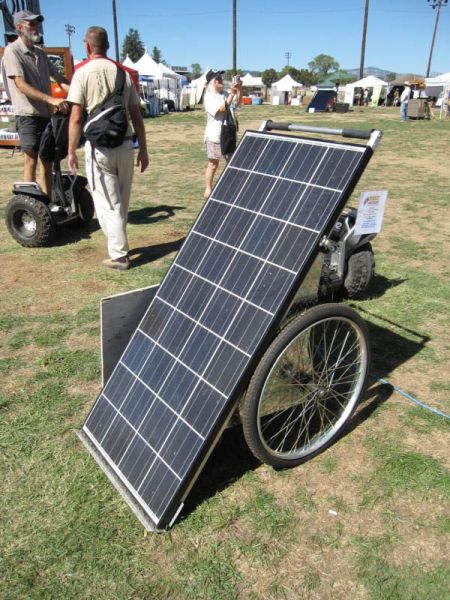 Solman's Mobile Solar Generator has wheels, which allows users to move it from place to place with ease. Depending on how much sunlight it harnesses, the generator can provide 1,200W of AC power, 12 Volt DC power. It is good enough to charge small Ni Mh batteries. The two-wheeled cart consists of a 135W solar panel, solar charge controller, AC/DC plugs, three 100 amp/hr batteries, a watt meter and a 1,500W inverter/charger. All Solman generators consist of aluminum instead of plastic, guaranteeing a longer life.
7. Ecotricity 1800 Watt solar generator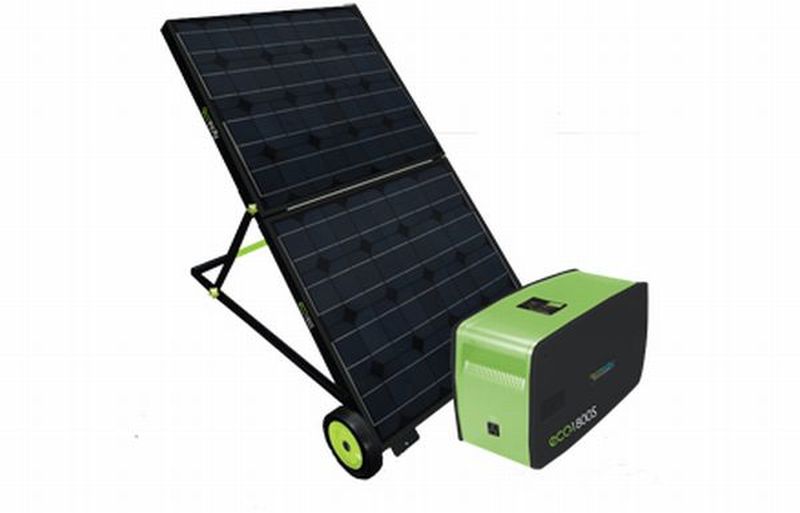 EcoTricity is a handy generator that serves as a source of backup power for your home. The 1,800W solar generator makes use of a 90W solar panel to harvest sunlight that in turn charges the AMG batteries inside the machine. Incidentally, the batteries can also be charged using a wall outlet, perfect for those days when the sun isn't at its strongest. The two wheeled machine makes for easy mobility and can be carted around almost anywhere.
8. OuXiang International Limited solar generator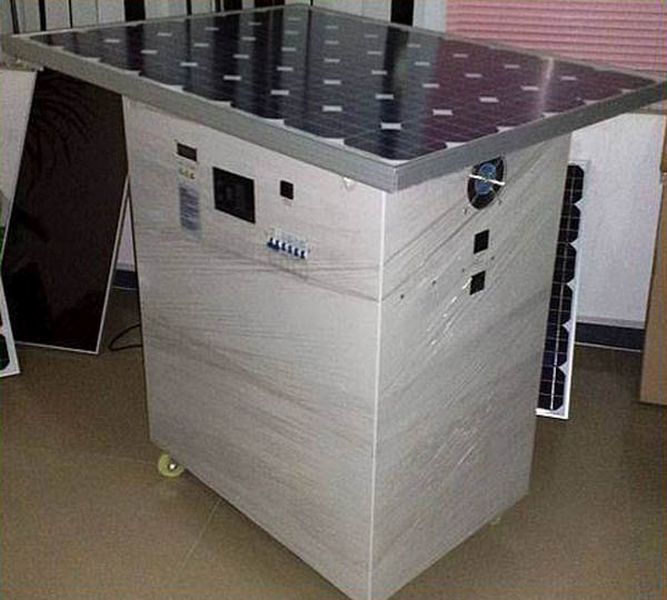 OuXiang International Limited has developed a solar generator for use at home. Ideal for powering devices like TVs, fans, computers and radios, the generator has a maximum DC input of 12 Volts with a watt peak of 20 to 40Wp. It also comes with auto protection in case of overload, short current and voltage fluctuations.
9. 500W solar power system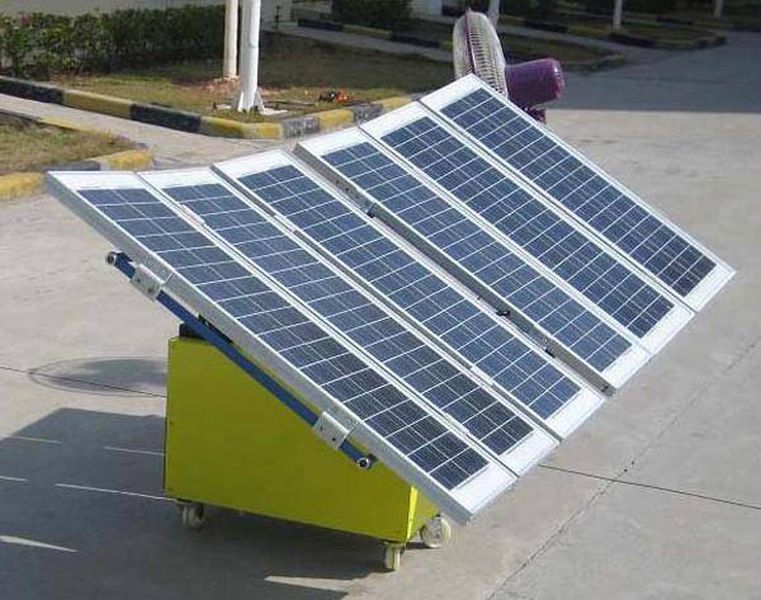 The next on the list is a solar energy generator created by Sunny Energy Industry. 500W of power make it ideal for powering appliances like computers, printers, household lamps, televisions and water pumps. It has the advantage of being able to run for three cloudy days continuously which comes as a relief during those dull days when the sun isn't out. The unit consists of six solar panels of 84W, four 12 Volt batteries, an inverter, charge controller and one bracket cable set.
10. Tree like design for a solar energy generator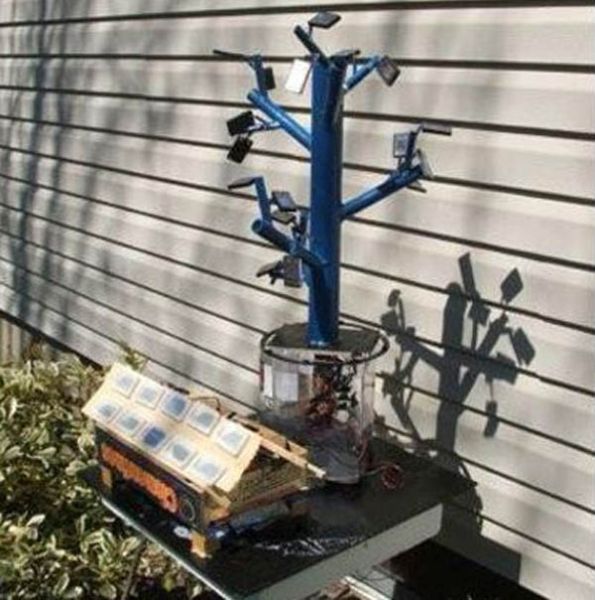 The last on the list of solar powered generators for home use is one that takes the cake for being designed by a 13 year old. Aidan Dwyer, is the brain behind the tree like structure whose strange design takes inspiration from the Fibonacci sequence of numbers. What's unique is that no branch overshadows the other, allowing the panels to harness as much sunlight as is available.
Seven steps to set up a solar power generator
If you want to join the global green revolution, start from your home. Set up a small-scale power generator to make the most of the solar energy. Find below a 7-step guide for coming up with a photovoltaic cell generator unit:
1. Start with calculating the required power.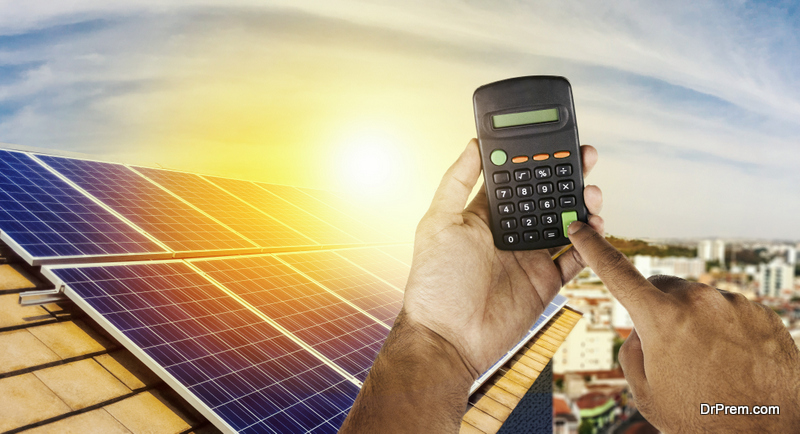 Choose the most suitable electronic devices to use and find out their power consumption in terms of 'Watt-hours" (Wh). You can do this by multiplying the wattage ratings of the devices by the usage hours. Finally, find the total of the Watt-hours you have found.
2. Consider the site
Check the site where you want to set up the solar panels and ascertain how much sunlight actually falls there without any obstruction. The time during which a shadow (of a tree, edifice, etc) remains on that place should not be taken into account for this purpose. You should also regard the 'Winter Hours' as another important factor as days are shorter in that season. Add up all the hours.
3.Calculate the power required
Now, you have to find out the amount of power that should be produced every hour of sunlight in order to fulfill your requirements. Just divide the total power consumption in Watt-hours by the total number of hours. However, there are a number of other factors (angle and exposure to the sun, cloud coverage, common inefficiencies, etc.) that can affect the output of the solar panels. So, multiply your answer by a number between 2 to 5 to get the actual amount of power needed.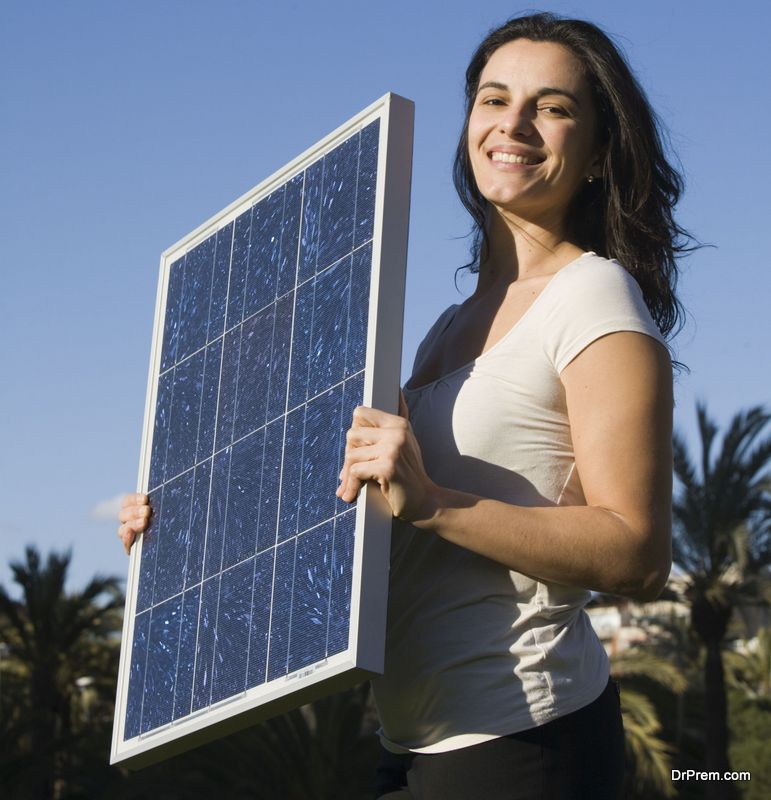 It is always good to go for 'B-grade' cells as they come with proper warranties yet are extremely affordable. Also, opt for cells that can last up to 5 or 10 years. With the price of solar panels is going down significantly, there is no need to search hard for long-lasting ones.
5. Determine the capacity
Prior to buying the batteries for your solar power generator, determine the capacity that will be required by you. At first, double up your power consumption necessities as you can't use more than half of the batteries to avoid over-discharging. Then, calculate the capacities of the batteries by multiplying it by the number of days to use.
6. Purchase your batteries.
Choosing 'deep-cycle' batteries over normal car batteries will always be good for your solar power generator. If budget is not a constraint for you, go for AGM batteries in order to get the best results.
7. Invest in a charge controller
A good charge controller would help in providing support to your solar panels in producing current.  Things you should consider during the purchase are battery life, efficiency of the controller, cost of the controller, and so on.
How to build your own solar energy generator for less than $300
The sun is a great supplier! The solar energy from a single day can meet all the needs of the planet for a few months. The challenge, however, has been in capturing this tremendous energy in a usable form. Like many things great and grand, we can make a humble beginning in this endeavor too. It turns out that with a little patience and effort, we can generate usable solar energy at our own homes. Since this is a DIY, the end result will come at a very economical cost. Let us get to the tutorial right away.
Difficulty level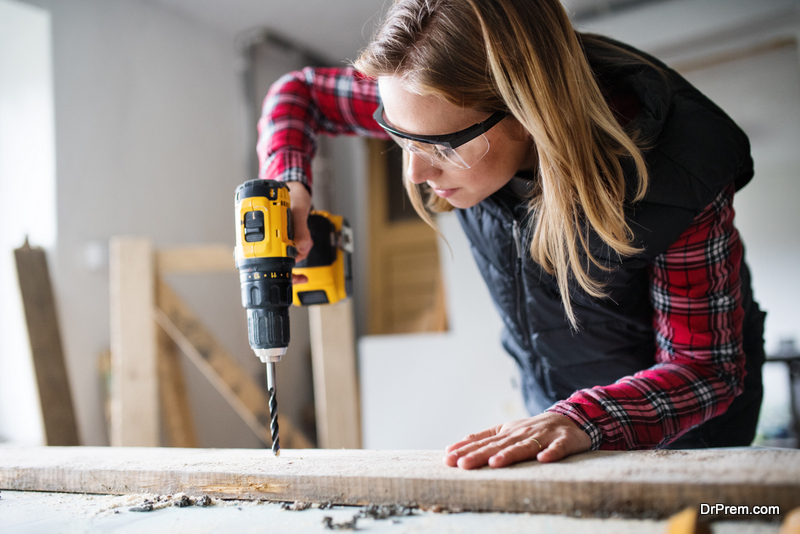 This can be set to 'moderate'. Requires some basic knowledge about drilling and making electrical connections, but any adult can easily venture into this project without much worry.
Time Required
About one to two hours must be sufficient once you have the necessary materials ready. This is a lovely DIY project to occupy a lazy Sunday afternoon.
Resources Required
A small solar panel rated 12V or above.
Deep cycle, rechargeable, 12V lead/acid or gel batteries.
A battery box to cover the exposed terminals.
A triple inlet model DC input ( adapter) for 12V to act as charge controller.
An inverter to convert the battery-stored DC power to AC power.
A multimeter to get various readings
Few lengths of insulated wire
A wire stripper
A drill
Bungee cords 
Estimated Cost
You would be able to build a generator for under $300 and we are not going to crank up the prices! Maybe we shall enlist probable prices to help you in your purchase. The solar panel would cost about $100. Bought at a bargain, the batteries would cost about $50-60. The battery box is about $25 and the DC input will cost another $10. The inverter will cost about $50-100.
Instructions
Use the drill to attach the multimeter and the DC input on top of the battery box.
Start connecting the wires by matching the polarities ( + and – ).
Connect the solar panel to the DC input or the adapter.
Connect the DC inlet or adapter to the batteries. The red wires depict the positive terminals while the grey wires depict the negative terminal.
Connect the batteries to the inverter. Some batteries have separate input and output terminals, some do not. If the battery has separate terminals, connect the output terminals to the inverter and input terminals to the DC inlet or adapter. If there is only one terminal each for the positive and negative on the battery, both the wires ( from the inverter and the DC inlet) go to the same terminals ( positive to positive and negative to negative).
You can use a bungee cord to keep all the parts together.
Your completed connections must be in the order as shown in the diagram at the beginning of the tutorial. Please check it once before finalizing the generator. The solar generator is now ready for use. 
Frequently Asked Questions
1) For making the solar energy generator, could I make use of car batteries?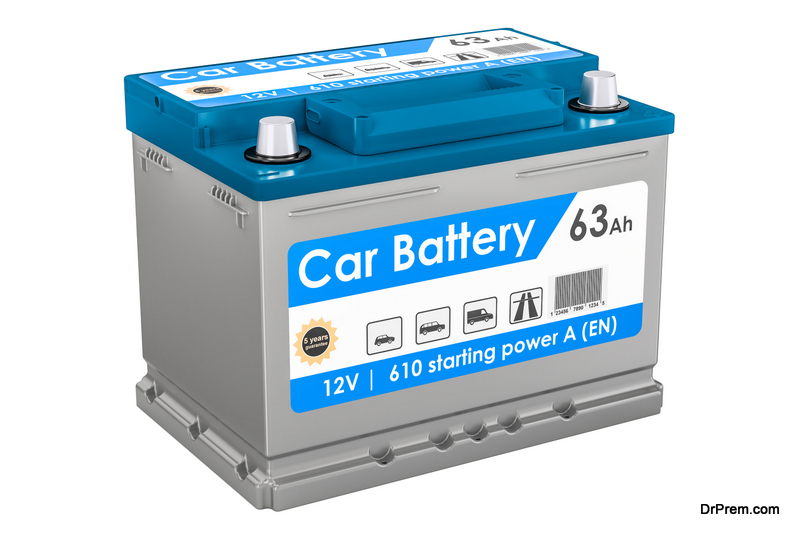 Car batteries are not deep cycle batteries. They are cranking batteries for occasional use, like starting your engine. Since our use is going to be continuous in nature, it is imperative that you use deep cycle, rechargeable batteries.
2) There are so many inverters available. Which is the best one to purchase?
Quality always comes with a price. The better quality of inverter you choose, the more it will cost you. That apart, it would be recommended that you make a rough estimate of the watts you would be using. For instance, to use a television (=60W) and a DVD player (=20W), you would need about 80W. You will have to necessarily get an inverter that gives you the desired wattage.
3) Do I need the DC inlet or adapter? Can I not connect the solar panel directly to the batteries?
If you notice, the DC inlet or adapter has the same specifics as the batteries (viz. 12V). This inlet is necessary as a charge controller. If not for this, surges in current may damage the batteries. 
Quick Tips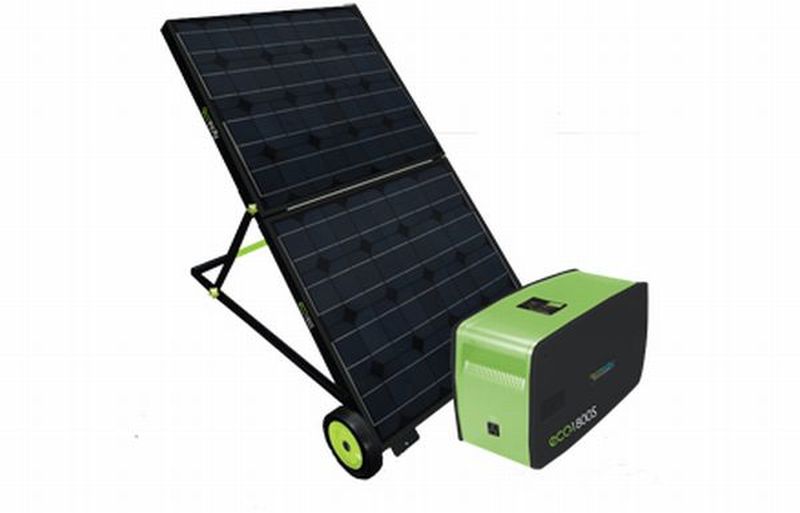 You could do a little more for the environment by getting 'green' rechargeable batteries from companies like batteries.com or Greenbatteries Store.
If you are installing your generator in a pumpshed, garage or boat, you could save a few more dollars by avoiding the purchase of the battery box which is meant only to keep children safe.
You could look at the DC input of appliances like fans, hair dryers, lights etc. to get a good idea of the DC input to purchase.
The solar panel, the DC inlet, the batteries and the inverter have clear labels for the positive and negative terminals. Just refer to them as you make the connections.
Connect all the negative terminals first and then connect the positive terminals.
It will take about 5-8 hours to recharge a dead battery and about 1-3 hours to recharge a weak one.
If it is your first time and you are a bit diffident, you could check the connections by making a diagram and getting it certified by your local electrician. 
Things to watch out for
While making the connections, handle only one wire at a time. This will save you a lot of confusion.
Keep the solar panel covered and, in the shade, while making the connections. We do not want any shocking experiences along the way.
This construction is scalable and can be made with larger panels, batteries and inverters. It is better to start small and then replicate the success to bigger projects.
There are also other methods of creating solar powered generators. You can check one here.