The high buildings with many stories that can be seen standing towering around the urban cities of the world are called skyscrapers. When such tall buildings are built making use of eco friendly methods, they are referred as green skyscrapers or green buildings. Green buildings require latest innovations that help in making earth a better place to live. Today everyone is concerned about the ecological balance and are striving in their own way to maintain it.
Green skyscrapers are energy efficient in comparison to the ones made from timber or steel. There is no doubt that such building construction cost at least 5% more than the normal constructions, but these buildings save around 50-70% of the energy costs. Here is a collection of the top seven energy competent skyscrapers in the world. Some of these buildings are previously constructed and some are under construction.
1. COR Tower, Miami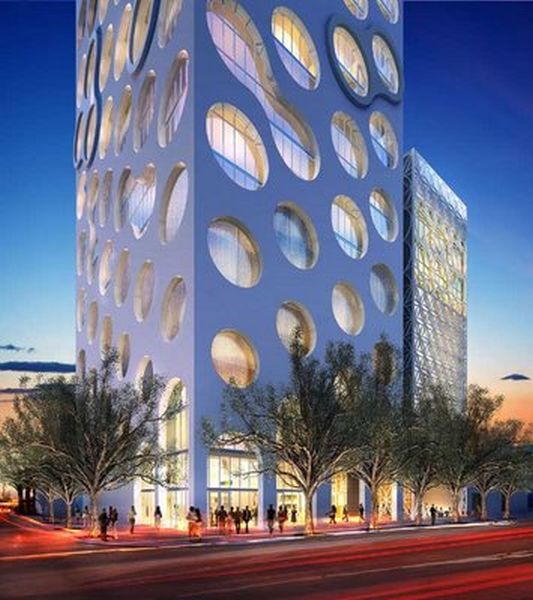 COR Tower is a unique and easy to identify structure with openings on its outer surface. This is a 25-storey green skyscraper that can be used for residential as well as commercial purposes. It is one of the greatest eco towers in the world with features such as the wind turbines, recycled glass tile flooring, photovoltaic panels; bamboo lined hallways, solar hot water generation as well as energy star appliances. COR Tower hosts over 113 residential units, 5,400 square feet of retail space and 20,100 square feet of office spaced.
COR Tower is a projects designed by Chad Oppenheim; Ysreal Seinuk, the structural engineer and Buro Happold, the energy consultant. The project costs around a $40 million.
2. Urban Cactus, Rotterdam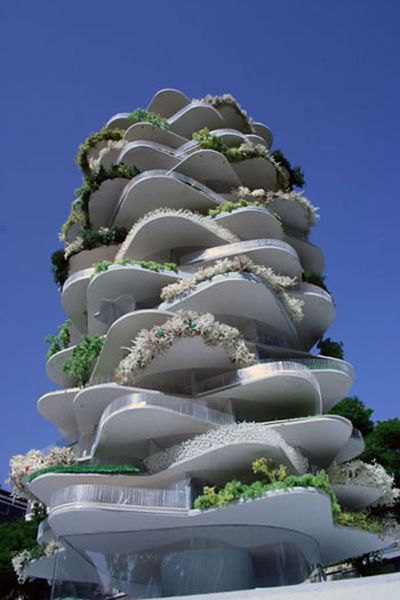 This building would look like a stacking toy to you. Urban cactus actually looks like a pile of irregularly rotated discs. The people living in this 19-storey building are lucky enough to comprise abundance of natural sun light that fall on the terraces. This is an extremely creative building structure that makes one wonder how imaginative the designer would be.
3. Green Lighthouse, Copenhagen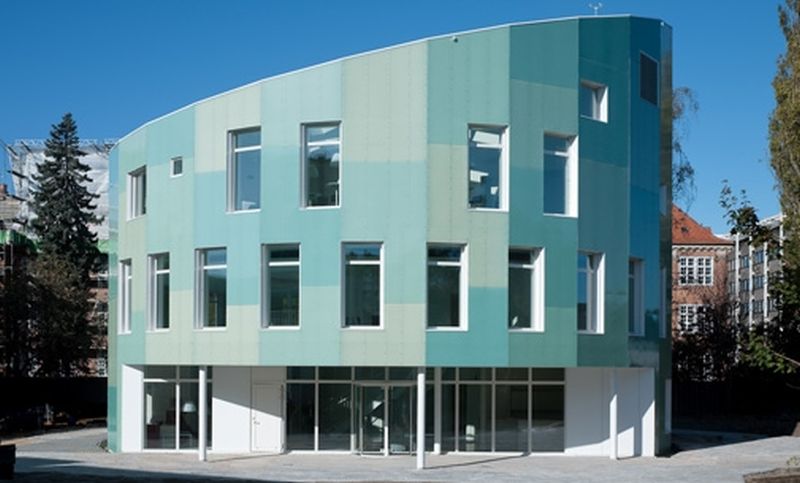 Green Lighthouse is a carbon-neutral building that is situated royally at the University of Copenhagen in Denmark. The building is said to offer 75% of fall in the energy.
This is achieved by means of the architecture and not with the assistance of any advanced technology. This building is a home to the University of Copenhagen's faculty of science. Students get answers to all their questions that are associated to their studies, exams and carrier.
4. Fusionopolis, Singapore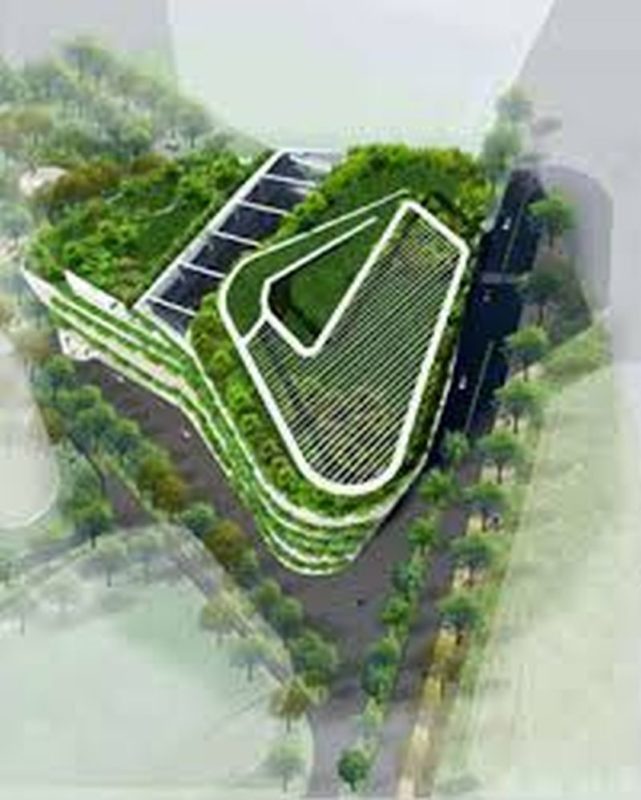 Fusionopolis is one of the biggest green skyscrapers in Singapore. The designer, a Malaysian born and UK based, Ken Yeang's vision was to design a remarkable building promoting the go green culture in between the busy Singaporean streets. The building's green infrastructure has a vertical spine of planting that rises high by the side of this 25 storied structure. Each floor of the building is decorated with landscaped garden terraces.
The building is constructed as such that natural light is directed to the inside of the building through prisms that repel the light falling on them. Its irrigation and drainage system have also incorporated Green elements in it.
5. Pearl River Tower, China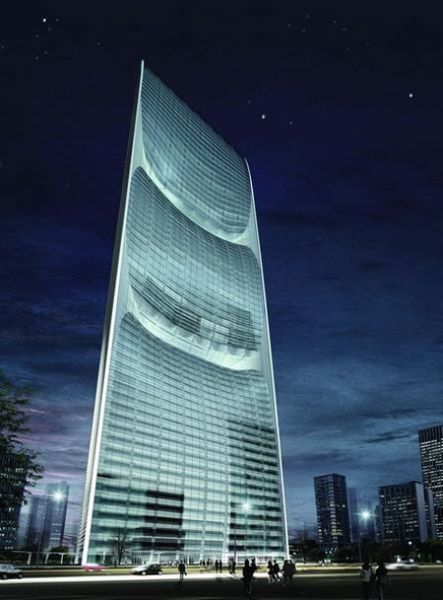 This tower is known to be as the zero-energy eco skyscraper. It is said to be the greenest buildings ever built in the world. Situated in Guanzhou, China, the building is designed making use of innovative structural techniques, solar design and passive wind by the architectural firm Skidmore, Owings and Merrill.
6. Greenway Self Park, Chicago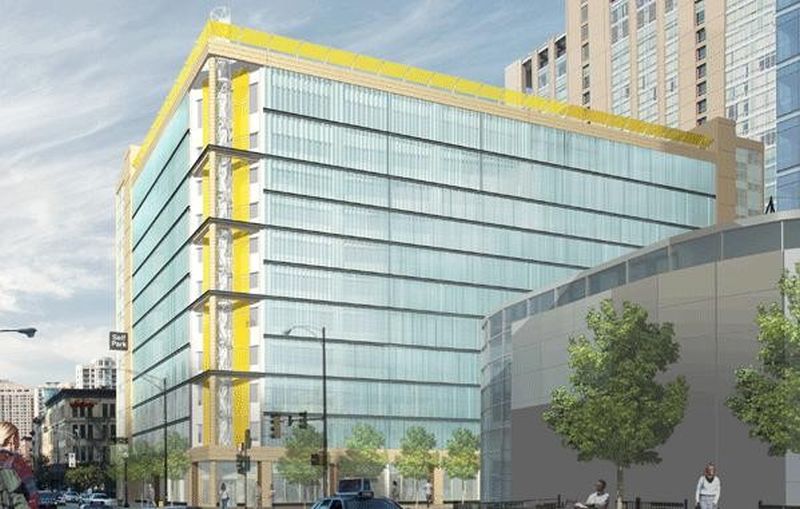 Greenway Self Park is the first ever eco friendly parking garage located in Chicago. The whole building is makes use of power generated by the six wind turbines that is placed at the southwest corner of the tower to offer electricity for its exterior lighting. Its green roof offers a perfect solution for the issues of rainwater runoff and urban heat. When you look at this building you won't realize that it is a parking facility. Spans across an area of 15,000 sq. feet. This 11 storey structure contains around 725 vehicle parking spaces. This parking garage includes a parking for bikes, plug-in stations meant for electric vehicles and spaces designed for car sharing services.
7. Waugh Thistleton Residential Tower, London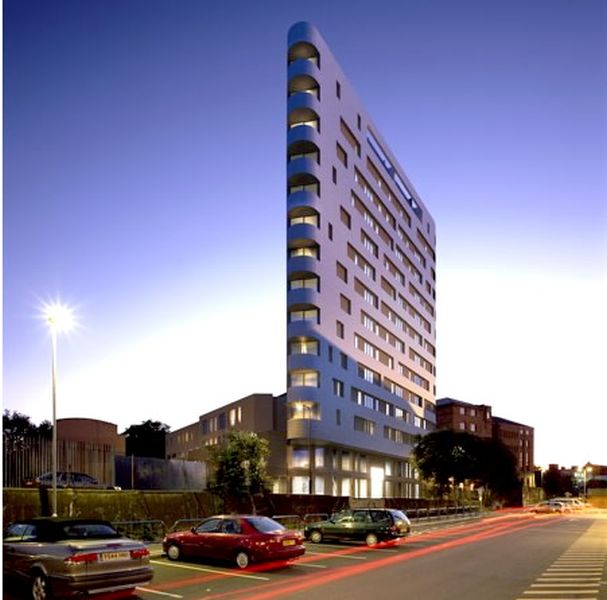 This is a residential skyscraper located in the Ramsgate Street in London. This is a 14-storey building is a new attraction in East London. Its important green elements include the wind turbines that provide about 15% of the tower's energy requirements. The turbines produce over 40,000 kilowatt hours in a year but that depends on the speed of the winds. The most interesting part is this skyscraper saves release of around 7 tonnes of carbon dioxide into the atmosphere each year.
8. Chinatrust Bank complex features modern buildings with green roofs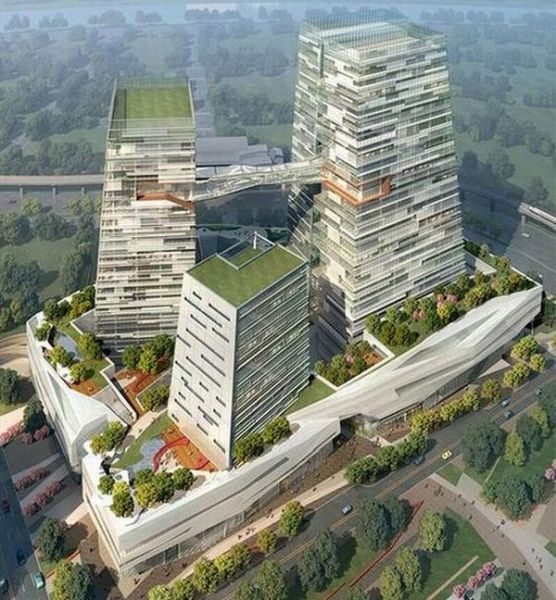 The Chinatrust Bank complex located in Taiwan is an eco friendly structure because it features green roofs. LA office of NBBJ has designed this beautiful skyscraper together with Taiwanese firm Fei & Cheng Associates. This 30-story complex features 21-story commercial office building and 10-story hotel. It is expected that by 2012 the whole structure would cover around 2.5 million square feet. The building has been designed to use the natural site and solar energy to generate energy. The gardens on the roof of this building will reduce rainwater runoff.
9. Felipe Campolina's portability skyscraper features green roof and walls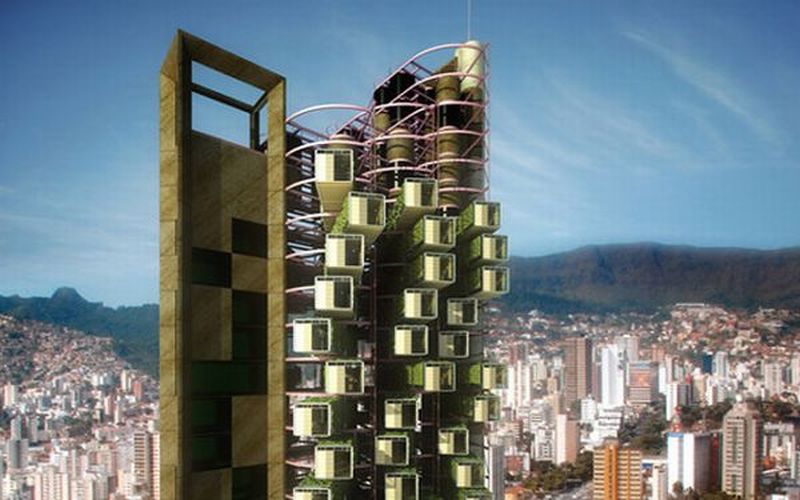 Designed by Brazilian architect Felipe Campolina, this futuristic skyscraper with green wall and roof is made of several mobile living units. The living units of this building are scaled from the standard OSB plate and steel frame structure makes up the mobile living units. The wall features thermo-acoustic insulation and the tower features rails on each floor. Six independent units are carried by each floor. The units have been designed in such a manner that they can be added or removed without disturbing the neighboring unit. The building has a water recycling system as well.
10. Perkins Eastman showcases green towers for Mumbai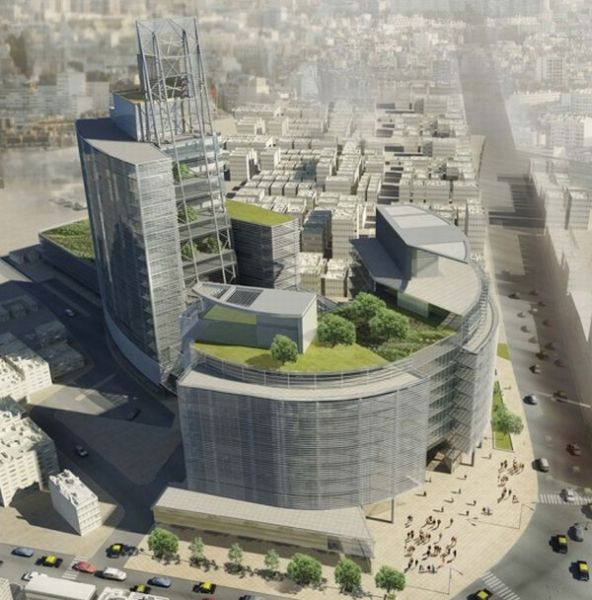 American company Perkins Eastman recently unveiled two skyscraper designs made especially for the Indian city of Mumbai. The designs of these green skyscrapers were showcased during the Kohinoor Skyscraper Competition. In the first design, Perkins Eastman has suggested to build a 108,000-square meter structure. This 33-story building features a double story retail base. In its second design, the American firm has proposed to build two mid-rise buildings of 66,700 square meters each. These eco friendly towers will generate electricity using renewable sources of energy. The roofs of the buildings will have gardens.
11. Suburb in the city: unique skyscraper provides urban green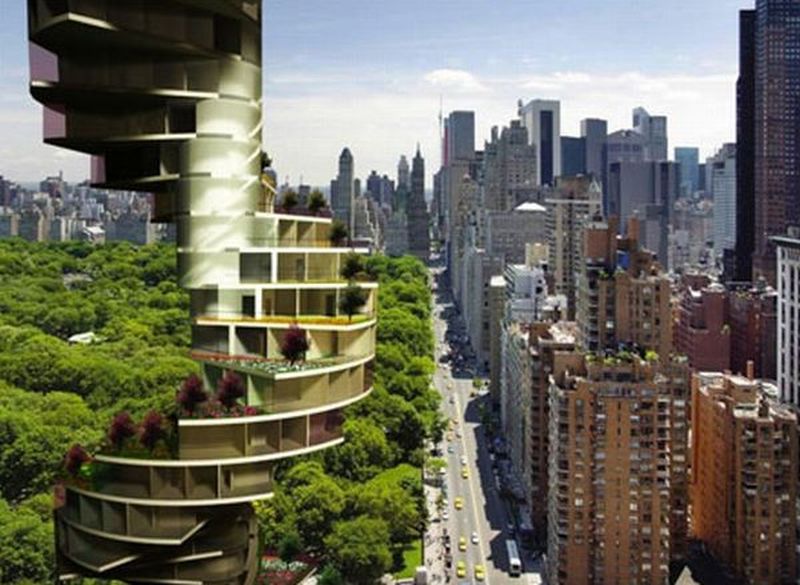 Spanish firm Nabito Architects has proposed to build a unique skyscraper named "Stairscraper" in Abu Dhabi, UAE. The firm claims that this green building would allow the occupants to feel the joy of suburban life while living here. Each apartment of this building will have a roof which will be used as the garden. Each unit in this skyscraper will have private outdoor space, which will allow the occupants to grow their own garden.
12. Fusionopolis – A truly green skyscraper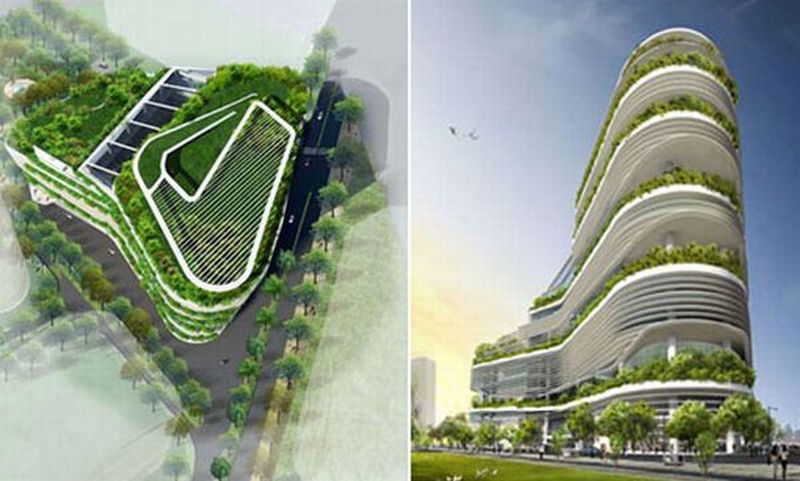 UK-based architect Ken Yeang deserves credit for designing a green skyscraper named Fusionopolis. He claims that it is the first truly green building in the world. Fusionopolis will be built in Singapore. This 15-story structure features a vertical spine of planting on each floor. Each floor of this building has got landscaped garden terraces. This green skyscraper will use natural sources like sun to generate energy.
13. America's tallest skyscraper gets a green makeover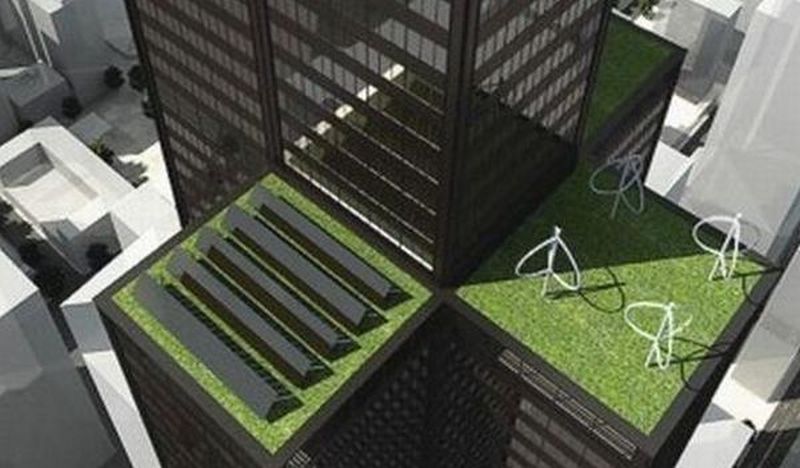 Sears Tower, the tallest skyscraper in the US, is set to get a green makeover worth $350 million. It is expected that the makeover would reduce the electricity of this 4.5 million square feet building by 80% and save 24 million gallons of water annually. Sears Tower contains 104 elevators and 16,000 windows and it is likely that this huge structure would earn LEED certification in near future. As part of the makeover, the roof of the building will get solar panels and wind turbines. Around 35,000 square feet of roof will be converted into garden.
14. Sustainable mixed-use 'Hyper-Tower' has a soccer pitch on top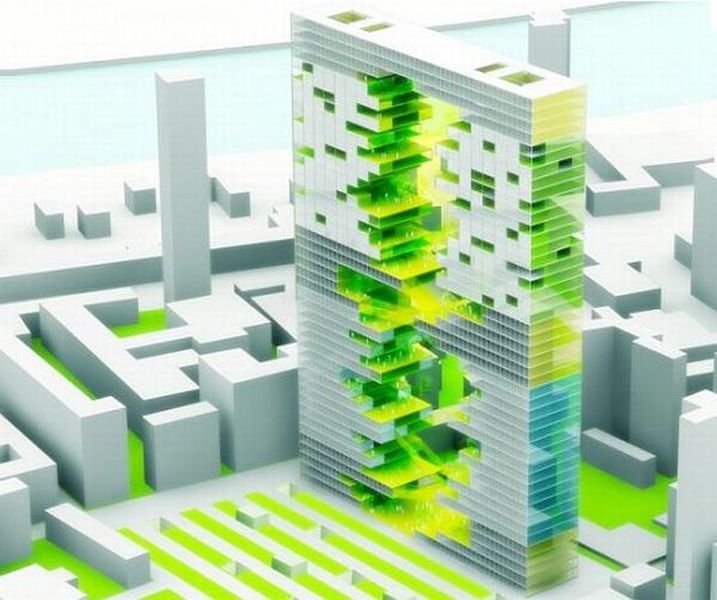 The "Hyper-Tower" is the brainchild of French architect Jaubert Francois. This twin-tower set up has space for residential apartments, commercial purposes and sports events as well. A vertical park starting at the ground floor connects the two towers. The park finishes on the roof of this building at a football pitch. This green tower has sports and residential facilities on the upper levels while offices, shops and restaurants are on the lower levels.
15. Sky-Terra skyscrapers create green urban space in the sky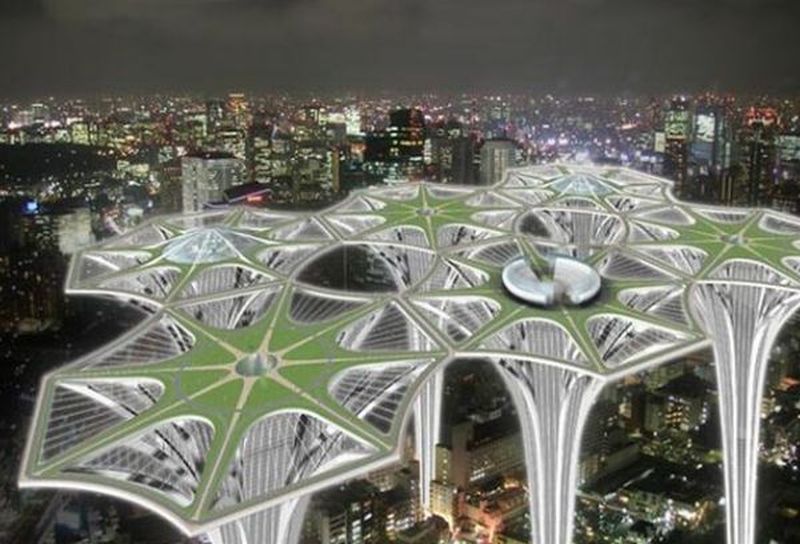 San Francisco-based designer Joanna Borek-Clement deserves credit for conceptualizing the idea of the Sky-Terra skyscrapers. The whole structure is infact a network of interconnected towers. This floating green structure features parks, gardens, fields, pools, etc. The height of the tower made from modular parts can be as much as 1,600 ft.
16. Biomimicry inspired cactus building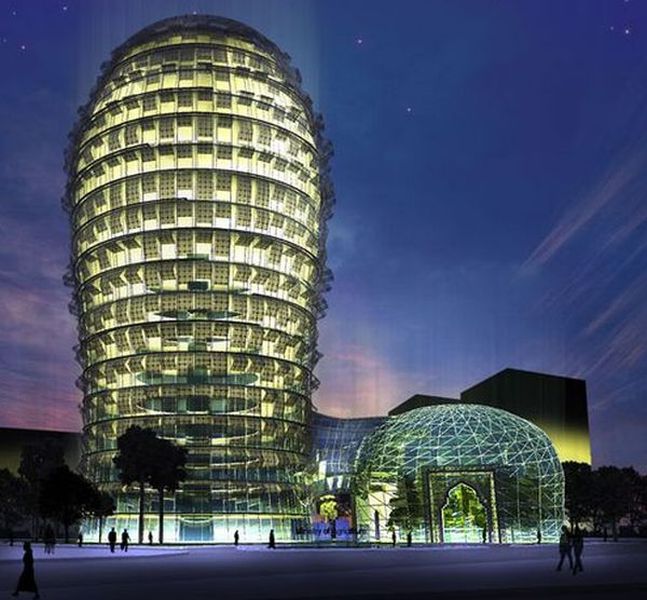 Aesthetics architects GO Group has designed this cactus-inspired energy-efficient structure for Qatari government. This building features several smart shades that open and close according to the sun's strength. This green building has a botanic dome as well.
17. Rødovre Tower to be plush sky village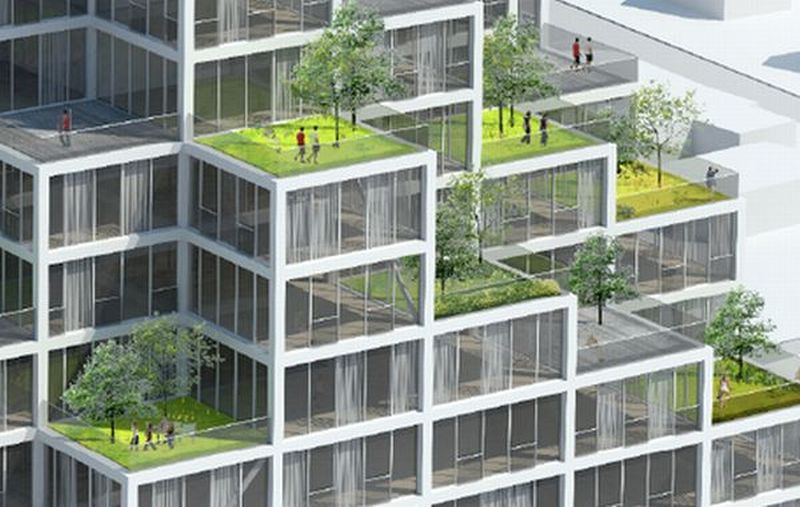 Danish firm MVRDV has designed a green building for Rødovre, a Danish municipality, in partnership with ADEPT. Named "Sky Village," this 381 feet building will have residential space, offices, hotel and park. The design of this eco friendly building is based on "pixels," which are flexible and measuring 646 square feet each.
18. 10MW Skyscraper:

Designed by Studied Impact, the 10MW Skyscraper has been proposed for Dubai. The tower has been designed to generate 10 times more energy than it needs. The tower is equipped with a 5MW wind turbine that sits on top of the building harnessing the wind, a 3MW concentrating solar system and an additional 2MW is to be generated with a solar updraft system. The 50-story skyscraper will pump renewable energy back into Dubai's electric grid.
19. Costanera Sur: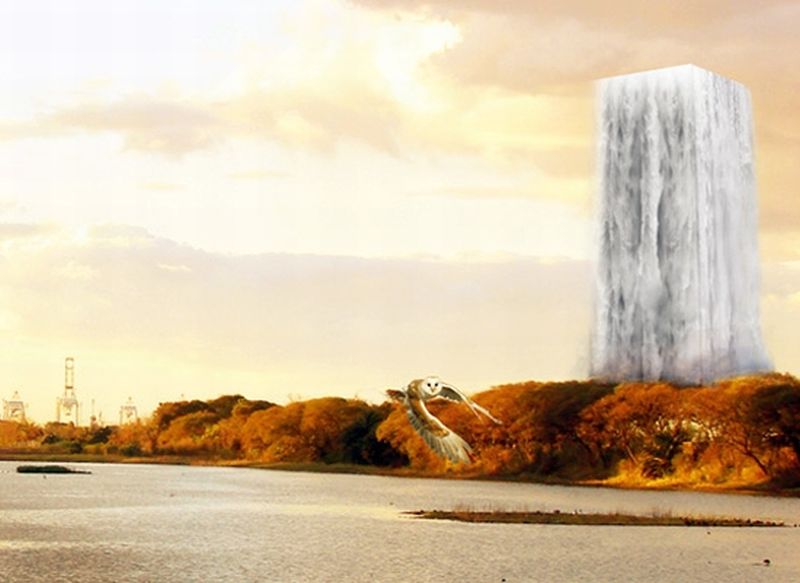 Envisioned by VisionDivision, the Costanera Sur is a unique skyscraper that won't house offices or apartments but will provide sustainable living space for animals. The vertical zoo will be built from debris left over from the construction of Buenos Aires' decades-old highways and will be self-sufficient in terms of water and energy. The vertical zoo will be equipped with a central pipe structure that will draw water from a nearby river and pump it all the way to the top of the building. Water will then be allowed to flow down the building's façade, creating a unique waterfall. The basement of the building will feature turbines and a central generator that will produce electricity from this waterfall.
20. Water-Scraper: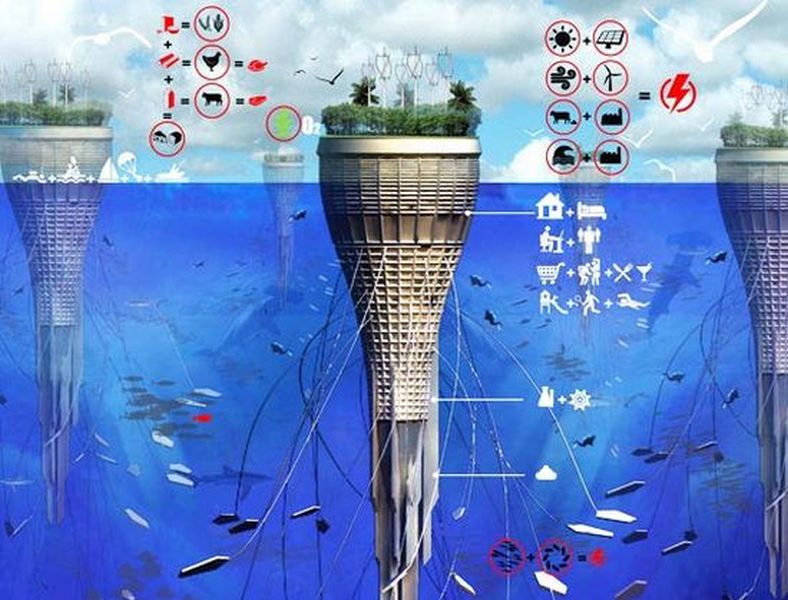 Unlike proposals which are designed to touch the sky, this one is simply the reverse and is designed to be built underwater. Conceptualized by Malaysian designer SarlyAdre Bin Sarkum, this unique skyscraper is a futuristic self-sufficient floating city. The design expands the concept of a floating island into a full-fledged underwater skyscraper that harvests renewable energy and grows its own food. It generates its own electricity using wave, wind and solar power and it produces its own food through farming, aquaculture and hydroponic techniques. The surface of the submerged skyscraper sustains a small forest, while the lower levels contain spaces for its inhabitants to live and work. The building is kept upright using a system of ballasts aided by a set of squid-like tentacles that generate kinetic energy.
21. Oasis Tower for Zabeel Park: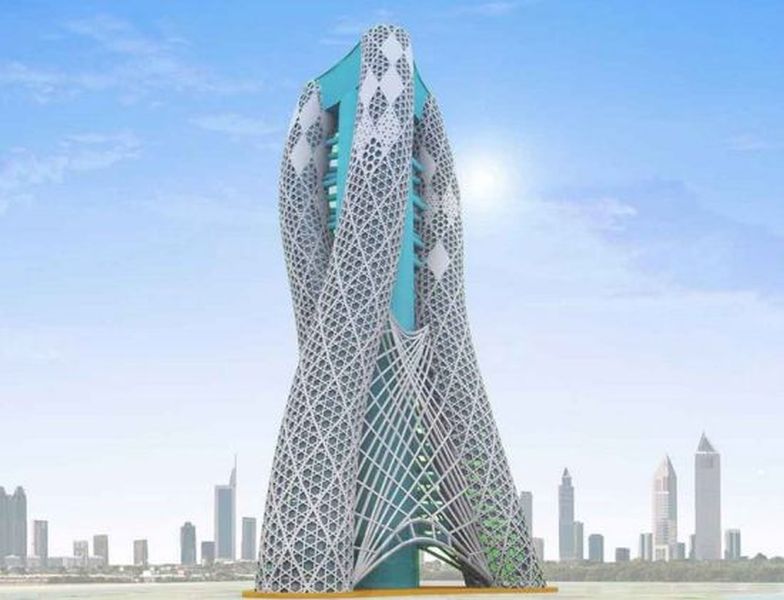 The Oasis Tower for Zabeel Park, Dubai, is an answer to the rise in population and the dearth in the amount of land available for farming. Designed by Rahul Surin, the tower would provide a solution for urban farming and sustainable housing. The architect believes that the Oasis Tower will be able to provide food enough to feed 40,000 people each year. The mixed-use tower incorporates the latest in renewable energy technologies including wind turbines and a PV-layered façade.
22. Gesterbine: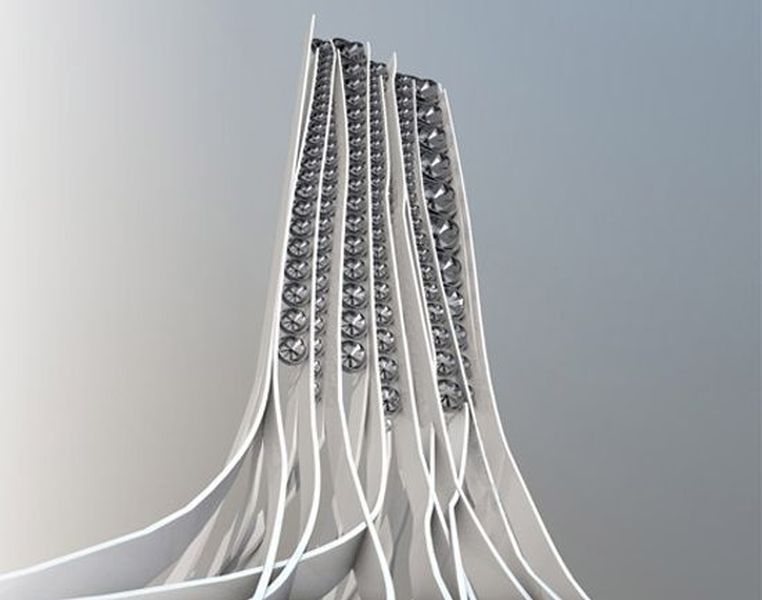 Designed by Polish architecture firm Mode:LinaArchitektura& Consulting, the Gesterbine skyscraper has been designed to maximize renewable energy using a series of wind turbines, human kinetics and water. The self-sufficient tower is being envisioned for Greater Poland, an area characterized by a small amount of precipitation. During the day when energy demand is high, the Gesterbine uses wind energy to provide renewable electricity to households, farms and small offices. However, during night when energy demand falls, the turbines generate electricity to power water pumps that transport river water into the land.
23. Aviapolis Tower: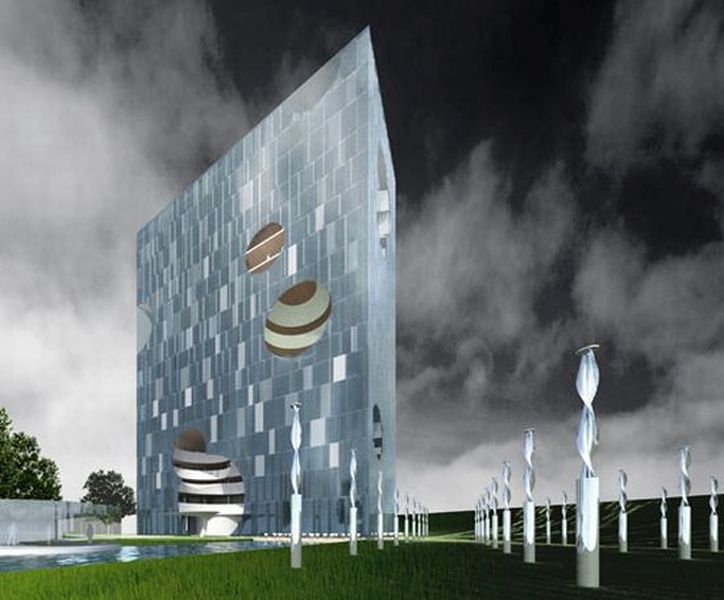 Conceptualized by K2S Architects, the Aviapolis Tower will be 70m high with a slender shape and spherical voids serving as common spaces, meeting areas and green spaces. An energy park has especially been designed to fulfill the required energy demand. It includes wind generators and solar panels built in a series. The park lies somewhere between the building and the highway. Even in its aesthetic point of view, the tower will be a landmark of its own kind.
24. Gyre: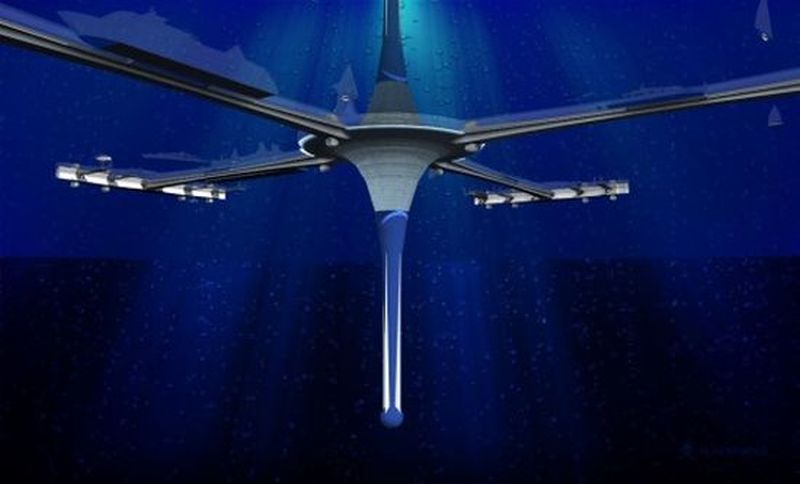 Similar in concept to the Water-Scraper, the Gyre too is being envisioned to be built underwater. Proposed by Zigloo, the conceptual floating development will bring scientists and vacationers together to understand the ocean without polluting the delicate ecosystem. Peaking at a depth of 400m, the development will provide space for a comfortable living and working environment, including space for shops, restaurants, gardens and recreation. The Gyre's unique design will allow the integration of systems to harvest renewable energy from wind, the sun and tides. In addition to an array of vertical axis wind turbines, the Gyre will generate solar energy from windows with a glass printed array of solar cells. Moreover, underwater nacelles function both as tidal generators when the structure is anchored and as thrusters for propulsion. Rainwater is also harvested and mechanical systems and emergency freshwater storage basins are in the deepest portion of the structure.
25. BURJ AL-TAQA: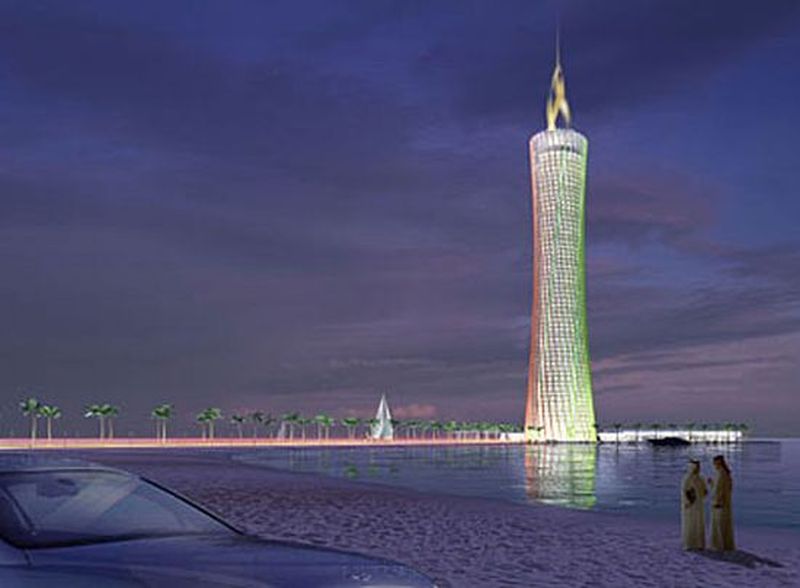 Designed by Eckhard Gerber, this 322-meter tower has been proposed for development in the Middle East. The zero-energy development will use the sun, wind and water to create all the energy that it needs. The state-of-the-art tower will use natural air conditioning based on Iranian wind towers, which draws wind in and down to cool the interiors. Solar gain control is dependent on a new type of vacuum glazing that is still in development but is expected to be over 60 percent more efficient than current technology. A rotating solar shield covering one sixth of the building's circumference will provide shade at the highest incidences and use an integrated photovoltaic array to capture the sun's energy for electricity.
26. Food City: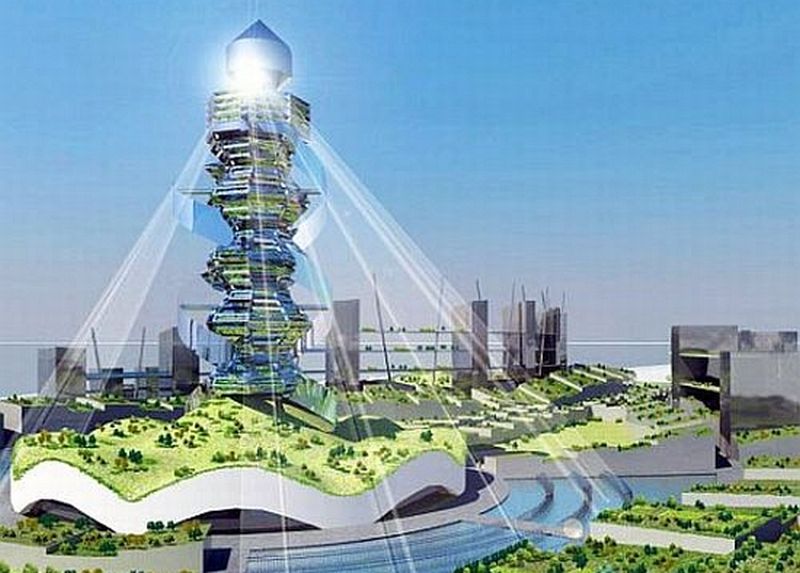 The Food City skyscraper by GCLA Architects has been designed to be developed in Dubai. The completely off-grid development is designed to make people live the greenest possible life. The Food City features green walls, aquatic farms, artificial roof landscapes and renewable energy generators at a scale no one has ever tried before. The metropolis will generate all the electricity it needs using concentrated solar collectors, towers draped in photovoltaic modules and piezoelectric pads in all pedestrian areas. Additionally, the complex will extract methane from sewage tanks for days when the sun isn't shining.
27. Seawater Vertical farm: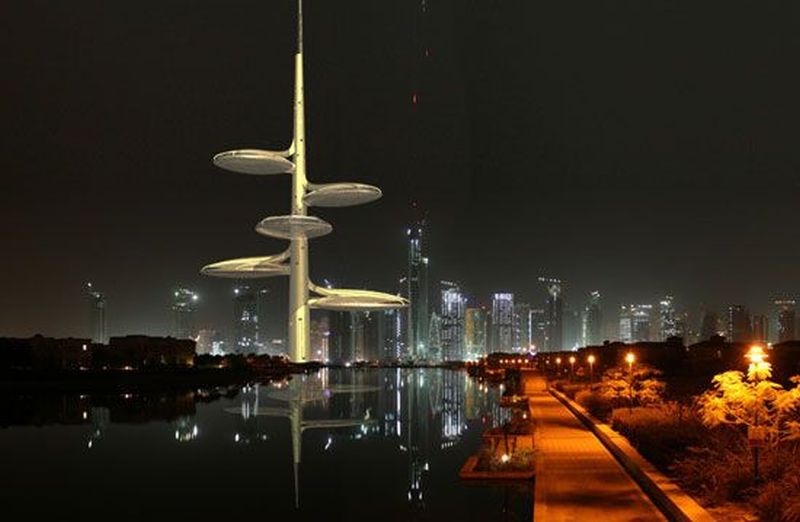 This one-of-a-kind skyscraper has been envisioned by Italian architects Studiomobile and has been designed to solve some freshwater woes of Dubai. The vertical farm will make use of seawater to irrigate crops. The air going in the greenhouse is first cooled and humidified with seawater, providing necessary conditions for plant growth. As this air leaves the growing area it is mixed with warm dry air, making it more humid and hotter. This warm and humid air is then condensed, again using seawater, until condensed drops of fresh water appear. These drops are then collected in a tank and used to irrigate the crops.
28. Valdrade: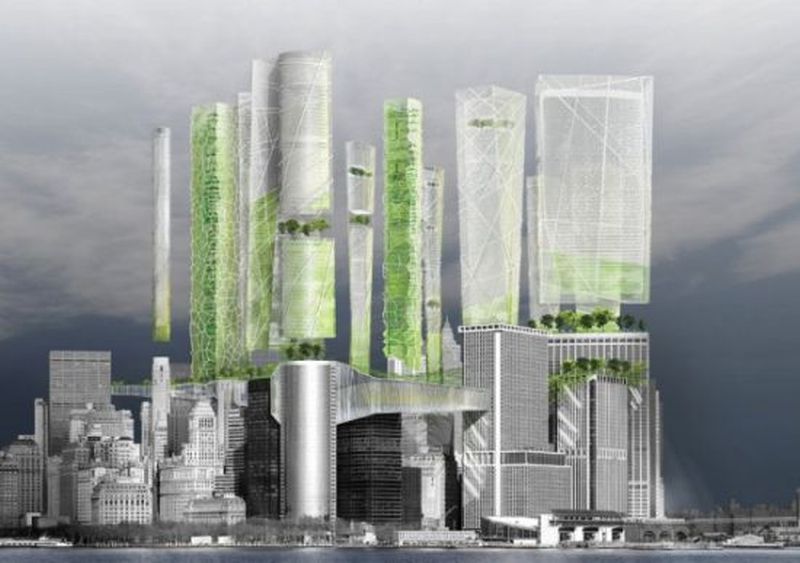 Designed by Axel Cailteux, Céline Hautfenne, Julie Neuwels and Delphine Termote, theValdrade brings a new definition of a city dense space that is based on three interdependent vectors – density, sustainability and diversity. The facades of the design are composed from facets reacting with their environment. Each facet takes its inspiration from a natural element. These facets do everything from generating renewable energy to harvesting rainwater.
29. Rotating Wind Power Tower: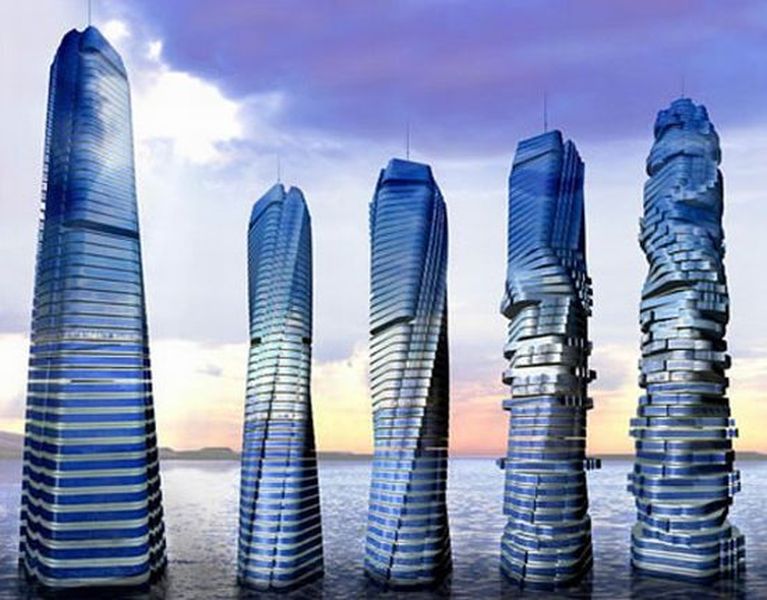 Another self-sufficient tower for Dubai, the Rotating Wind Power Tower by Dynamic Architecture is a sun and wind-powered sustainable tower that has aptly named the Rotating Tower, as the floors would be capable of rotating around a central axis. It will be continually in motion, changing shape and giving the residents the ability to choose a new view at the touch of a button. The form of the building would constantly change as each floor rotates separately giving a new view of the building as it turns. According to the designers, the building ensures a very high resistance to earthquakes as each floor rotates independently.
30. Dragonfly: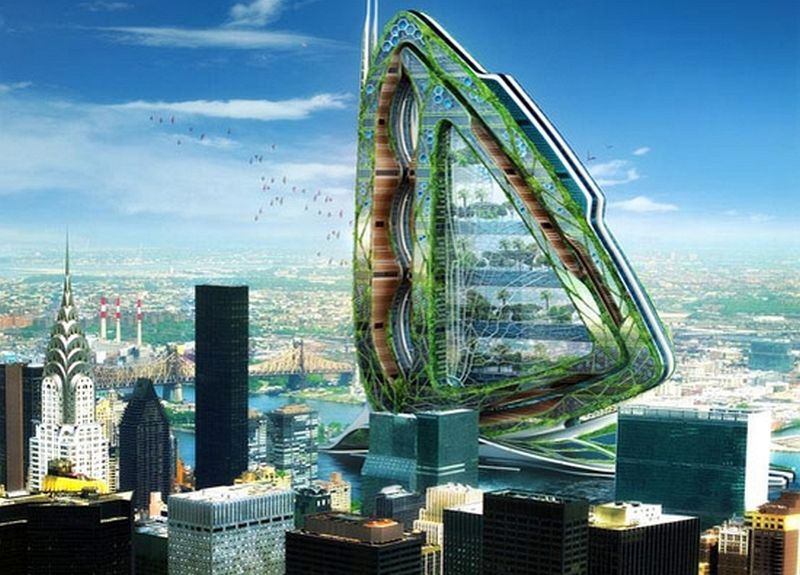 The Dragonfly by Vincent Callebaut has been designed to be developed in New York. The 600m-tall structure takes inspiration from a dragonfly's wing and spans 132 floors to accommodate 28 different agricultural fields for the production of fruit, vegetables and dairy items. The structure will have space for offices, research labs and communal areas which are spaced between orchards, farms and production rooms. The space between the set of steel and glass wings is used to take advantage of solar energy by accumulating warm air during the cold winter season. The 100 percent self-sufficient ecosystem collects rainwater using the exterior vertical gardens, which is then mixed with domestic liquid waste. The waste is treated and reused in the farms. Apart from producing water and food for the inhabitants, the structure has been designed to be kept off-the-grid with wind turbines and solar panels generating the adequate energy.
31. Suspended City: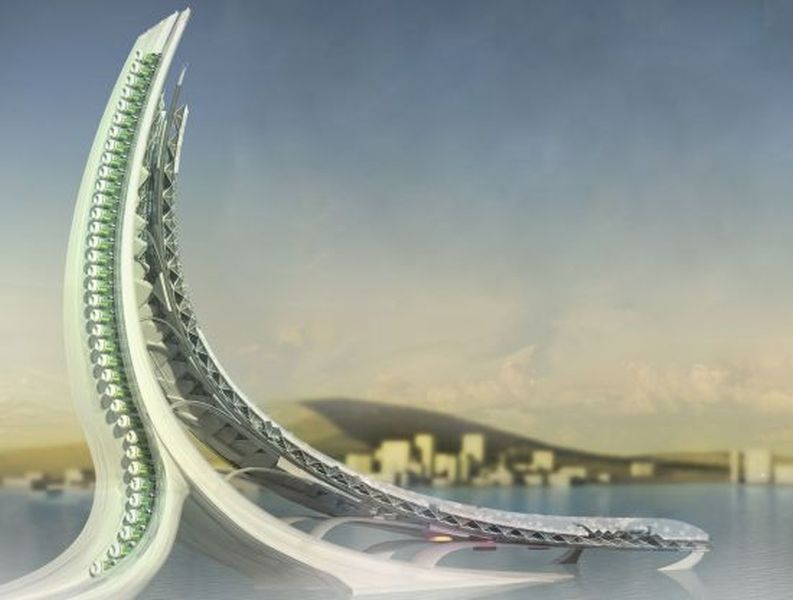 The Suspended City by Coolie Calihan and Charles Johnson aims to refine urban architecture and bring it in harmony with nature and the environment. The site of this proposal is located on the dense urban waterfront of Rio de Janeiro and is to be completed in time for the 2016 Olympics. The self-sufficient city will harvest natural sources for all the power it needs.
32. Eco-Cybernetic City: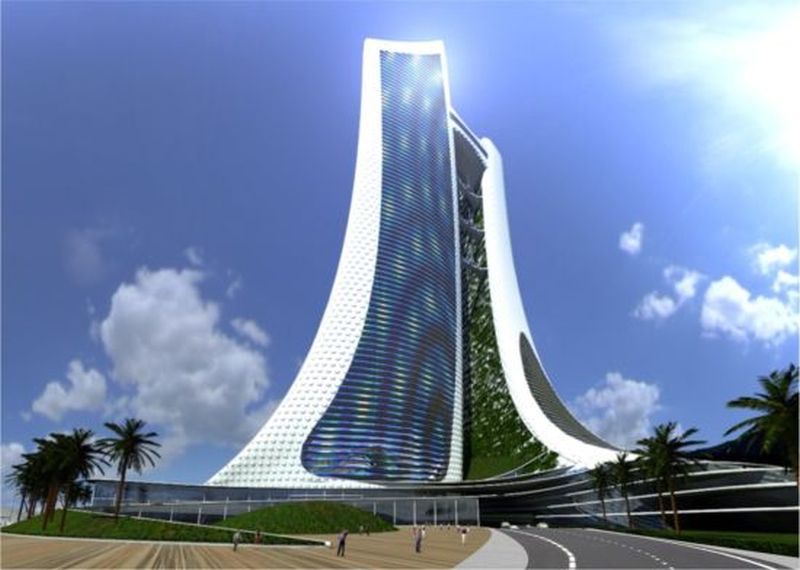 Envisioned by Orlando De Urrutia, the Eco-Cybernetic City resembles a forest of trees that are in search of sunlight. The building has been designed not only to be self-sufficient in terms of energy, but features systems that allow it to save energy and rely on natural resources for everything from energy to water. The building with 150 floors has been touted to be an "alive machine" by the designers, as the building interacts with its surrounding environment. The Eco-Cybernetic City incorporates a façade of photovoltaic lattices, which generate solar energy for the building and its unique multimedia LED façade that interacts with the changes in the atmosphere.