German suburb of Winnenden is a hardcore industrial regenerative project, which brags of being the world's most sustainable neighborhood. The economically depressed local community repulsed with school shooting tragedy in 2009, had minimal appeal for living, until Arkadien Winnenden gave it a new facelift with a diversity of high performance components making it a resource productive neighborhood.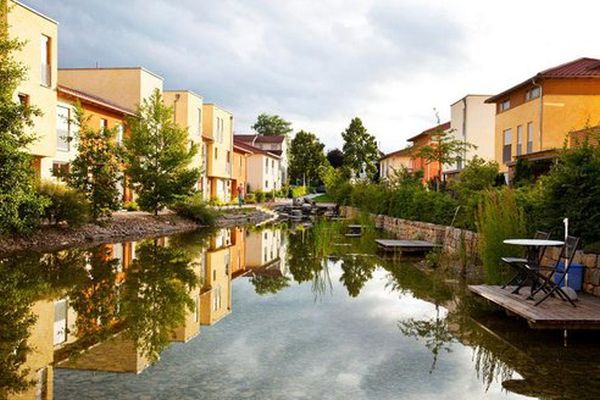 Formerly, Winnenden was home to an abandoned factory with the soil on site completely contaminated. Therefore, the first step was to remediate and recycle the soil and concrete for creating a green neighborhood. The layout of the site subtly combines density with green spaces, maximizing occupancy.
All houses on site are energy efficient and were constructed using all locally sourced material. Mineral stuccos, non toxic paints and use of native timber along with recycled granite for the outside mixed with permeable concrete making it all affordable and green. Energy to these houses is supplied by the local power plant and a photovoltaic feed in.
The neighborhood is connected with pedestrian friendly streets. Green cannot be incorporated until we have car free streets and this is possible when everything from schools and other public services are at a close proximity. A five minute walk will take you to the train station and the local town center. There are nine schools spread within 10 minutes walking distance and there is a hospital just at a distance of one km.
A Lake prominently rests in the center of the neighborhood and doubles as a rainwater detention basin. It stores and filters rain water, following a stepped system releasing the extra water into an adjacent ecologically restored stream. The impermeable surfaces on site have been reduced from 95 percent to just 30 percent, further reducing the risk of flood and enabling efficient water management.
The city design won the Green Dot Award just recently and within a short span of time, the whole of it has been occupied by both homeowners and renters.
Via: Treehugger