Eco Factor: Circular rotating house with water recycling, photovoltaic panels and geothermal system.
Brainchild of Patrick Marsilli, the Domespace is a rotating wooden house that was recently seen turning heads at the Viv'expo exhibition in Bordeaux. Deriving inspiration from shapes in nature, this UFO-like house is designed to withstand cyclonic winds of up to 174mph. The aerodynamically shaped house built on a central concrete pedestal employs the use of a central chimney with a designer open fire to make the most of passive solar energy.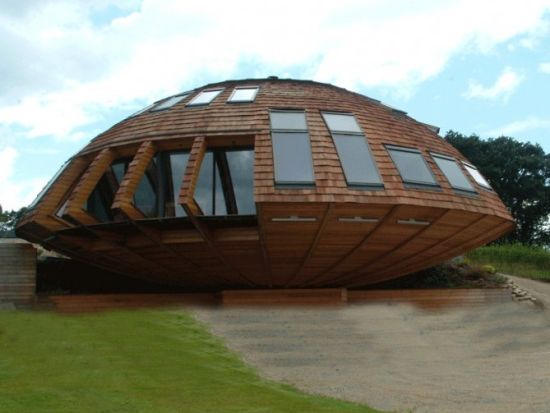 Sitting on large section of the Eco Habitat zone, the curved structure is built using FSC-certified wood, including spruce beams, red cedar roof, cork or pulped wood insulation and plywood or oriented strand board. Strategically-placed sloped windows not only allow ample of daylight into the spacious house, but also give it a unique design. It comes loaded with green features like water recycling, photovoltaic panels, geothermal and aerothermal systems.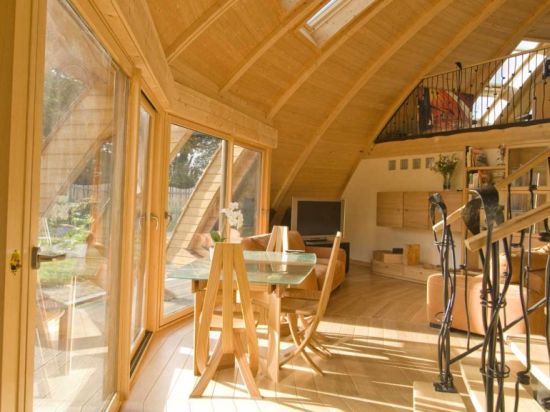 The cute little dwelling doesn't just spin around, but rather swivels anywhere from 180 degrees to 330 and back again. An electic motor powers this rotational movement. The first Domespace dates back in 1988 and was constructed using sustainably-sourced wood. Ever since hundreds of dome residences have popped up in France, Switzerland, Germany, Spain, Taiwan, and the United States.