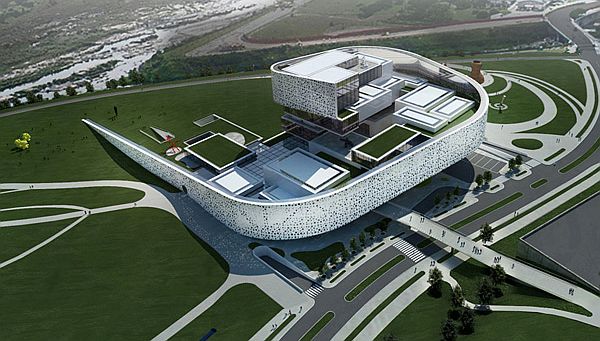 A design competition is currently underway in the New Taipei City for the creation of a Museum of Art. Designers from all around the world are presenting their concept to the authorities in the hope of winning the competition. The objective of the competition is to build a modern world-class Museum of Art that would be both creative and would give the city's landscape something completely new and different.
The new museum would come up in the park area that lies between the Yingee and Dahan rivers and would showcase the cultural vibrancy of the city. The museum would also seek to integrate the surrounding natural environment into its overall architectural design
One of the concepts taking part in the competition has been conceived by New York based Zerafa Architecture. The concept proposed by Zerafa Architecture seeks to completely redevelop the Yingee Park area in order to build the museum. The actual design proposed by Zerafa Architecture is also quite radical both in terms of appearance and overall architecture. The design, which has been revealed recently by Zerafa Architecture, looks more like an incomplete nebulae which is continuous throughout its length from beginning to end.
As has been mentioned, the design proposed here is a continuous spiraling line. The spiraling line emerges from the ground of the park and spirals upward at a continuous slope to end at centralized position. This peculiar shape of the museum is intended to mimic the meandering course of the rivers that border this park.
This spiraling shape creates a void in the middle of the building within which the various components of the museum have been arranged in a cascading manner. The grouping of various parts of the museum in this manner has been done to reflect the urban landscape of the mountainous area of the town of Jiufen which lies nearby.
Via: Yanko Design