Seems like we are having a great day with stylish interiors today! And the common feature of it all seems to be fact that you can hang all of these in your homes. First it was the turn of the Floating Garden from Gabriella Asztalos and now it is the turn of showcasing the Roll Lamp crafted by French designer sébastien cordoleani. The Roll Lamp is pretty simple in design and yet is all about using biodegradable, natural material in making of modern interiors. And that is not where the efficiency of its design ends.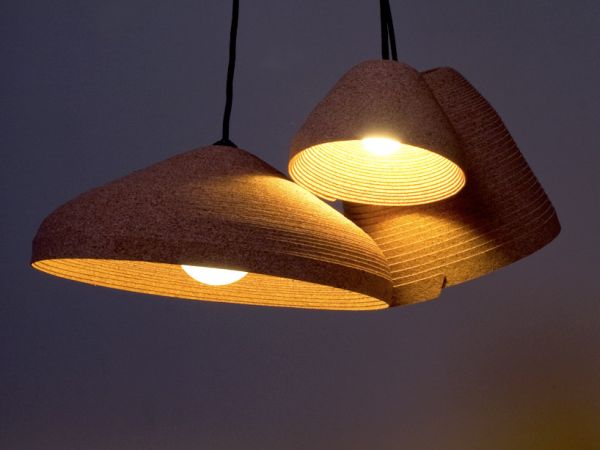 The Roll Lamp is crafted from Cork, which is stripped from the trunk of trees once every decade. The tree itself is not harmed by the process as cork regenerates and the tree goes on to live for around 200 years. So, the production of cork itself is not harmful to the planet and with these trees that are carefully grown and taken care of living for a couple of centuries, it can be said that this industry is in fact adding green, to a certain extent. The roll lamp itself is made from a single strand of cork that stretches 30 to 80 meters and is just 2mm thick.
The cork is rolled or spun around the base of the lighting unit and strong glue is used to keep it in its place. This method of making ensures that there is zero wastage, no mould that is required and no material that is discarded. Most importantly, this replaces all those plastic lamp shades that seem to be the more popular choice. Just imagine how wonderful one of these would look in your porch or backyard. They can even add a touch of simplicity and class to your interiors when properly placed.
Via: Designboom