A couple of new trees, which may not provide shade, are being installed at the Gresham City hall. We are not referring to the real trees, but the two new solar trees that are specially designed by Spotlight Solar, a company with specialization in making sculpture like solar systems with artistic flair not only for being aesthetically appealing, but also unnoticeable to the public.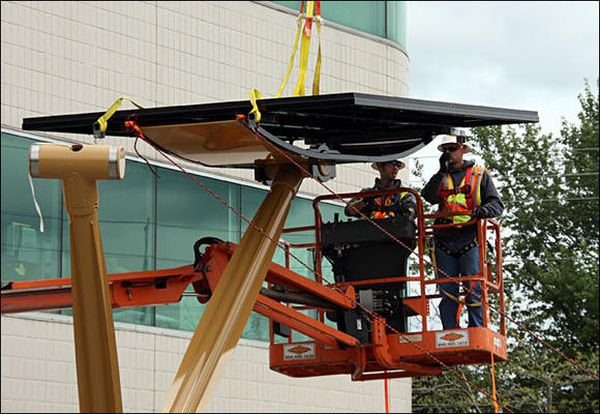 These solar trees are the part of bigger project funded by grants applied for and got by the City of Gresham. Apart from the trees, a solar canopy is also included in the project to be installed in the parking lot at City Hall. In order to complete the project, grants worth US$500,000 of federal stimulus and US$124,000 from the Energy Trust of Oregon are used by the city. The idea to install the solar canopy and the solar trees was to create a considerable solar system and something more visible and unique. Therefore, some of the space in parking lot was used for 100 foot long solar carport and instead of placing solar panels on the roof, which was an option, solar trees were installed. The top of the solar trees will not move with the sun, but the engineers are positioning them carefully so that maximum sunlight can be absorbed. The solar trees also have this cool feature that if anyone stands under them and looks up, he or she can see their reflection in the giant mirrors.
The bottomline is that the city will be saving money on the power consumption bill for the city hall. It is expected that there will be an annual saving of 15 percent approximately on their power bill. According to Laura Bridges, City of Gresham spokeswoman, it is the visible way to show city's commitment to sustainability and highlight to the public all the other efforts done at the city for sustainable living like using efficient light bulbs, increasing efficiency of HVAC system and what is done in the city's wastewater treatment plant.
Via: Greshamkatu