In 2010, eighteen months ago, a competition named 'P3: People, Prosperity and Plant Student Design Competition' started with 165 competitors and ended on 21 and 22 April, 2012 at the Washington, D.C. Mall. Along with fourteen other college teams, a team of Princeton University students were awarded top honors for the invention of 'Power in a Box', a typical shipping container converted into sustainable energy source for disaster torn or remote regions.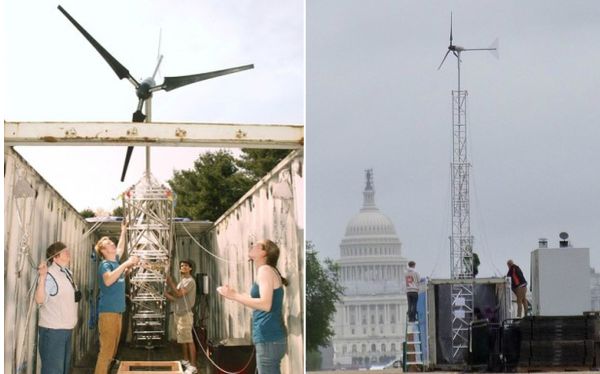 In total, twenty students collaborated to complete and design this project inspired from the destructive earthquake of Haiti in 2010. The aim of the project was to replace generators powered by diesel in such areas with this modified shipping container equipped with a forty foot tall wind turbine and solar panels. The project is instituted as 'Engineering Projects in Community Service' (EPICS) course by the Keller Center of University. The course combines various students from different majors and class years in order to focus on helping global and local communities.
On the both days of exhibit, a successful performance was witnessed by the judges as on the first day it was sunny weather allowing 'Power in a Box' to produce energy using solar panels whereas the next day turned out to be rainy and windy providing an opportunity to raise the tower and activate the wind turbine successfully. The students were awarded a grant of US$90,000 by the U.S. Environment Protection Agency for the further implementation and development of the project. With the grant in hand, students focus to create more powerful version of the equipment that is capable to generate one to two kW of power.
Via: Archdaily