The Spiral Garden Pavilion designed by Michael Jantzen is yet another eco friendly concept that depends on the power of the sun. This pavilion has been designed as a personal interactive retreat space that can be fitted in gardens, parks and even homes. Made from wood, the retreat can twirl and swirl around, allowing sunlight to naturally penetrate through the structure without letting the heat pass through. All it comprises is four large curved slotted panels, which are supported from a central support frame that allows it to be molded into many different configurations.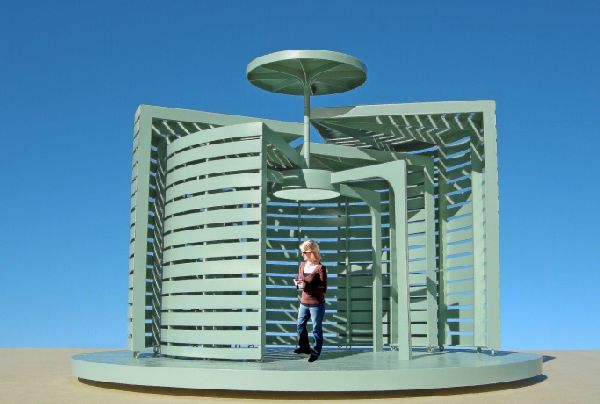 The modularity of the structure permits the interior space to open to many variations that you can adjust according to your comfort. The top of the structure is mounted with a large disc shape solar cell panel which harnesses enough energy to power a centrally located light and also a few small appliances, laptops, etc. The good thing about the design of the pavilion is that is acts both as a conventional gazebo that will shade you and keep the sun away ,and also it is a modern architectural design that self sustains itself and generates and stores its own energy, keeping the outside and the inside absolutely independent of each other.
The structure is an answer to our daily needs of having a personal retreat where we can spend some moments of respite and also enjoy using our favorite gadgets like the iPhone, Mac Pro, etc. It is a simple way of introducing creativity into daily living.
Thanks: Micheal