Charging small gadgets is one thing that is always on our mind. But, at times, when you are in a remote place, it might become difficult to find a charging point. However, when you have something like flexible solar panels, this isn't a problem. Not only they are easy to carry, but they also require less material to manufacture. Here are some type of these panels that are available in the market. Depending upon your need you can opt for anyone of them.
Flexible Solar panels rolled out by PowerFilm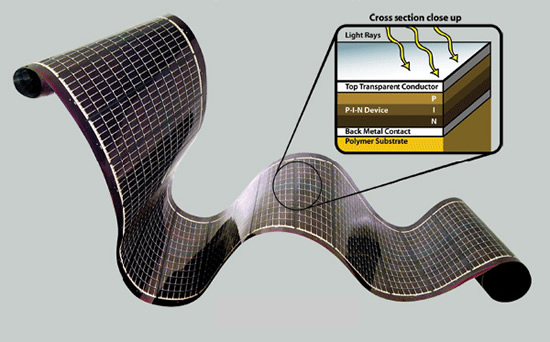 Harvesting green energy directly from solar rays using solar cells is increasingly emerging as a prime component of alternative energies. Raising the bar of convenience in optimizing it to be user-friendly, PowerFilm is the first company to manufacture as well as sell flexible solar panels.
Since flexible panels can be rolled up, it makes them easily portable and accessible. Via a roll-to-roll manufacturing process it is practical to roll out monolithically-integrated solar panels. Dr. Frank Jeffrey and Dr. Derrick Grimmer have invested 65 years of their expertise to give shape to the company's objective to target the building-integrated solar power market. Furthermore, the company aims to continue to supply products for selected portable and remote solar power applications.
Roll-to-roll manufacturing decreases material handling costs, printed interconnects enable automated connection of individual cell. In addition, the production of flexible solar panels requires as little as 1% of the amount of silicon used in rigid crystalline panels. In addition, the sunlight absorber layer is cadmium free (environmentally friendly), as well as a commercially viable, low-cost technology. A single13 inch wide solar roll can supply 2,400 feet of solar panels.
Such an eco-friendly and space-saving energy solution will cater to the portable gadgets market. In fact, it would also motivate eco or non-eco folks to embark on a solar revolution.
Via Trendir
Some more gadgets that use Flexible Solar panels
1. SolarRoll Flexible solar panel to recharge gadgets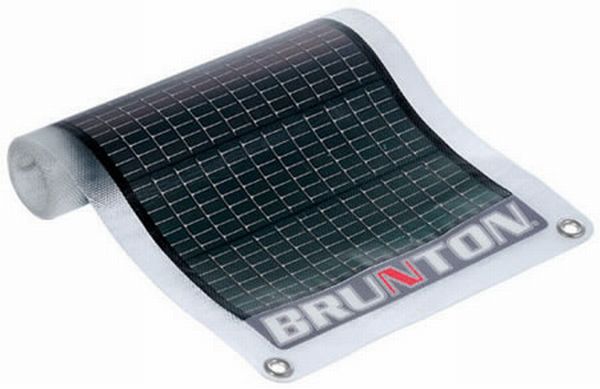 SolarRoll is a flexible solar panel that helps to recharge the gadgets while you are traveling. It converts the solar energy into electricity for this purpose. The device can be rolled and carried in a small backpack. It is made up of photovoltaic cells. These produce up to 14W of electricity for recharging small devices like cell phones and digital cameras. The SolarRoll also comes with a one year manufacturers warranty.
SolarRoll will be extremely helpful for those who spend most of their times outdoors. It is a must-buy for the travelers and during outdoor expeditions. The device produces clean energy from sunlight. However, it is also weatherproof, UV transparent and comes in a convenient storage tube. This will end all your worries for recharging gadgets.
2. Suntrica brings flexible solar chargers to your pocket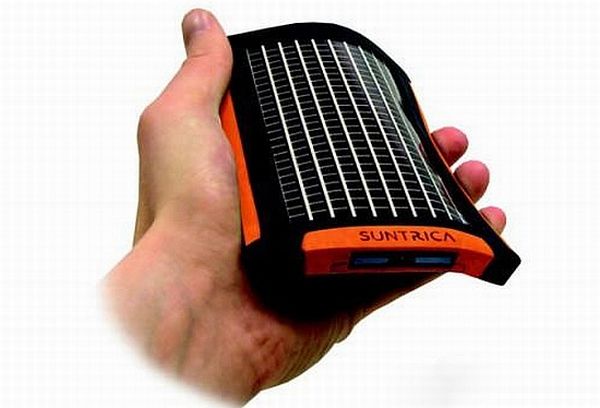 Suntrica is another flexible device that uses solar energy for recharging small gadgets. The portable device is small enough to fit into your pocket. It consists of a new thin-film solar panel technology. This helps to stores the solar energy in an internal battery for recharging many small portable gadgets. The pocket-sized device is available in three versions — SolarStrap™, SolarBadge™, and SolarBadgePRO™. All of them differ in their shape and produces about 3.7-7.3 watt of electricity per hour.
You can carry Suntrica even in your regular pocket along with another portable gadget like a cell phone. This will certainly end all your worries for recharging. Not only this, the 5.5V DC at 800mA output will allow you to recharge all other portable gadgets as well. The use of such a portable charger is also extremely beneficial from the environmental point of view. It depends on solar energy which is available in plenty and also free of cost.
3. Flexible solar panels for green AA batteries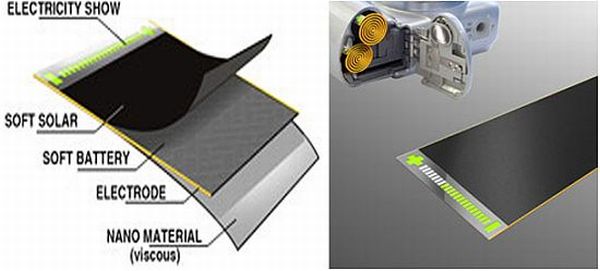 Designed by Wu Jian in China, the Soft Solar battery is a portable device with a built-in soft battery that recharges itself by converting solar energy into electricity. The device uses a very small and flexible solar panel for this purpose. It can be rolled into a very small cylinder and used in the devices that still depend on conventional AA batteries for power.
True that the conventional AA batteries have been outplaced by the more advanced lithium-ion batteries. However, there are still many small devices like the TV remote control, traditional watches, and old Walkman that depend on AA batteries.
These batteries are generally thrown after use but they contain toxic chemicals which pollute the water and soil in our surrounding. However, there are plenty of eco-friendly choices as well. the new Soft Solar batteries can be effectively used in place of the AA batteries. This will ensure zero-pollution from the traditional AA batteries. Also, it will allow you to travel and go on an expedition without worrying for the batteries of all your advanced small gadgets.
4. Helmets with flexible solar cells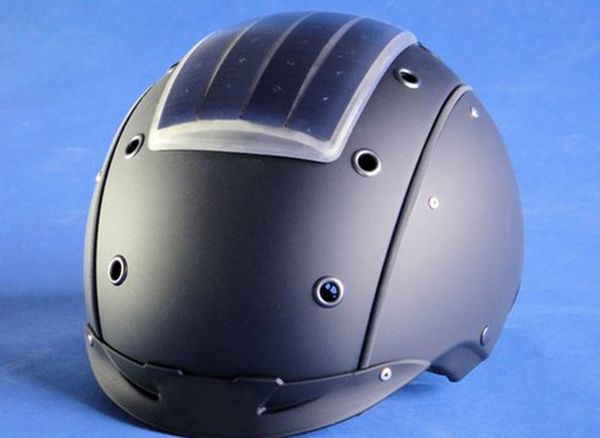 Researchers from Frauenhofer Institute in Germany have designed this unique helmet that sports a flexible solar panel on top of it. This design pretty much sums up all the virtues of the flexible version of solar panels. The photovoltaic panel on the helmet can withstand bad weather, heavy falls and rough handling while it continues to produce solar energy. Perfect accessory for you if your mobile runs out of juice and you are stuck in the middle of nowhere.
5. Flexible Solar Batteries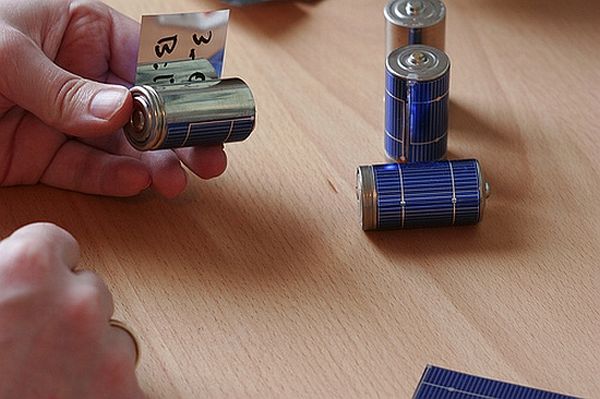 This is something that you can pull off too. Just get strips of flexible and rollable solar panels and wrap them around your conventional rechargeable batteries. This should ensure that they would be charged in a while and you would not have to buy new ones every time the old ones seem to be running out of charge cycles.
5. Flexible Solar Panel for rooftops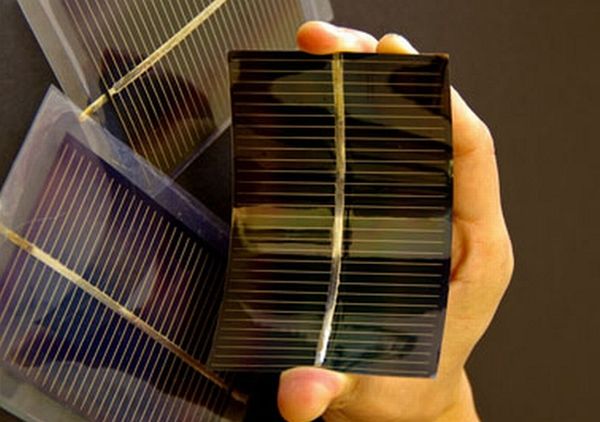 Scientists at Pacific Northwest National Laboratory (PNNL) are busy designing an efficient and cost effective flexible solar panel that could be a common sight on the rooftops of tomorrow. These revolutionary panels could produce energy at costs of $1 per Watt and would be tough enough to go as long as 25 years with minimum maintenance.
6. SolarRoll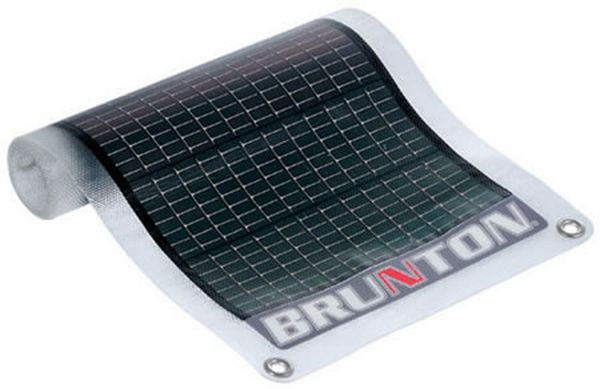 This is a must have if you are going away into the wilderness for a while. SolarRoll is a highly efficient sheet of flexible and foldable solar panel that can be plugged in to charge your gadgets while on the go. And this is no concept creation either. You can actually buy one of these depending on the output that you need.
The Shining Light
There are many advantages of flexible solar panels that simple cannot be matched by the conventional ones. The fact that they are portable is one of their biggest assets, which means they can be taken to any corner of the globe. They bend and fold into any shape or form making them an easy addition to any curved surface. You could even have caravan tents covered with thin film of these panels to produce energy constantly.
Add to this the fact that they can take wear and tear and harsh weather in their stride with ease and still perform well and you have an energy source that just cannot be ignored. The ergonomics and the design opportunities that they present, make them ideal source to tap into solar power when you cannot afford fixed installations.
The Dark Side
There is a reason why we still say that one can use them in places where conventional 'glass-framed' solar panels cannot reach and survive. It is simply because no matter how versatile they are they are just not efficient as your standard photovoltaic fixtures that are used commercially today across the globe. While rigid panels offer more than 20 percent energy efficiency the flexible ones offer less than 10 percent. While researchers are trying hard to up that numbers, it seems that they might take a long, long time to catch up with rigid photovoltaic panels.
Road Ahead

Flexible solar panels do have a huge drawback when it comes to efficiency, but even then they can reach places and function in situations where every other alternate energy source fails. Their many advantages that we have showcased above and their multi functionality makes them a perfect ally in our fight against the use of conventional energy that spews carbon emissions. Expect a future filled with endless possibilities for flexible solar panels.