Amongst the eco-friendly furniture materials, cardboard stands out as a wonder. Its flexibility and high availability not only make it affordable but also a substitute for materials like wood. In cardboard furniture, you'd find both variety and durability. If you are eco-conscious, this might be precisely the thing that you are looking for. Nevertheless, in this too, it'd be better if you make your choice wisely. So, here are some of the most creative furniture designs to give a green makeover to your space. Let us check them out.
8- Super creative cardboard furniture
1. Cardboard Coffee Table by David Rasmussen: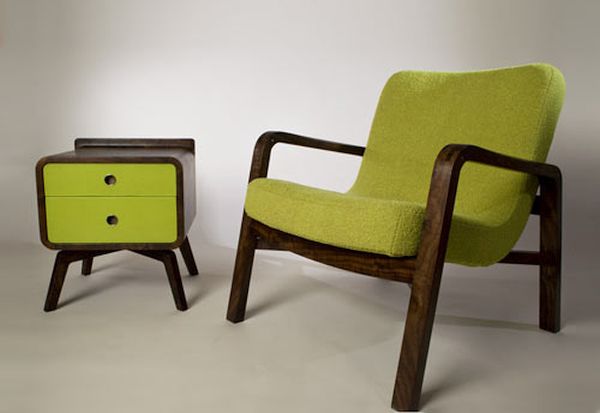 Designed by David Rasmussen, the contemporary cardboard coffee table presents a unique combination of wood, glass and cardboard. Made by hand in Carbondale, Colorado, the table features a glass top. It make it as functional as any other coffee table available in the market. Measuring 15 x 36 x 22" (HWD) in dimensions, the coffee table just weighs 20 lbs and easy to move around. Standing firm on tapered maple legs, the cardboard table is hand rubbed with oil to maintain the natural finish.
2. FoldSchool: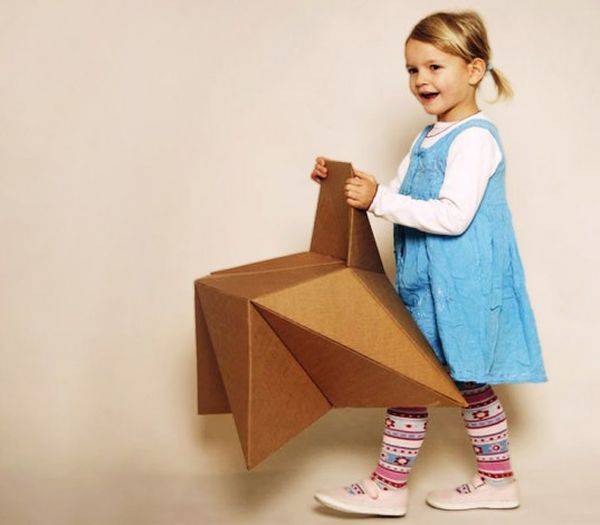 FoldSchool by Swiss designer Nicola Enrico Stäubli is a collection of origami-style cardboard chairs for kids. The kids need to construct these on their own. For you need not purchase the furniture from any store. You can download the patterns from the designer's site without spending any money. To create the DIY cardboard furniture you just need a printer, cardboard and scissors. Moreover, you can also download one of the three options, i.e. stool, rocker, and chair. All these are available on the website and involve your kids in the project to develop artistic, sturdy cardboard furniture with easy steps.
3. Pop Up Cardboard furniture: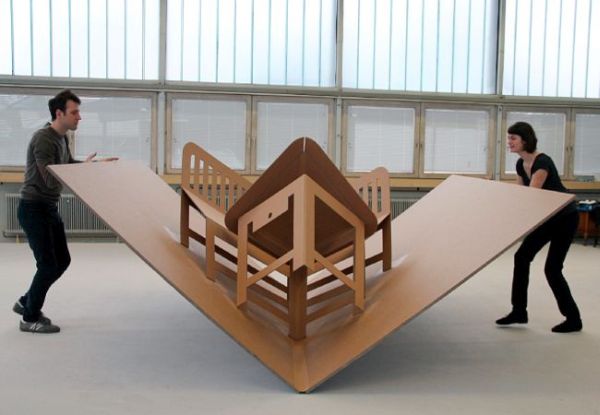 Drawing inspiration from the pop-up book of childhood, designers Liddy Scheffknecht and Armin B. Wagner has come up with unique cardboard furniture. It pops up a chair and a table from a flat sheet of cardboard. Developed for office use, the pop-up furniture opens and closes like a book. This creates a makeshift office or dining area, for that matter, within no time. Easy to install and collapse, the cardboard furniture is simple to move around.
4. F&R bed set: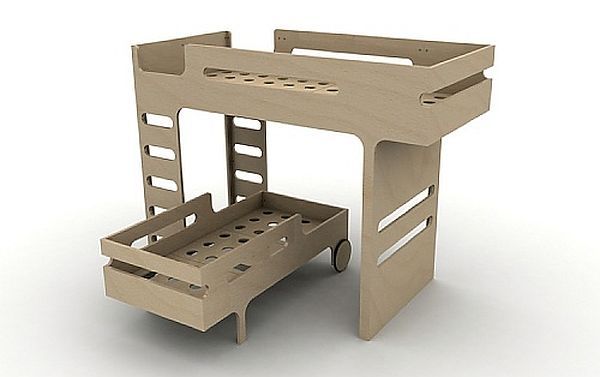 Designed by Agata & Arek Seredyn, the F&R is a set of bunk beds made using cardboard for young kids. The cardboard beds not just rests your kids in comfort, but also creates a safe, private playgrounds where they can enjoy playing with siblings or friends. While F bunk bed is just ideal for children from six year old, on the other the R toddler bed is recommended for 3 or 4 year old kids.
Bringing in cardboard furniture is one of the simplest and most creative ways to go green. Offering great flexibility, cardboard not just helps you create unique furniture designs, but also helps in sustaining the environment.
5. IKEA recycles cardboard boxes into furniture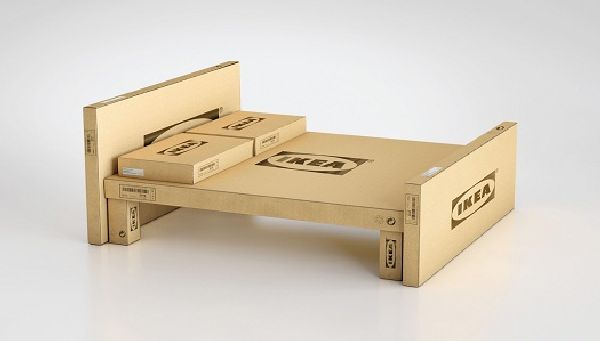 Everyone is making himself a part of the recycling buzz, be it for fun or advertising. Cardboard as we know can be easily recycled and hence is among good sources of eco friendly raw materials. Furniture Industry has already tapped the traits of cardboard and has introduced green furniture, which is both trendy as well as environmentally friendly. Catching on the theme of recycling as a new marketing strategy for its annual sale, IKEA, world's largest furniture retailer came up with the idea of making furniture with recycled cardboard. The furniture is created by AUGE Headquarters of Milan and is made from flatpack boxes used by IKEA for packing.
Dubbed as the 'You Can Get More' campaign, the furniture showcased includes a bed, a table lamp and a chair. The campaign emphasizes on the concept of quantity and has all the above mentioned items made exclusively from cardboard boxes. By assembling these three furniture pieces, AUGE Headquarters was able to advertise an impressive sale of 40%. This campaign has clearly sent across the message to its customers that packaging material is no waste and can be recycled for making useful things, in this case furniture.
6. Recycled cardboard Tube Chair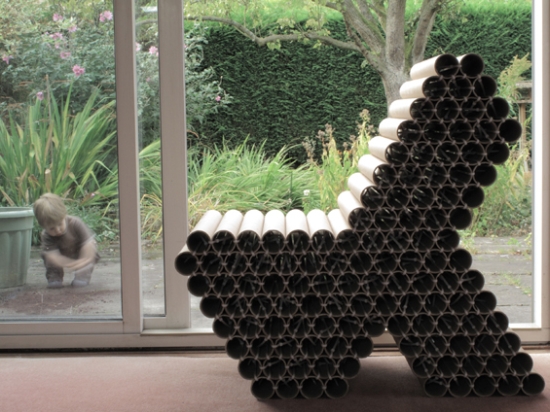 Eco Factor: Chair made from recycled cardboard tubes.
Designers who care for the environment find raw materials in products we all classify as trash and junk. Peter Gorse is one of those designers who take every day disposed items and transform them into something functional and sustainable for your home. The designer has shared with us his latest work, dubbed Tube Chair, which is a chair made from recycled cardboard tubes.
If you're thinking that cardboard tubes won't be able to hold you for long, the designer has strengthened the chair by attaching a series of cable ties that prevent the chair from collapsing. The Tube Chair is made available in different colors and sizes with optional extras that include a bubble wrap seat cover.
7. Re-Furnished Cardboard Chairs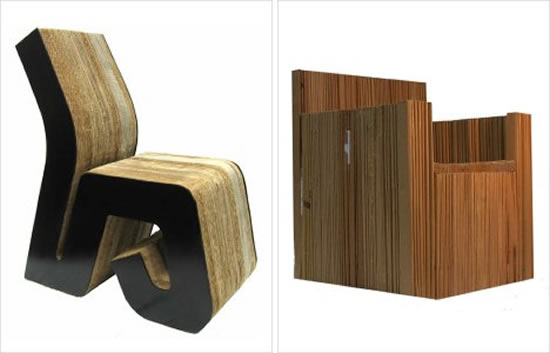 Take a look at what happens when students with green cells (I use this term more then often) and a green thumb are squeezed to get the best of their creativity skills. Dubbed as the Re-Furnished project for students from University of Idaho, it revolved around using found or used cardboard to craft usable furniture. Did you know that Cardboard, especially when recycled, can be a very green, versatile and durable natural material? My personal favorite is the curvy stool, which uses pressed corrugated cardboard to create a solid structure, and hides some storage inside. Can't wait to grab it for my den.
Even the geometric, sturdy-looking stool looks like it could take on a number of functions. While the solid lounger looks like it was a labor of love, painstakingly created with hundreds of sandwiched layers.
8. Cardboard furniture by Frank Gehry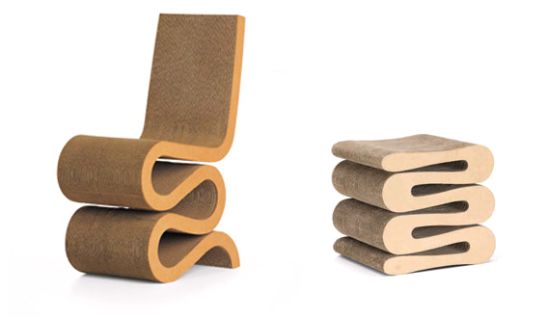 There is something quite cool about recycled art and even furniture. Instead of giving you a feeling that you are buying something recycled, they actually give you great pride as they tell you that you have done your little part in making the planet a better place. Cardboard Furniture is something that is not just fashionable, but will allow you to save a plant or two by avoiding the wooden furniture. It is sleek, stylish and comes in every fancy type that your conventional furniture comes in. In fact, the options are only greater here.
Innovative cardboard furniture designs from the likes of star architect Frank Gehry and fellow designers offer thousands of designs for you to choose from. Online furniture store Cardboard Design doesn't use screws or toxic glues, and attracts 4,000 visitors a month to its Manhattan store, so it says. The US is about a decade behind Europe when it comes to cardboard furniture. 'Green' labels are more prevalent in Europe, so cardboard furniture is inherently more popular here.
Not only is cardboard already made of recycled bits, but it's also recyclable itself — and there are more possibilities for altering the material than you'd imagine. Cardboard Design CEO Vahid Pourkay has a patent pending on what he calls "liquid cardboard," which can mutate into as many as 50 different shapes including vases, bowls and pen holders. So the possibility here is endless with designs both unique and special. One can almost create anything they choose. In addition, it also offers you creative freedom to think out of the box.
Final Words
With innumerable advantages, cardboard furniture in the recent past has become one of the primary choices. It is popular among homeowners as well as commercial property owners looking for sustainable interior decoration. In fact, cardboard furniture is not just lightweight, flexible and portable, but also environmentally friendly. It is easy to recycle or dispose of without leaving any carbon footprints. Available in different sizes and designs, cardboard furniture makes the right choice for sustainable spaces.