More than just a sustainable house, a net zero-energy home, is one that doesn't make any compromises with sustainability. This type of homes are generally of two types. Either these produce their own energy and are independent of external energy sources, or they are connected to the power grid and supply electricity, which is sometimes even more than they consume.
Also known as self-sufficient or autonomous houses, these net zero-energy home ideas are taking the market by the storm. Let us see what type of houses are available in this segment.
VKR Holding's net zero-energy home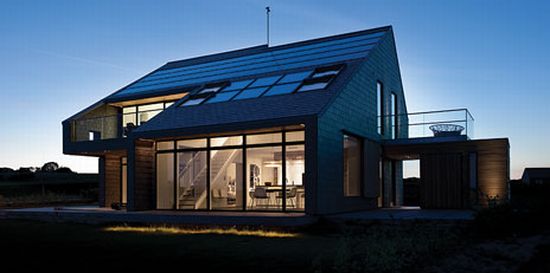 Eco Factor: Carbon-neutral house concept uses solar panels and energy-scrimping design.
The "Home for Life" is not just any single-family home. However, it is the first prototype of a Danish concept known as an "Active House." Designed with an aim to bring carbon-neutral houses to the masses, this stylish little house is the first of eight experiments that VKR Holding is financing in five European countries. The self-sufficient house uses eco-friendly materials. In addition, it also utilizes a rooftop of solar panels and energy-scrimping designs. Furthermore, it produces enough energy to meet terms with its daily energy requirements, while sending the surplus to the grid.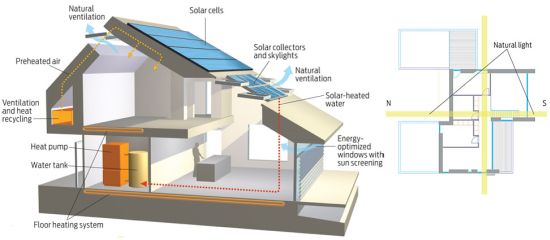 In July 2009, the Simonsen family moved into the model home to test how close it is to being a net zero-energy home. Located on a residential street outside Arhus, Denmark, the one-and-a-half-story house features broad windows and long sloping roof of a typical Scandinavian home. The slanted skylight that lights up the first floor with sunshine can be opened to bring in more fresh air.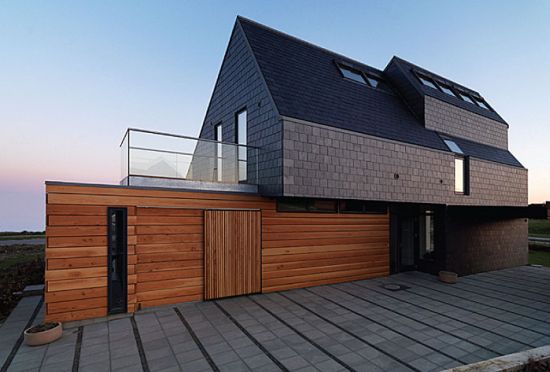 It also sports features like specialized windows, tight insulation, a climate-control system and solar thermal collectors. The house generated 800 kilowatt-hours of electricity last August. Its overall surface area of the house was kept to a minimum to avoid heat loss. The $700 000 Home for Life has proved to be net-zero energy home and is sure to satisfy the inhabitants. The Simonsens will be moving out of the house in one month. Later, this environmentally friendly, carbon-neutral home will go on the market.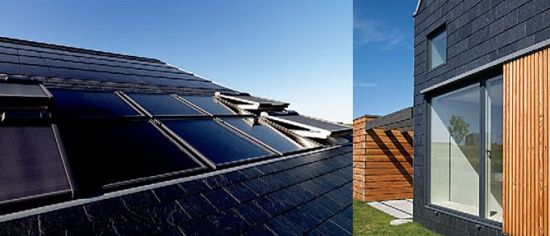 Via: IEEE Spectrum
Some more net zero-energy home ideas
1. InVision Zero by Dow Chemical

The Dow chemical company and the cobblestone homes have come together and introduced a net-zero energy home. This house in made keeping in mind to lower the living expenses to a good extent. Priced at the average selling prices in the United States, these homes use Geothermal for heating and cooling purposes. Furthermore, it also uses solar heating wherever needed and lights have been replaced by LED lights and lamps. In fact, this house costs you only 250,000$, which is close to the average housing price in USA. Therefore, at this price this house of one of the most accessible Eco-friendly house for an average buyer.
"Using readily available energy efficiency technologies from Dow, the house, dubbed the "Vision Zero" home is expected to save $3,507 in energy costs and avert 44,855 lbs of CO2 annually"
2. Green Tomorrow House by Samsung C&T

Another new eco-friendly house that was introduced by Samsung C & T is the Green Tomorrow House showing its net zero fossil fuel consumption material. This no carbon house generates its own energy without the help of any gas or electricity. Its based on technologies like eco-friendly fishing materials, landscaping and bio amalgamates. The Green Tomorrow House is given a platinum rating from the Leadership in Energy and Environmental Design for the building for also its heat-insulating boards, ventilation, interiors with no-electricity, three-layer windows and electrical installation.
"Samsung said the cost of building a Green Tomorrow unit costs between 10 to 15 million won ($8,500 to $12,845) per 3.3 square meters. This is around twice the average cost of building a conventional house. However, the company said it expects that price to drop to about 110% of the house construction price by 2015". via Ecofriend
3. Solar Decathlon Sustainable House

The competition held at the Cornell universities made a lot of architectures and designers come up with a lot of innovative designs for eco friendly homes like the Solar Decathlon Sustainable House. Although it consists of just one bathroom and one bedroom, it perfectly meets all the things that a "green" house needs. It uses technologies like rain-water recycling, photovoltaic and thermal systems. Also surrounded by greenery, it also has a "green" grass couch for you!
4. Icynene Integral to Connecticut's First Net Zero Energy Home

This is Connecticut's first zero-energy home. Its a house with no fossil fuels for heating water. In addition, it also boasts of no net electrical usage and no emissions from fuel-burning equipment. Icynene is applied in the walls of the basement and the grades. LEED platinum certified, this is also AEE energy award winner and has the best of technologies. This house doesn't need any fossil fuel or electricity for hot water and room heating and in addition, it is emission free too.
5. Villa Akarp

The positive net energy house of Sweden is innovation of doctor of building physics, Karin Adalberth. This houses uses more energy than it consumes. Furthermore, it combines a number of technologies namely energy recovery, conservation and generation. The house can reserve energy and use in dark days of winters.
6. Zero energy prefab by Michelle Kaufmann

The Zero-energy prefab house is the brainchild of Michelle Kaufmann. The MkLotus is so light on the grid that its meter spins backwards during periods of light energy demand. This is yet to be unveiled.
"Ranging between 422 square feet and 2,643 square feet the homes have a beginning cost of $66,500 and are designed to be LEED certified." via Ecofriend
7. Truro Net-Zero Energy Beach House

This house situated on the beach of Cape Cod uses an installed battery back-up and energy management system and uses a light consultant to maximize its light efficiency. In fact, its fossil fuel-free and is built with double std frame. Split between living bar and sleeping bar, this house shuts down energy consumption of one area when owner is in other area to cut down energy consumption drastically. Its roof is installed with solar arrays to produce electricity for home usage.
8. Microsoft's New American Home

This is a 100% perfect solar powered house. Located in the outskirts of Las Vegas, this house comes with ten Toshiba HDTVs, Anthem AV processors and bathtubs, a 16-zone Nuvo distributed-audio system and towel warmers that can also be controlled with your cellphone. But all that connectivity doesn't comes at cost of nature as all the gizmos installed in that house are solar power driven.
"The best feature of this $5 million home built on half-acre of land is that all the technologies and gadgets are run on solar panels that mean you don't have to pay even a cent for electricity usage. Moreover, the team of innovators is planning to build 14 similar homes to develop a community they'd call Marquis Vegas". via Ecofriend
9. Lumenhaus home by Virginia Tech

This green house is an 800 square foot house. It has just one bedroom and an open floor plan that extends outside. Its semi transparent screens help when there are changes in weather. Furthermore, the house's eclipsis system is Virginia Tech's advanced shading system helps in automatic opening and closing according to its current weather conditions.
" The roof of the house is composed of double efficient solar cells, which are bifacial and enhance the energy generated by as much as 15%."
10. mkSolaire smart home

Again a creation of Michelle Kaufmann, the mkSolaire smart home is just in the heart of the Chicago city to change the place into an eco-friendly one. Dubbed as greenest home in Chicago this 2,500-sq.-ft. mkSolaire smart home has rain water collection system. In addition, it also has a solar-electric generation system to decrease its environmental impacts. Moreover, you get all that without compromising on luxury.