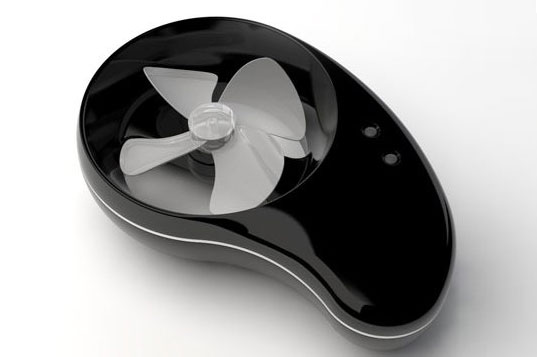 Energy derived by harnessing wind is a potential and formidable source of energy that is available abundantly in some places. Wind has been used for centuries and even in present times wind power has not lost its significance, rather it has gained more importance and is being produced on large scale, thanks to the advantages of modern technology and equipment. Here we are to talk about devices and gadgets that are powered by wind energy and can be used for varied purposes including personal charges, charging toys, etc.
HYMINI tiny portable wind powered gadget charger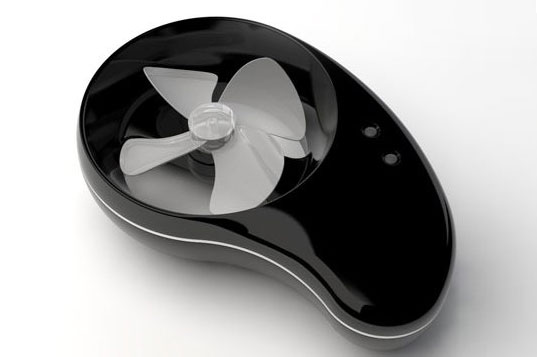 There are many solar powered chargers, however HyMini is one such device that has managed to take wind power to a different portable level altogether. This personal wind turbine can be linked to various gadgets like cameras, phones and so on. With the HyMini, you can charge your personal gadgets whilst driving, riding or even walking around. This device is small and convenient to carry for outdoor activities and camping trips.
Febot wind powered battery charger that is portable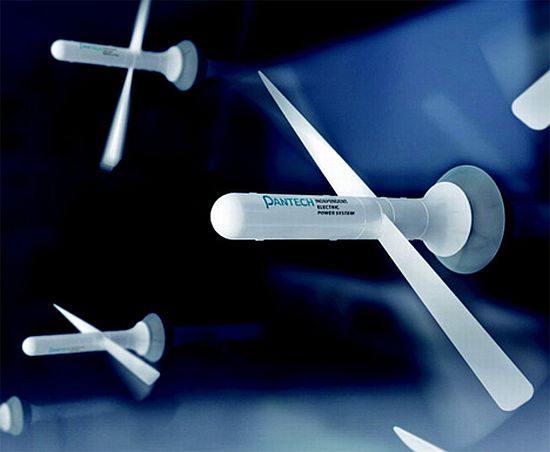 The name 'Febot' makes us think of robots, but it is actually the name of the design of a battery charger that is powered by wind. The Febot is the creative genius of three designers from Korea -Soon-young Yang, Ji-yun Kim and Hwan-ju Jeon . The device is shaped like a torpedo and has the capacity to hold one AA battery in its head. After placing the battery on the head, all you need to do is to place the device on your window for charging it.
Thanko Portable Fan Charger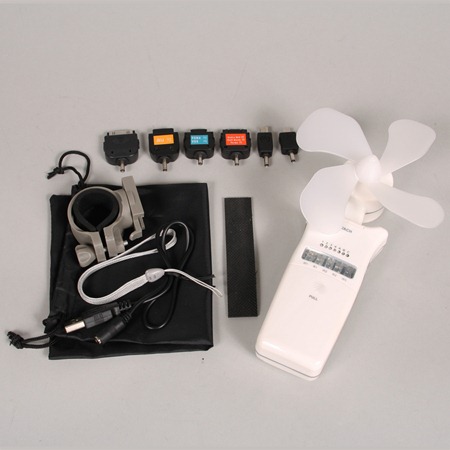 The Thanko portable fan charger is a great device for people who are blessed with a lot of high intensity winds. This device makes use of the wind power and converts it into usable battery power, which can be used to recharge gadgets like cellphones, media players and so on.
Wind powered lantern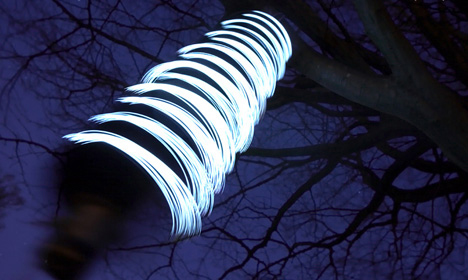 The Firewinder Mini is an outdoor light that is entirely powered by wind power. Although the lighting isn't very bright, but it is enough to create a cozy ambiance. The Firewinder Mini charges itself by spinning around when the wind moves at a speed of 3mph. The breeze is sufficient for illuminating 20 LEDs via its patented process. A wind blowing at 5 to 7mph is ideal, however the capacity to bear with strong winds of the device is up to 40mph. The Firewinder Mini has an approximate life of five years, after which it can be disassembled and then recycled.
K2 by Kinesis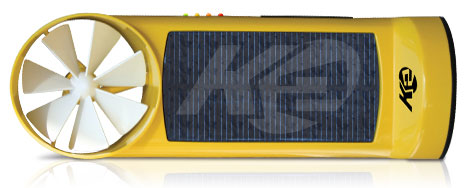 The Kinesis K2 is perhaps the most efficient handheld charging device that uses wind power and solar energy. After being exposed to the sun and wind for around one hour, the device can provide enough energy to power your phone for half an hour. A full charge would be able to charge a cell phone for around three hours. The device also has a handy clip with which you can attach it to an ATV or bike for charging it through wind energy.
Hymini portable charger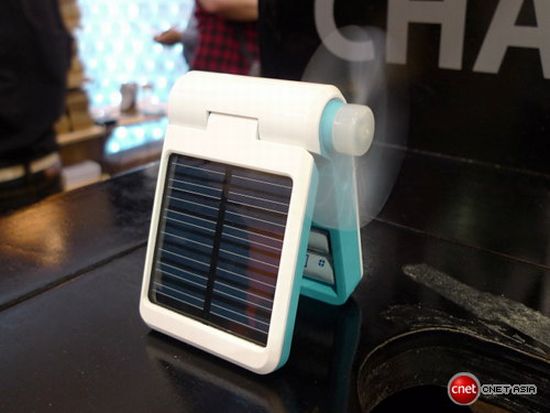 The Hymini by Miniwiz is an amazing portable charger that uses wind energy for powering various portable devices. Now the Hymini comes in a brand new version, which makes use of both wind and solar energy for charging devices and is known as the Hymini Biscuit. This device has the capacity to charge two AA size batteries with wind.
iFan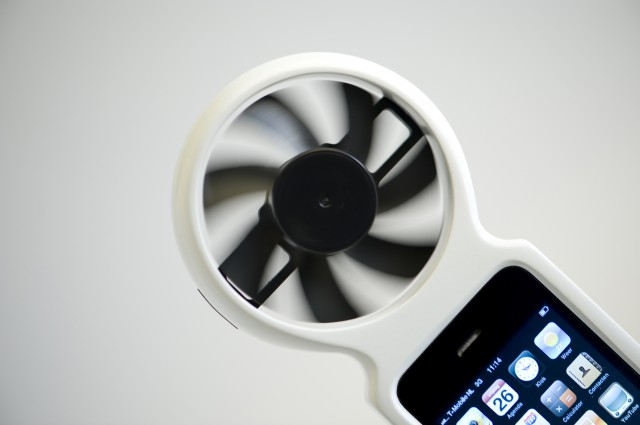 The iFan is a great device for those die hard iPhone and iPad fans. Tjeerd Veenhoven has designed a sleek iFan with the body of an iPhone. This fan is actually a repurposed computer cooling fan, which taps the wind energy and harnesses it to form battery that can recharge your iPhones on the go. The iFan is portable, although it is likely to stick out through your pockets.
The Mini Kin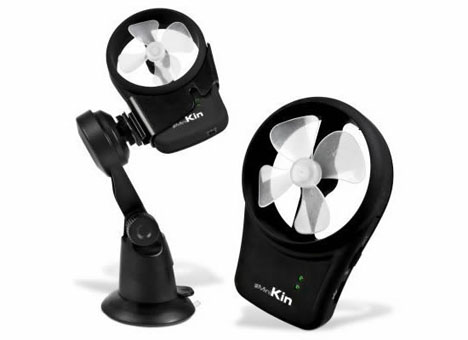 There are so many new and innovative options to charge with wind power and one such device is the Mini Kin. Not only does it make use of renewable energy, it is portable and green too. The Mini Kin will definitely give the Hymini good competition as it is priced quite competitively and also has a different mounting option as it coming with an adjustable arm and a suction cap.
Orange Mobile wind charger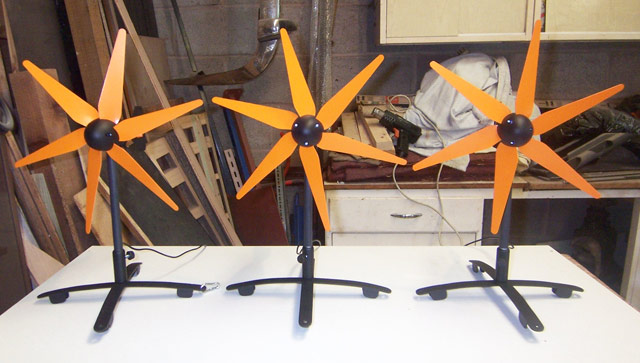 Orange, UK, has found a new way of charging your mobile phone without having to pay for the electricity. Just buy the Orange Mobile wind charger and let the wind charge your portable devices for free. This wind powered charging device looks like an orange windmill. However, such devices are effective only in places that have a lot of wind so that you can easily place your device outside for charging with a short waiting period.
Sol Air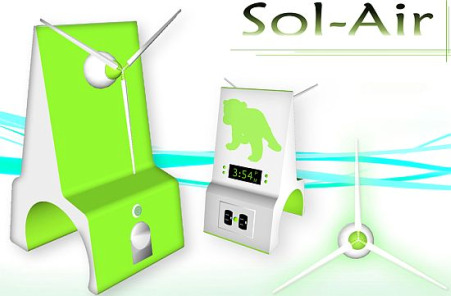 Sol Air is another charger that harnesses wind energy for powering small gadgets. Designed by Clarisse Paula Fernando, this charger not only makes use of wind energy, but also uses human energy for charging gadgets. It also has a dual function of an alarm clock. For charging, just place the Sol Air charger near the window and a five minute exposure of the device to wind can charge a cellphone. The Sol Air has photo luminescent casing that captures sunlight for glowing in the dark.