The coming of spring means every place will become lush with bright colors. And for adding a bit of personal color, Seth and Desiree created little planter boxes with chevron pattern for planting their avocado. This DIY project proved a bit tedious for them, but the outcome was totally worth the effort. They reused all sort of wood that was lying around the house, leasing a new life to the otherwise considered waste wood.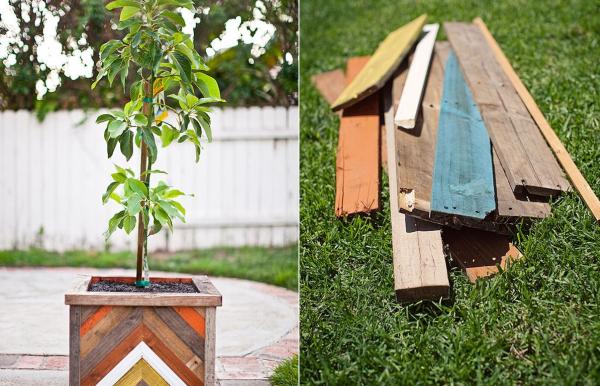 The main frame of the planter box is made from cedar wood and redwood. The wood used for making the chevron pattern is mainly leftover pallets that were lying about. For the box, each of these pallets was colored in different bright colors. Some wood was used from a worn out bed, which a neighbor had lend them.
The best part about the planter box is that it will blend well with the outside natural settings and also match perfectly well with all the outdoor furniture there and all other settings. For every new season you can paint it with different colors, allowing it to set itself with the mood of the ambiance. Reclaimed wood can be given various forms, but its best when you can create something useful from it that will last for a long time.
Via: Curbly