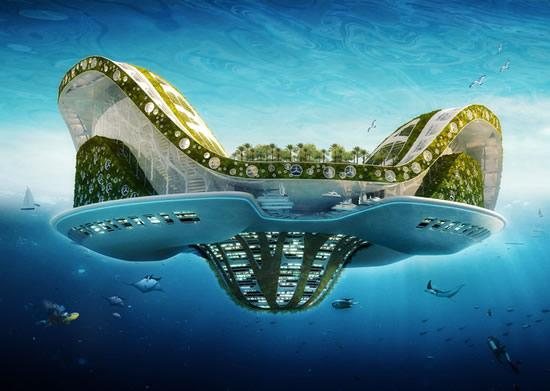 With threats of global warming and climate change looming larger than ever before, designers have taken up the task to come up with proposals that won't need any land to stand. While most architects believe that the only way out of the problem is to build structures that float on open waters, there is no dearth of plans that take cities under the surface of water as well, where they run completely on renewable energy harvested onsite. Here is a list of 10 such superstructures that might define the future of urban architecture:
Gyre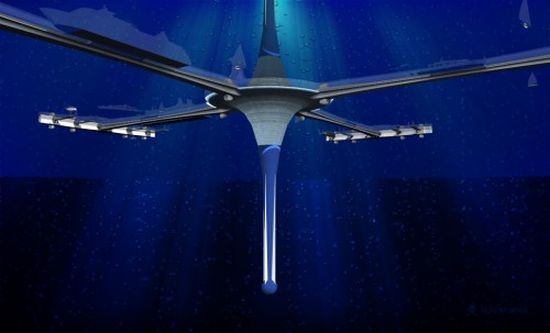 Designed by Canadian designers at Zigloo, the Gyre is a conceptual floating development that has been designed as an underwater skyscraper. The development will bring scientists and vacationers together to understand the ocean, without polluting its delicate ecosystem. Peaking at a depth of 400m, the development will provide space for a comfortable living and working environment, including space for shops, restaurants, gardens and recreation. With a total floor area of about 212,000 square meters, the Gyre will be an off-grid development, powered entirely by renewable energy.
Aerohotel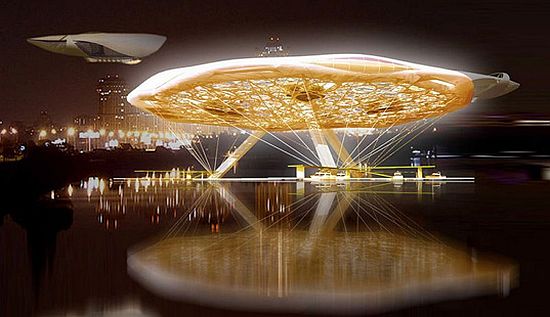 The Aerohotel by Alexander Asadov features an elegant floating island that sits on an equally innovative support system. Apart from a hotel, the Aerohotel will also house restaurants, cafes and winter gardens. The Aerohotel will be made from transparent materials to ensure maximum natural lighting and minimum environmental impact.
Syph Ocean City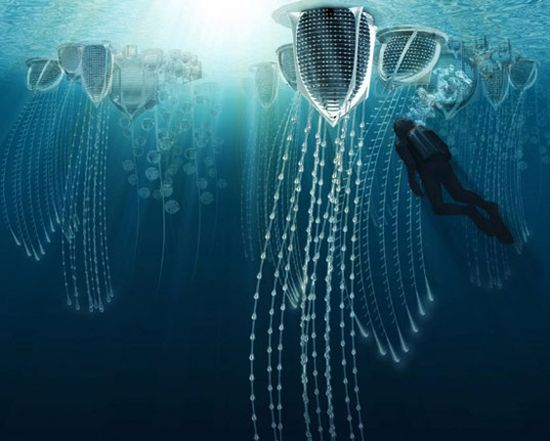 Conceptualized by Arup Biomimetics, the Syph Ocean City is a proposal for future Australia. The idea has been proposed for the "Now + When Australian Urbanism Exhibition" that envisions Australia 40 years from now. The development will evolve into a collection of organisms with specialized functions such as renewable energy generation and sustainable food production that work together to form a new underwater city.
Swimming City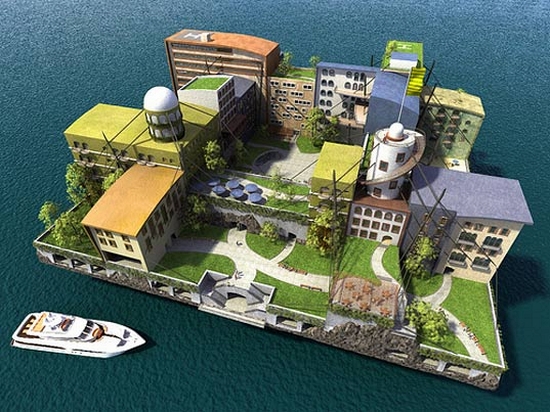 The Swimming City by futuristic designer Andras Gyorfi features soft earth tones and rooftop gardens. The city is conceived as a floating wonderland which is accessed by landscaped walking paths and each of the building's feature windows that differ in shape and size to achieve a unique character.
Boston Arcology (BOA)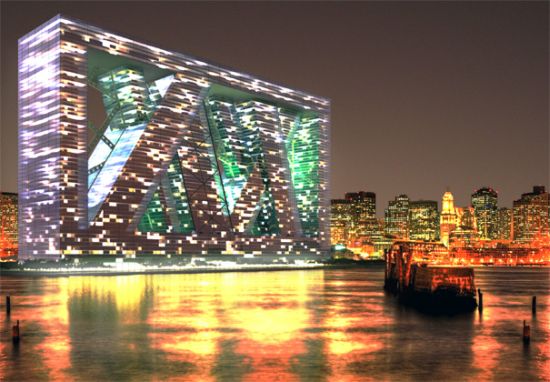 Designed by E. Kevin Schopfer, AIA, RIBA, the Boston Arcology (BOA) is designed to provide safe and dry living space to over 15,000 people after rising oceans swallow the cities in which we live today. The floating city will provide housing distributed in hotels, offices, retail, museums, condominiums and a city hall. The structures will feature secured wind turbines, fresh water recovery systems, passive glazing system, sky garden heating/cooling system, gray water treatment facilities, photovoltaic systems and water turbines.
Lilypad – Floating Ecopolis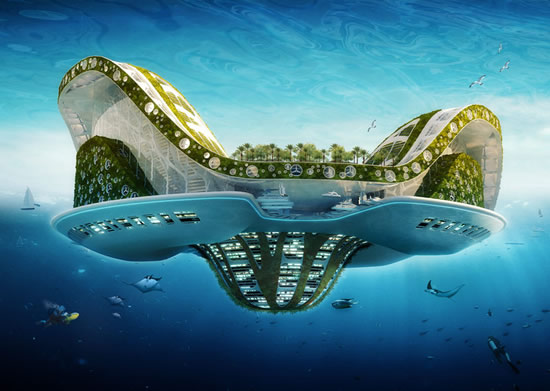 Renowned architectural firm Vincent Callebaut's idea of the Lilypad seeks inspiration from the hypothetical story of Noah's Ark. The plan is to build a luxurious retreat for climate refugees in the year 2100. Resembling a manta ray in its silhouette, this avant-garde hideaway features stealth Mercedes branding in its windows. The lower half of the floating community is submerged, while the top extends upwards to soak up solar energy. Completely recyclable, this floating Ecopolis encourages positive eco-accountancy of the building in the oceanic ecosystems by producing oxygen and electricity, by recycling the CO2 and the waste, by purifying and softening biologically used waters and by integrating ecological niches, aquaculture fields and biotic corridors on and under its body to meet its own food needs.
Water-Scraper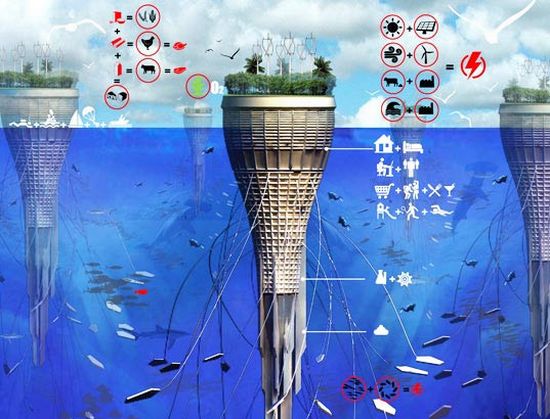 The Water-Scraper by Sarly Adre Bin Sarkum expands the concept of a floating island into a full-fledged underwater skyscraper that harvests renewable energy and grows its own food. The structure will generate renewable energy using wave, wind and solar power and incorporates several hydroponic technologies for food. The surface of the submerged skyscraper sustains a small forest, while the lower levels contain spaces for its inhabitants to live and work. The building is kept upright using a system of ballasts aided by a set of squid-like tentacles that generate kinetic energy.
Physalia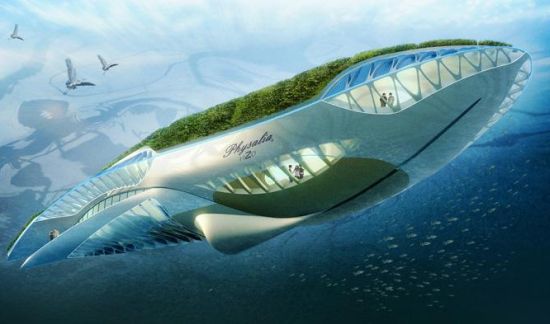 Designed by Vincent Callebaut Architects, the Physalia is an amphibious garden that is inspired by pneumatophorous called the "Physalia physalis," which means "water bubble." The zero carbon emission architecture is designed to harvest renewable energy to make the prototype a positive energy one, where it can generate more energy than it consumes. The roof of the Physalia features a double pneumatic membrane equipped with smooth photovoltaic solar cells. Under its hull are hydro-turbines that transform the energy of the fluvial stream into hydroelectricity. The surface of the structure is made of aluminum-covered steel. This is then covered with a layer of TiO2 that reacts to ultraviolet rays to clean river water and provide potable water to its occupants.
Blue Crystal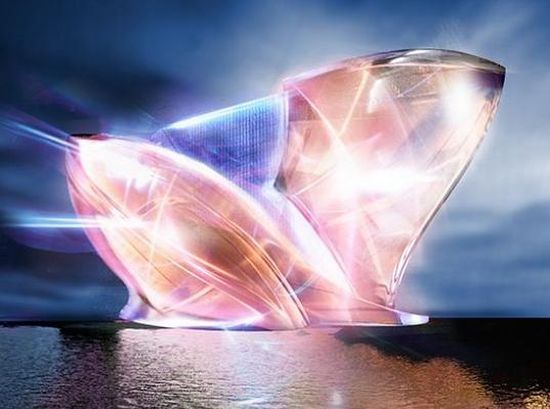 Designed by German design duo Frank and Sven Sauer, the Blue Crystal is being touted as the first year-round ice lodge. The Blue Crystal will generate all the energy it needs to keep a man-made iceberg under 32 degrees in scorching summers on the Persian Gulf from renewable energy sources. While the idea still isn't detailed, it is expected that the iceberg lodge will power itself with solar cells embedded in the icy façade and employ an energy recycling system.
Water Building Resort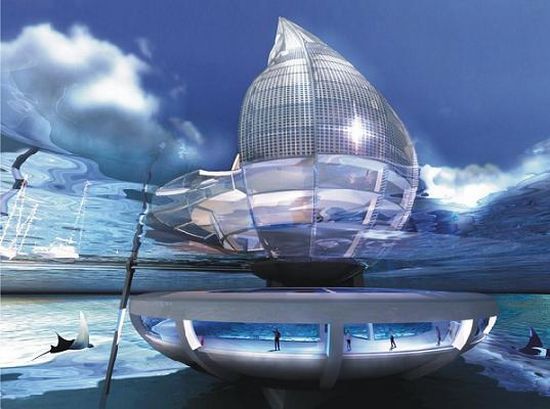 Designed in the shape of a drop of water, the Water Building Resort by Orlando de Urrutiaintends to become the first building ever constructed to convert air into water with the help of solar energy. A sunny, southerly facing facade made of photovoltaic glass will harness solar energy, allowing light to pass through. The northern facade features a latticed design for ventilation as well as unprecedented Teex Micron equipment that will convert humid air and condensation into pure drinking water. The development will also house restaurants, gyms, exhibition halls, hotel and conference rooms, and spa services.