The first time I looked at the pictures of these miniature food sculptures by Israeli artist Shay Aaron, I found it hard to decipher whether he loves food more or whether his food sculptures are simply an outcome of a creative endeavor. But irrespective of what the real inspiration behind his work is, it is irrevocably irresistible. The miniatures made out of clay can easily pop a squat on your fingertip and that is when you realize how impossibly tiny they really are.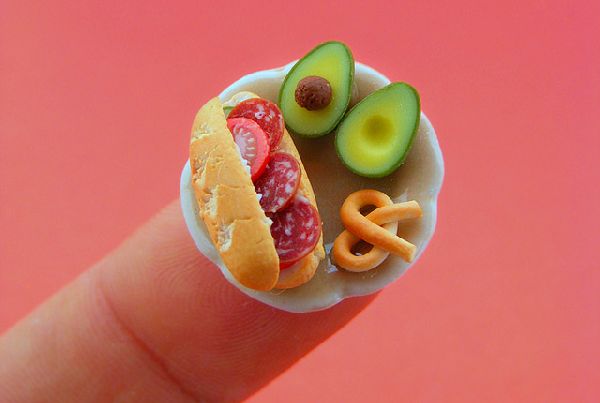 From tiny bananas, to pizzas, to lavish salads, lobsters, turkeys' even cakes and doughnuts, Shay has sculpted every possible food treat that makes your mouth water. The only sad part is that these tiny tots will not satisfy the appetite of your stomach, they will only satiate your visual desire. Most of these clay delicacies are created at a scale of 1:12, the perfect size to sit over your finger tip.
Some pictures even reveal a fully laid table, with food and cutlery arranged all too well. It brings back memories of times when I was a kid and played with my dollhouse, and how preparing meals was the most coveted task. But, of course, playing around with these miniature items is not the only thing to do. Some of them are actually wearable pieces of jewelry, each of which has been delicately and uniquely detailed.
The captivating food designs are so overwhelming that I had almost forgotten to mention about the eco factor they carry. It is not hard to guess; the food miniatures are all handmade using clay, which is a natural and harmless substance with no perceptible impact on the environment. Gift the jewelry pieces to your beloved or take home a few miniature food sculptures for your kids; they are thoughtful delights with universal appeal.
Via: Thisiscolossa