Casey Dzierlenga of North Carolina has designed and built a stylish swing from reclaimed oak dunnage. She built the swing after being inspired by wooden life preservers, lakeside lifeguarding and the arc of a boat. With a simple and naturalistic appearance, the swing can be attached to a tree branch and serves as a great summer accessory for a backyard. The oak dunnage is used to support heavy weight and is normally used to line ship holds to protect cargo. The carved oak rope swing is ready for order and delivery within 10 days.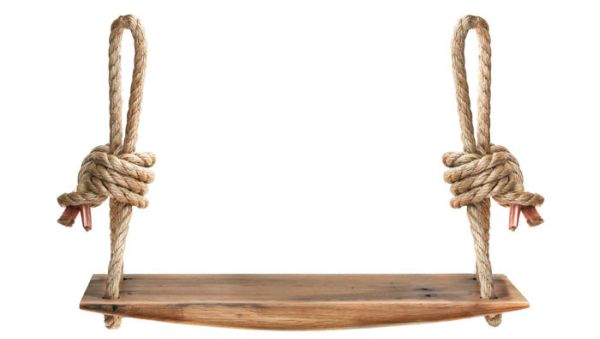 The swing is made out of thick wood and then run through a joiner for a smooth surface and the right angle. It is then resawn on a bandsaw and cut to the right measurements before being glued. For the ropes to pass through, holes are drilled after which the swing is carved with the help of an electric plane. It's then shaped with a file and sanded before tung oil is layered on it. Finally, a rope is inserted through the drilled holes and firmly tied in a hangman's knot before being whipped at both ends.
Before rushing to place an order, you might want to understand the use and care process so that the swing doesn't corrode at an early stage. To preserve the wood, use a coat of tung oil. This will ensure longevity. Also remember to take the swing indoors during winters. While the color may change over time and slight cracks may develop due to exposure to nature's elements, this is only natural.
Casey, who currently lives and works in New York, has reflected her satisfaction for smooth round wooden objects by implementing her ideas in the production of the carved oak rope swing. It can be hung on a sturdy tree branch or attached to a strong, installed object resembling a tree branch.
Via: Kaufmannmercantile