We might have evolved and moved over to minimalistic and sophisticated designs that are more refined unlike the past when everything was marked with lavishness. Yet among all this urbanity, a tinge of natures green still manages to please us. Vegetation in the kitchen is nothing new and if subtly added to corridors, lounges and reception, etc. it will still be a welcoming sight. Keeping in mind space economy, aesthetic looks and a concern for the environment, Jean-Jacques Hubert designed a vegetation slide that can be hung against the walls of your kitchen, living space and any other place to refresh you up.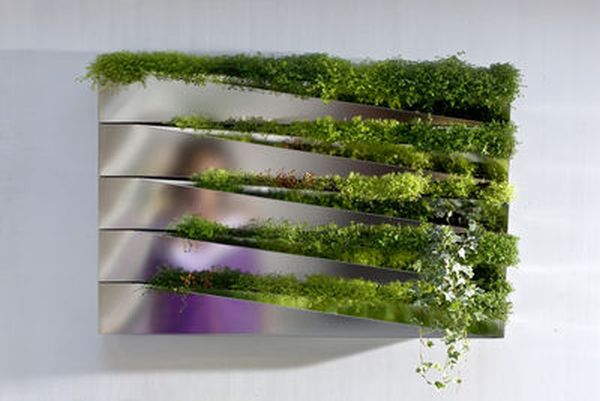 Called the Miroir en Herbe design, the vegetation slide is like a vertical abstract waterfall composition construction finished in stainless steel. Vegetation will either drool down like a waterfall or climb up toward the ceiling, casting reflections on the sides, exuding the effect of water in the river.
The rectangular structure is comprises individual window boxes, each measuring L 110 x H 11 cm x D 9 cm. The user is given the option select the number of windows he prefers and price too will be charged according to every single row. Each of these is also installed with a water descent, which occupies the space at the bottom of the length of the windows and will help maintain the required humidity.
Suitable for growing all types of vegetation; you can grow herbs, salads, aromatic plants, etc. that too at an affordable price.
Via: Madeindesign