Texas based Sett Studio is famous for making inventive prefab studios that can serve as home offices, yoga spaces, playrooms, etc. The studios are idiosyncratic with energy efficiency and this is obvious in all constructions done by Sett Studio. One such project they undertook was in collaboration with The Goodlife Team. Two studios were created, which were supposed to provide extra space for the company's office.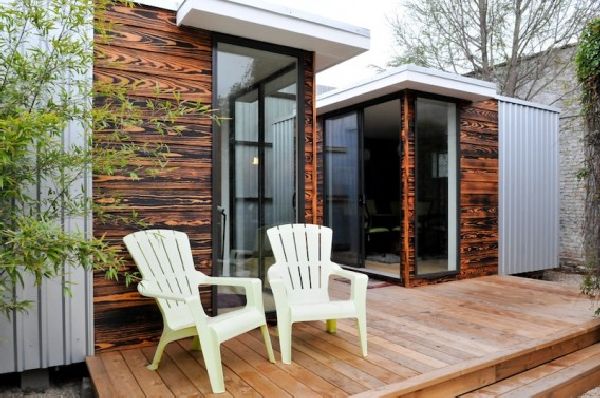 The two studios measure 144 square feet and 168 square feet respectively. The interior is built with floor to ceiling Ply Gem windows. The walls, floor and the roof are integrated with panels for insulation. Also you will find peculiar naked Plumen CFLs hanging all around the studios. These bulbs add a charm to the look of the studio without any adding any bulk to the décor.
The two studios are conjoined together with the help of a white cedar deck. The deck is wrapped in mixture of galvalume, lined with a yellow pine style siding treated with shou-sugi-ban.
What is most surprising is that the studio was ready in just four days and at a cost of $55,000. It looks amazingly gorgeous with charred wood and textured metal exteriors. This energy efficient space is not only beautiful, but is an apt example of environmentally conscious construction.
Via: Jetsongreen