While we think about electric vehicles, most of us generally talk about e-bikes or e-cars at the max. Most of us cannot imagine that even big vehicles like ATV can operate using electricity and we aren't talking about the ATVs for kids here. Electric vehicles nowadays are coming up with immensely powerful engines. E-FORCE is just an example of the same. In fact, there's a range of such vehicles that are making the definition of electric vehicles broader than ever before. If you'd like to write a project on it you just need to get qualified phyiscs and chemistry homework help online. It's surely a great topic to present in class.

E-FORCE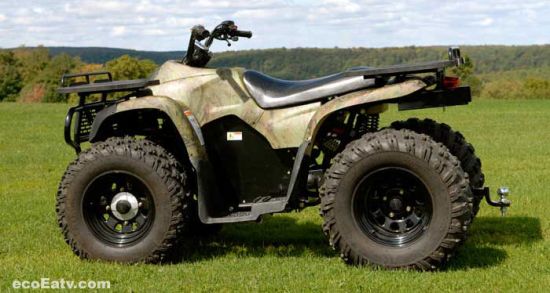 Eco Factor: Zero-emission ATV powered by electricity.
Built in Ellicottville, NY, the E-Force is an all-electric zero-emission all-terrain vehicle. It claims to be the first electric, adult-size ATV with adult-sized power and torque for extreme terrains. The E-Force has the power of a Torque on Demand electric drive system that generates three times more torque than a conventional ATV operating on gas.
Taking its power from a 72V brush DC motor, E-FORCE generates up to 28hp of force and 374lb-ft of torque, this it transmits to the vehicle's 2WD direct rear drive-shaft. The company claims that the ATV will run for eight hours on a single charge and can tow a load of up to 1000lbs.
Via: Treehugger
Some more eco-friendly ATVs like E-FORCE
1. TrakRok ATV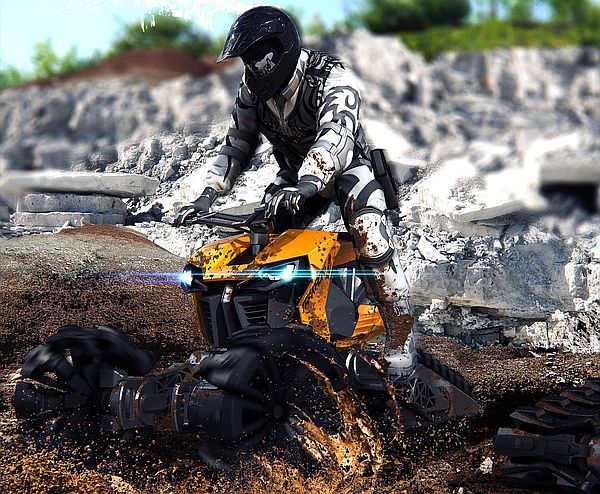 Designed by Alexei Mikhailov, the three-wheeled TrakRok is for all those who want an ATV to take them into the wilderness without polluting the delicate ecosystem. The trike configuration of the concept enables the two front wheels to be driven individually by electric motors, while the third wheel, which actually features an independent track system for use in harsh terrains, utilizes an electric motor of high power. The track system offers adequate traction on slippery surfaces such as mud and snow.
The electric motors, propelling both the front and the rear of the vehicle, utilize hydrogen fuel cells, which lie at the center of the vehicle to reduce its center of gravity and make the vehicle stable in all types of surfaces. To reduce the weight of the vehicle and better its performance, the designer has chosen to use hard-anodized aluminum for the exoskeleton. The designer believes that the motorized track unit at the rear of the vehicle will enable it to counter even the toughest terrains where ordinary vehicles would fail. Mikhailov hopes that the TrakRok has a wider spectrum target market that includes military, farming and off-roading.
2. Urban ATV

Argentine designer Angela Martin deserves credit for designing an electricity-powered concept vehicle named Urban ATV. One can use this vehicle efficiently in cities as well in rural areas. This green concept vehicle has an electric motor, which derives energy from the rechargeable battery. The Urabn ATV is spacious enough to accommodate two people.
3. Peugeot Capsule

The credit for designing the eco-friendly all-terrain vehicle (ATV) Peugeot Capsule goes to South Africa-based Alp Germaner. The design and look of this concept vehicle takes its inspiration from the Kawasaki KLR 650, a famous touring vehicle. The Peugeot Capsule is as efficient as a conventional ATV, but this vehicle is completely emission-free. The Capsule can work perfectly in extreme weather conditions too. Lithium batteries power the four wheels of this green vehicle, which features photovoltaic panels on its roof. This vehicle has inbuilt storage space, which is removable. One can control all functions of this vehicle using a single touchscreen.
4. Rocky all-terrain vehicle

Rocky is an eco-friendly all-terrain vehicle concept by auto designer Murad Baste. This zero-emission concept is specifically there to ride on mountains. It can carry four passengers comfortably. The carbon monocoque construction gives high bending strength to this vehicle, keeping its weight low. Strong and sturdy polycarbonate create the top of the vehicle, which has body panels of aluminum. Semi-transparent solar panels used in this car are flexible. These fit on the windshield of the car. The electricity by the solar panel's powers the vehicle. The rear of this vehicle features transformative wind set, which also generates electricity.
5. Misha All Terrain Vehicle Concept

Designed by Andrei Alexeev, this all-terrain vehicle with a unique look will be put on display at the Detroit Motor Show. Dubbed Misha, this ATV aims to help people travel in Siberian region. This vehicle can move easily on muddy roads too. Misha is the name of a Russian fairy tale character. This car features an uneven structure and has got a sporty look. One electric motor finds its place in all four wheels of this vehicle. This emission-free vehicle utilizes the power of Hydrogen fuel cells.
6. Bowler Raptor Concept

The emission-free all-terrain vehicle Bowler Raptor owes its inception to automotive designer Ryan Skelley. Moreover, this off-roader is powered by electricity. The bike has got a unique and aggressive look and it sports functional body panels. Replaceable hex-head bolts are used to hold the body panels. The chassis of this car is made of carbon fiber.
7. RC4 ATV Electric Concept Car

Designer Tristan Hipps deserves credit for designing an emission-free all-terrain vehicle named KTM RC4 concept. This car has got an interesting and aggressive shape. However, the designer claims that this ATV is a perfect vehicle for "active people" and it offers a fun ride. Moreover, this green ATV is powered by electricity, which is provided by a lithium-ion battery. In addition, this machine is capable of carving and pivoting through corners offering a thrilling ride to the driver.
8. Electric Quad

Designer Facundo Elias has designed an eco-friendly all-terrain vehicle named the Electric Quad. This vehicle is lightweight because its chassis is made using recyclable plastic. A 48-volt motor drives the engine of this vehicle. This motor can generate 750 amp of power. Furthermore, the battery used in this car can run continuously for 3 hours and it can be recharged using any 110-volt source. In fact, the solar panels placed under the driver's seat act as an emergency charging system.
9. Peugeot Capsule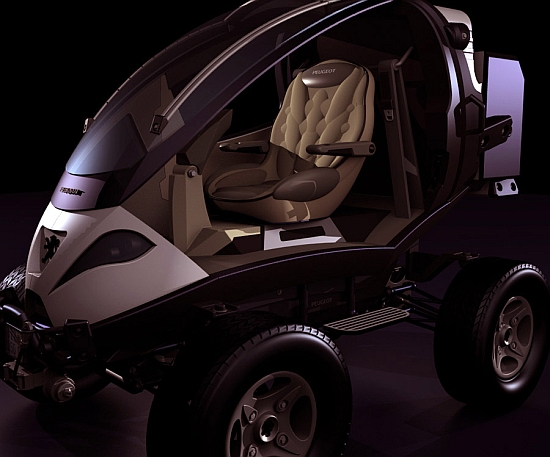 Designed by South Africa-based Alp Germaner, the Peugeot Capsule might just become your favorite ride to the jungle if it actually reaches the production line. In addition, the concept is inspired by touring motorcycles like the Kawasaki KLR 650. The Peugeot Capsule can do what all ATVs do but in a more eco-friendly manner. The Capsule has been designed for all weather conditions and it also has enough storage space to allow for extended overnight adventures.
The concept is fueled by lithium batteries, which provide propulsion to all four wheels, and it has roof-mounted photovoltaic panels that ensure you never run out of juice on a sunny day. Furthermore, the built-in storage compartment is removable and can be used as a stool or a desk at the campsite.
However, being electric, technology is on a high inside the Capsule. A single touchscreen controls all vehicle functions and you also remain connected to the world with the internet-enabled satellite connectivity.