Public transport isn't only less expensive when you compare it to using your own private vehicles, it is more eco-friendly as well. Especially in cities that are suffering from traffic congestion, these could prove lifesavers. In addition, by making the trains more energy efficient, trains like Magellan C2 are making this even greener. Therefore, here's all you might want to know about this wonder of a maglev train along with three other similar trains.
Magellan C2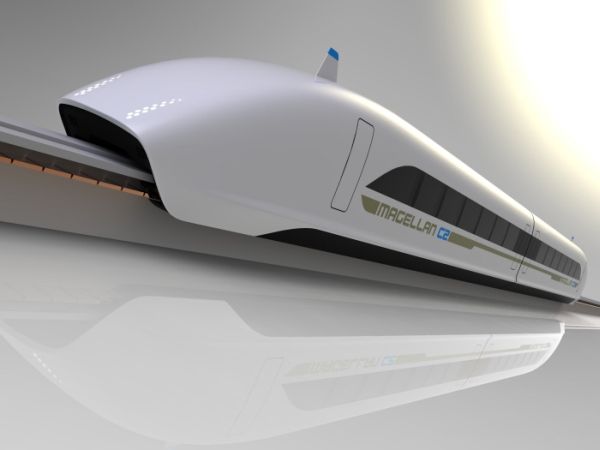 Maglev trains, as you might know, utilize a low emission system of magnetic levitation, instead of a conventional set up of wheels, axles and bearings. This levitation process in itself suspends and guides the vehicle, thus improving upon the speed and noise mitigation of the rail oriented commute. Well, in relation to this, Czech industrial design student Jan Koutník has conceptualized his indigenous version of maglev based transportation, which seeks to improve upon the overall level of user transit convenience.
Named as the Magellan C2, the whole scope has been envisaged as a low cost alternative to urban based public transportation. The train will take an inter city route, with a blistering high speed mechanism. The designer touts the velocity to be in range of around 450 km/h, which is more or less equivalent to existing advanced maglev systems. For comparison's sake, Japan's CJR's MLX01 reached its highest speed at 581 km/h, which is a world record.
However, it is the sustainable side of affairs by this design that interests us more. In a conventional ambit, maglev trains account for lower carbon emissions, but they also consume around 15 percent more power than 'traditional' electric trains. In this regard, the Magellan C2 will be utilizing by efficient fuel cells that would regulate the quantity of energy expended.
Moreover, the whole scope of maneuvering will be fueled by an exclusive 'green' technology. This entails the utilization of a universal inductrack system of suspensions and solar panels for renewable power harnessing. These conscientious features complemented by a sleek, futuristic design certainly insinuate a potential for high velocity yet sustainable commute through the city.
Via: Coroflot
Some more trains concepts like Magellan C2
1. AirTrain
Francesco Codice, a Product Design Graduate from San Marino, describes the concept of a purification process in trains. It cleans the impure air and releases fresh oxygen back to the passenger cabin. This not only makes your journey a memorable one, but also makes it Eco-friendly.
Francesco opens up that the process of purifying air by means of certain green plants, has been discovered and patented by NASA, already. This technology enhances the ability of certain plants to purify the air, by means of micro-organisms known as Pathogens. If such plants are grown on trains, they will help to convert the excess carbon dioxide gas into oxygen. Francesco takes up this project to study the purifier form and about the train's cabin space and interior designs, so as to extract maximum benefits
Francesco's project involves the study of the growth of these plants just below the roofs on both sides of the passenger cabin. This means that they will be placed above the passenger's seats. These plants will be held inside a transparent compartment. The carbon dioxide gases are absorbed by the plants through small ports. They undergo certain chemical reactions and released oxygen back to the passenger cabin through small outlets. The released air is highly purified; thus, creates a comfortable atmosphere to the passengers in the train.
The feasibility of implementing this concept in all kinds of trains in quite uncertain. The addition of plants should not bring any pungent odor, which in turn affects the passengers in the other way. The surviving capability of the plants for a long time is unknown. However, the study must have thoroughly analyzed most of the extreme situations before concluding the result. We shall hope to see this project implemented on trains, very soon.
2. China's new super-speed train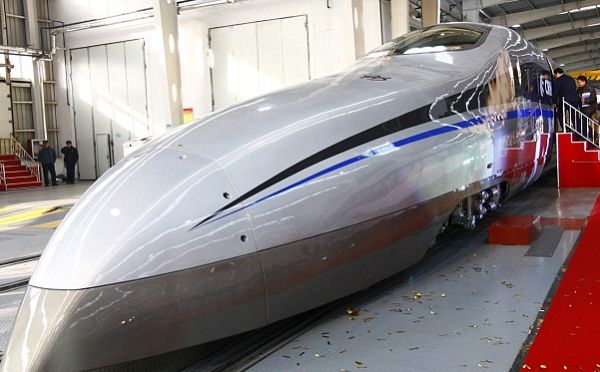 China continues its speed train experiments. The People's Republic has recently unveiled its super rapid test train that can cover 300 miles in an hour. The new super speed train is 100 mph faster than its forerunner. In addition, can travel the 824-mile distance between Beijing and Shanghai in just five hours, i.e. 200 mph speed. Construction work of new high-speed trains in China has been a near halt. It is because of a tragic clash of two high-speed trains in July, 2011, killing 40 people.
The new high speed test train is manufactured from plastic materials and is toughened with carbon fiber. According to Shen Zhiyun, a train expert, the new train is built in style of an ancient Chinese sword. This is done to indicate its ultra-speed on track. The latest test train is ready with a tractive power of 22,800 kilowatts. Meanwhile, the current Beijing-Shanghai CRH380 high speed train has only 9,600 kilowatts of tractive power.
In wake of the July collision, Chinese authorities have decided to take huge security measures in operating its bullet and high speed trains. There is less chance that these trains will run at their maximum speed limits, says CSR chairman Zhao Xiaogan. There will be some control in the speed and some advanced security measures will be implemented in trains, the authority says. Mr. Xiaogan adds the country is to ensure the safety of train operation and passengers rather than the speed showoff in future.
China, with its 8,000 miles of track, is known as home to the largest bullet train network in the world. By next four years, another 8,000 miles of line is projected to build. Meanwhile, people of the country have expressed dissatisfaction in the high ticket charges of bullet trains.
3. Innovative Technology Train (ITT)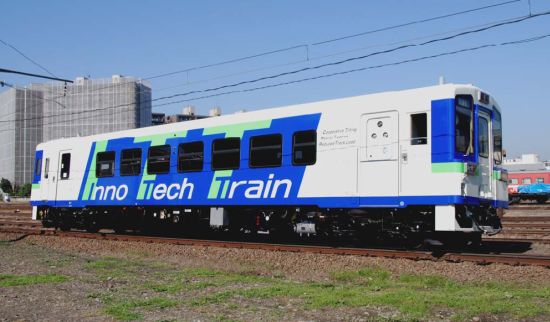 Hokkaido Railway Company in collaboration with Hitachi Nico Transmission Co Ltd has developed an Innovative Technology Train (ITT). It is installed with the world's first Motor-Assisted Hybrid Traction System. This traction system is for the next-generation hybrid system. This makes it capable of solving a trade-off between the improvement in tractive performance. Furthermore, it would also help in energy conservation/environmental load reduction with high-cost performance.
The vehicle is environmentally friendly. Its hybrid traction system cuts down the engine emissions of carbon dioxide, nitrogen oxide and particulate matter.
4. Japan's new bullet train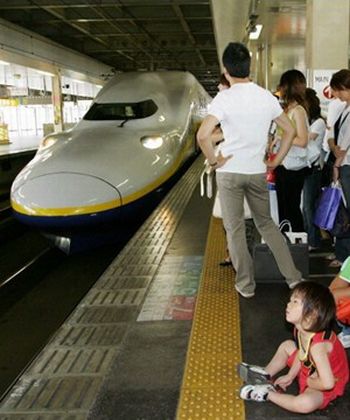 Though Japan's celebrated bullet train, scheduled to provide service from July, will travel no faster than the current bullet trains, is been catapulted to the headlines for a different and nobler cause – its environmental and a bit more comfort.
No, the new N700 model's joint designers did not try to beat France's TGV in speed, rather focused in improving its comfort levels as well as the environmental performance. It's important, especially amidst the increasing concerns for soaring global warming and its considerable consequences.
Seeming to be honoring its stoppage at Kyoto — the namesake of the pioneering environmental treaty – the bullet train will be using 19 per cent less electricity, compared to the earlier models.
Unlike the current models, the new bullet trains will lack the smoking sections, in spite, will have sealed, ventilated rooms for passengers to light up in.
The 260 billion yen (2.1 billion dollars) N700, can run at the maximum speed of 300 kilometers per hour (185 miles per hour).