Recycling is nothing new. Keeping in mind the billions of tons of waste that we produce each year, it is no wonder that recycling is everywhere now. Even if you pick up some popular brand like Nike, Coka Cola, etc, you'd find that they too have products that promote sustainability. However, most of their efforts usually just aim to improve their brand image. But this isn't the case with anyone. There are many eco-friendly companies and independent designers out there that give sustainability the attention it deserves. Here are some recycled merchandise from these very companies. Let's check them out:
17 – Innovative recycled merchandise
EcoFactor: A bunch of nifty items made out of recycled materials.
Here at Ecofriend, we provide you a wide range of re-used designs, so there is something to fascinate each and every one.
1. Pen Chandelier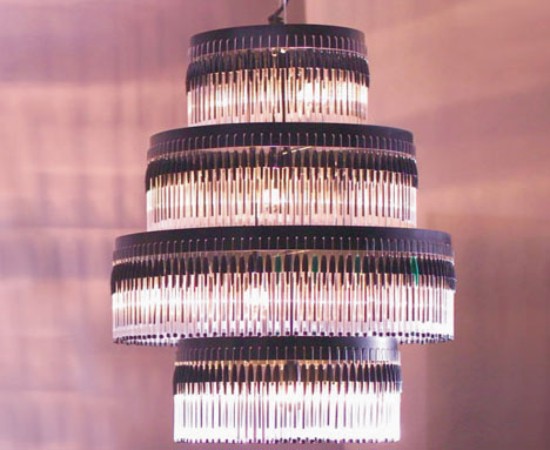 Going by the name I'm sure is unheard of, but that's where the creativity kicks in, my friends. If you possess hundreds of pens just like me, then you should try making this yourself. I guarantee no one will guess it's made out of pens at one glance, unless they are staring really hard at the picture!
2. Skateboard Chair and Table: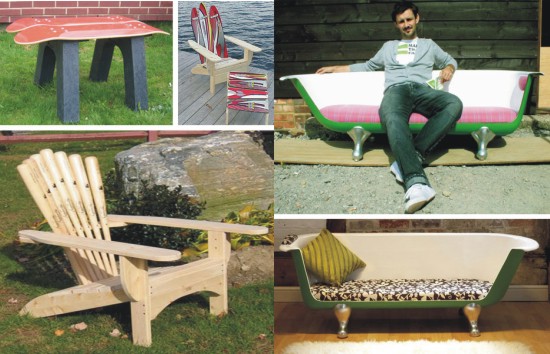 Another brilliant way of designing useful furniture instead of using expensive and scarce wood! Just pick an old skateboard (polish it for the shine) and create something wacky. I personally don't like the chair but the table looks awesome. The designer has used skateboards on top and the bottom is made from recycled plastic. Clever indeed, I highly recommend you to try this at home.
3. Bathtub Couch
The guys at Reestore have found an awesome way to redesign your old boring bathtubs into an elegant sofa. You really have to see it to believe it!
4. The Tyre Table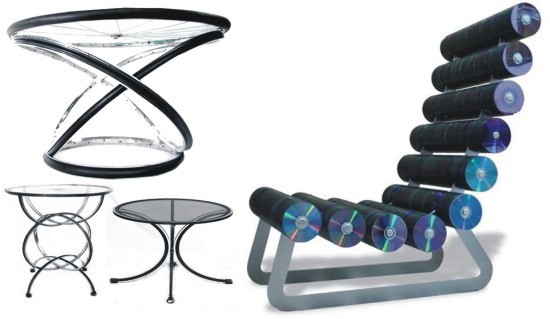 Andrew Greg is a genius! Who else could come up with such a "twisted" idea? Seriously, he actually uses twisted bike tires and manages to convert it into a breathtaking table. Pure awesomeness, I say!
5. CD Chair
You know those CDs you throw away because they are damaged or don't serve you any purpose? Well, designer Belen Hermosa really knows how to make good use of them. This gorgeous chair certainly is an indicator of "out of the box" thinking!
6. The Shopping Cart Chair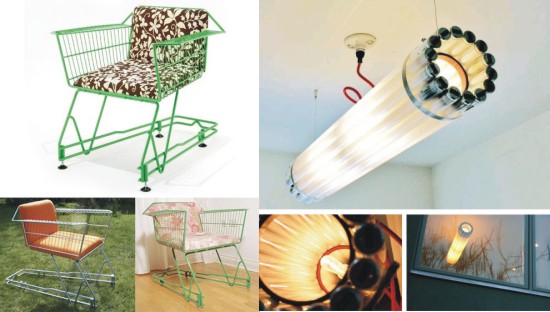 It's a brilliant example of how waste materials can be reused. Usually, the unaligned market trolleys serve no purpose and are thrown out; this one cleverly uses those waste materials to create something comfy and usable for each home – a chair!
7. Recycled Tubelight
It's strange how our typical tube lights can be re-arranged to create something absolutely stunning. A by-product of Castor Canadensis, this design has surely accomplished in converting a boring light into a sheer elegant masterpiece.
8. Lamponi Lamps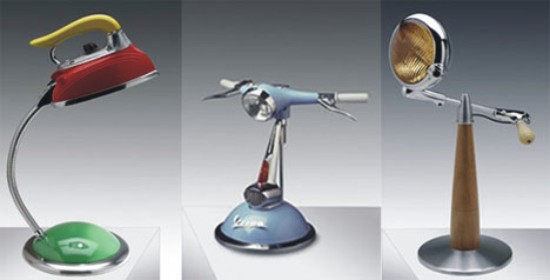 Re-using automobile spare parts to create lampshades is so cool. Apart from being eco-friendly, they are extremely stylish. A really good deal, I'd say!
9. Washing Machine Table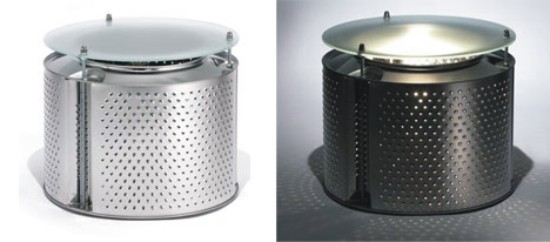 The Silvana Washing Machine Table from Nigel's Eco Store is a piece of furniture made from a recycled washing machine drum. The glass surface fits a low energy lightbulb transmitting an attractive glow. Who knew recycling could give out such stylish products?
10. Can Furniture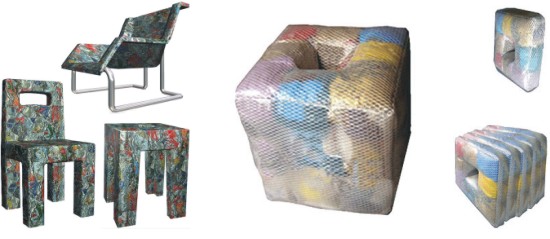 The crushed can furniture is one of my favorites. I mean I never thought something useful could come out of them. But I am proved wrong and I love it!
11. Cloth Furniture
Don't you think it would be awesome if you could have good use of those old clothes that you never want to wear? Well, here's a solution. Just pile them to make a comfy seat; yes it's that simple. This truly is an amazing and excellent way to re-use!
12. Newspaper Basket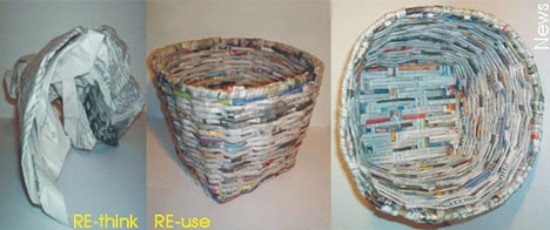 Majority of the waste comes from paper, so recycling newspapers helps each and everyone do our bit for the environment. Thus the newspaper basket serves as a multi-utility item for your house.
The whole point of this post is to give away something informative for the eco-lovers. Most of these products are DIY. So next time you have some free time, I suggest you try making one of these!
13. Eco-friendly sculpture by Scott Weaver

Toothpicks have never looked so attractive and breadth taking till date, but one look at the recycled merchandise by Scott Weaver and you are bound to slip into a state of complete trance. The incredibly talented artist has made a sculpture using nothing but toothpicks. His eco-art is truly impressive and can prove to be a great gifting option for people who love decorating their living space with miniature replicas and sculptures. The creations made using toothpicks are clean and green and there is a wide variety of sculptures to choose from.
14. Elwood Clothing Hyde Wallet

It is indecent to touch a man's wallet, but it is absolutely respectable to gift him one. Elwood Clothing Hyde Wallet will make a perfect gift as it comes injected with a lot of practicality and sustainability. The wallet has hemp inside and its ersatz ostrich leather look to make it an attention grabber. The sustainable wallet is stylish and won't harm the environment in any way. Elwood Clothing Hyde Wallet comes stashed with a price tag of $25, which is nothing when compared to the value of its eco-friendly status.
15. Recycled Scrabble Tile Pendant

Scrabble is a very popular word game and comprises of 100 square-shaped letter tiles. But, if you have discarded the game because of some missing tiles, then why not swap these tiles into a piece of jewelry? Keep your green gifting promise by giving your friends, family members or loved ones a recycled Scrabble Tile Pendant. Recycle the tiles into chic and vivid pendant necklaces by matching the initials of your loved ones with the alphabets printed on the tile. The recycled Scrabble Tile Pendant will definitely make a great personalized gift.
16. Recycled Mac and iPhone Jewelry

Jewelry has always held an important place in enhancing the beauty of the wearer. If you are a Mac or iPhone lover, then this recycled merchandise made from spare parts of these gadgets will force you to jump with joy. Grab the eye-catching earrings made from iPhone home buttons and leave the receiver of this thoughtful gift impressed.
17. Calvin Nicholls' paper sculptures

Paper sculptures by Calvin Nicholls will make you fall in love with his unique art pieces in no time at all. The artist meticulously carves these sculptures using only a scalpel. A lot of patience and time goes into making such impressive creations, which are a true personification of eco-friendliness. Wooden and metal tools are used to cut and texture each and every component of the design.
The Dark Side:
Only a moron would find defects in any of these extremely handy and "green" products.
Via: Web Urbanist
Final Words
With increasing eco-hype more and more people are stressing on staying eco-friendly, re-using products and choosing the "green" path. No-doubt that recycling is good for our planet, but people usually deem recycled merchandise as ugly. We all know it's good for the environment but still, consider it unsightly. If you too had this notion, then we hope that this article helped in altering it.