A lot of people think that there's nothing noble about having an eco-friendly vehicle. Well, right now, it might seem so. However, today or tomorrow, the switch is inevitable. We have limited reserves of fossil fuels and as their availability would become less, their prices would rise. Therefore, soon fossil fuels would become much more expensive than its green alternatives. This trend is going to be for vehicles in general, but boats in particular. In fact, in the future, it would be a very common sight to see something like Buffalo's solar-powered boat floating quitely over the ocean.
Buffalo's solar-powered boat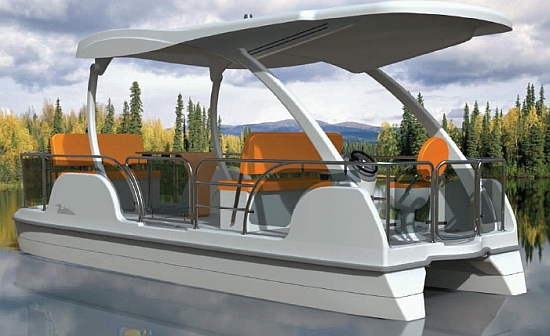 Eco Factor: 22-foot boat powered by solar energy.
Buffalo's Solar Boats has announced the development of a solar-powered 22-foot boat that can carry up to 8 passengers. The solar-assisted electric pontoon boat is capable of touring inland waterways and lakes by harnessing solar power from the roof-mounted solar array capable of generating up to 1KW of power.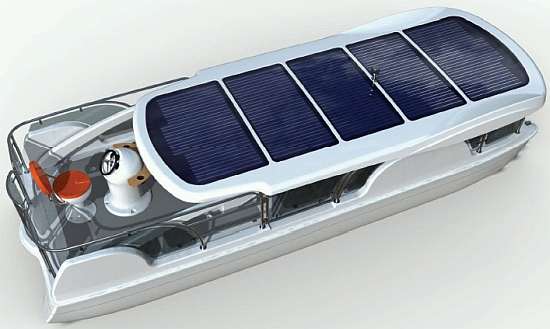 The boat carries a large onboard battery that can power it during overcast days or nighttime outings. To minimize the weight of the boat the company has made use of resin-infused fiberglass, which provides an adequate level of safety as well. The boat is priced $29,900 and can be pre-booked now with deliveries expected by the end of 2009.
More boats like Buffalo's solar-powered boat
1. The solar powered hi-tech row boat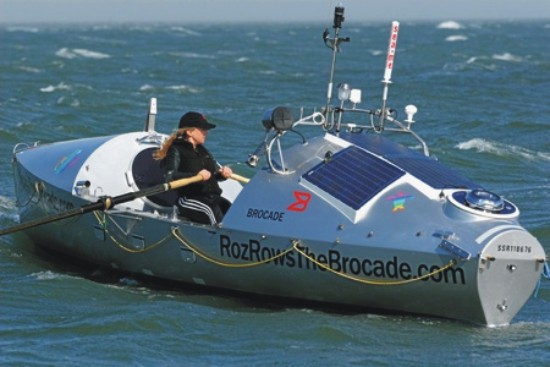 EcoFactor: Solar-powered boat
Rowboats are the perfect way to experience serenity and be one with nature. This new invention of a hi-tech rowboat epitomizes our absurd yet speedy technological advancements. The USP evidently is that it is solar powered. Along with that, it also has the ability to row and stay in the middle of the ocean. Unlike a meager "regular" boat, this one comes equipped with cooking materials and other working tools for you. You can use them when rowing, and can eventually serve as your little home in the ocean, wherein you can also sleep comfortably.
However, the biggest question is why would some one want to sleep in the middle of the ocean? Even if you are on some kind of quest using this invention seems a bit silly. The small boat does nothing substantial apart from giving extra space for your belongings, which comes at a whooping cost of $50,000, making the boat an extremely useless and pricey affair!
Personally I don't think this idea has lot of potential. I agree that using a solar panel makes the boat eco-friendly, but the price of this tiny rowboat, with its unnecessary features is on the higher side and will fail to capture a wide market. A green way to replace regular spacious motor boats would have been a better option in comparison with this.
2. SunCat23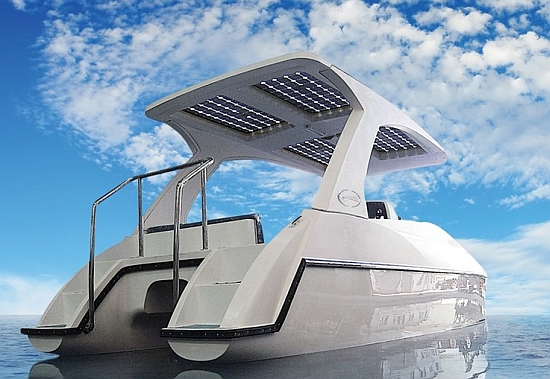 Eco Factor: Electric catamaran fueled by solar energy.
Taiwan-based Horizon Yachts has developed a eco-friendly catamaran to green your next sea trip. Developed in cooperation with Solar Water World AG, the SunCat 23 utilizes four solar panels capable of generating 760 watts to fuel a 2.8KW electric outdoor motor, which propels the catamaran to a top speed of 6 knots while carrying 12 passengers. In addition to the solar power technology and an electric motor, this green boat utilizes an ultra low resistance hull design optimized for cruising efficiently with very limited power.
A fully charged battery bank will be able to power the boat for a day trip, even on a cloudy day. The SunCat 23 has taken sea test at Kaohsiung harbor in Taiwan and is ready to enter the market. Along with being ecofriendly, the boat also ensures that your ride is as luxurious as it could be. The layout includes a fully equipped entertainment system, a galley with electric stove and refrigerator, dinette, a helm station and an owner's stateroom furnished with all modern amenities.
The exterior has been styled by J.C. Espinosa, who has all the experience to merge ecofriendliness and luxury in style. The equipment, materials and craftsmanship is of the highest quality and will include all state-of-the-art technologies you would have always dreamt of.
3. DIY solar-powered boat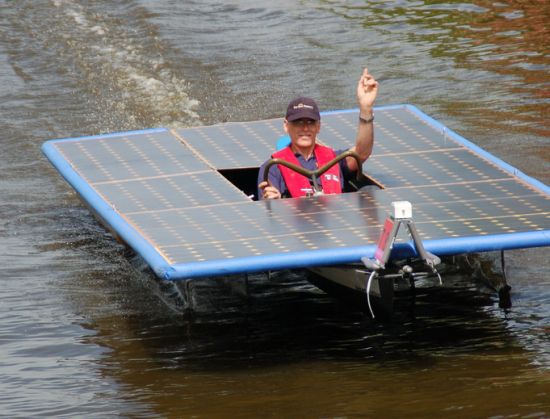 Eco Factor: World's largest race for solar-powered DIY boats.
Friesland is organizing the world's largest race for solar vessels, the Frisian Solar Challenge, for the third time. The race runs along the 220km route of the famous Frisian Eleven Cities. The challenge, also known as the World Cup for Solar Powered Boats, pits small solar vessels against each other.
Held every two years, the challenge helps promote sustainable engineering and technology in boat building. Attracting nearly 45 racing teams from around the world, the participants have to build their own vessels, each of which should be powered exclusively by solar energy.
A solar-powered vessel is a complex design challenge for the teams. The boat must have good hydrodynamics so that it experiences little resistance. Moreover, the design must create a safe structure. In addition, the boat must be built properly in terms of the electrical system, given that electricity and water do not mix well. This combination complicates the construction.
4. Electronemo zero-emission boat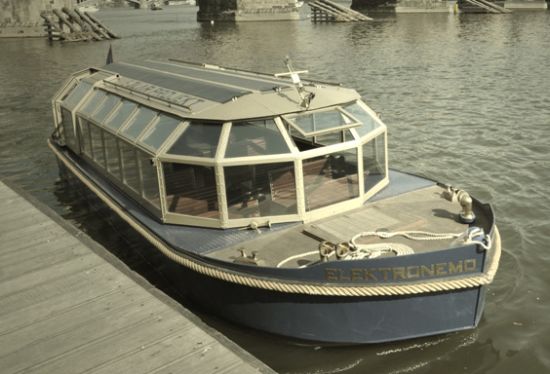 Eco Factor: Sustainable boat powered by solar energy.
Created by Jan Hamza, director of tour company, European Water Transport, the Electronemo is Czech's first boat powered entirely by solar energy. Constructed at the cost of about $149,000 the solar boat features two suitcase-size electric motors powered by 2.2KW electric batteries.
The batteries are fueled by three solar panels and the boat can also operate up to 10 hours even in the dark. The boat was built without any outside funding and the designer aims to develop a much larger boat if it is funded by the government.
5. Solar Proa
Eco Factor: Concept boat designed to run on solar power.
Solar Proa is a self-sufficient boat designed by Carolin Dissmann, Tibor Bartholomä, Daniel Boos and Andreas Schwab that harnesses solar energy for green power. The Proa is an asymmetric catamaran that provides space for six people with lightweight, elegance and sustainability the key aspects of the design.
The asymmetric catamaran shape allows a big surface of 14.5-square-meters that is covered with photovoltaic panels to generate electricity. The solar-powered boat has two foldable covers with solar panels on top. When docked the covers are closed and the entire boat features just one clean and flat surface enabling the solar panels to generate electricity.
It is also possible to recharge the onboard batteries by connecting the boat to a 230V electric socket. When on the water, the covers transform into different areas with different functions. Moreover, the interiors feature energy-saving LED lighting that reduce the load on the solar panels. According to the designers, the all-electric boat can reach a top speed of 6.59 knots without emitting a single gram of carbon.