Bikers often have a bad reputation so much so that it often becomes difficult to imagine a good fellow on a bike. However, that's not even half the truth. Just like normal people, bikers too includes all sorts of characters. In fact, you can also become an eco-friendly biker now. Unbelievable, isn't it? The rise in the trend of green bikes bears a testament to the fact.  Below is a list of environmentally-friendly electric motorcycle concepts that will save the beautiful world from further deterioration. All of these work on electricity, and if you charge them using renewable energy, they would be as sustainable as a bike can be.
12 – Environmentally-friendly electric motorcycle concepts
1. Kobra all-electric motorcycle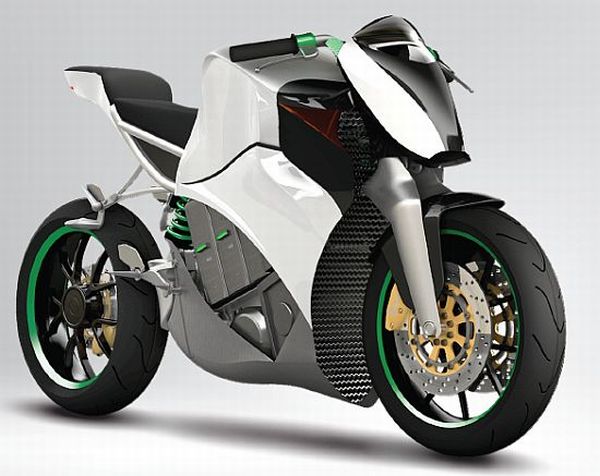 Cristiano Giuggioli has designed Kobra, is an all-electric creation. The most unique trait is the motorcycle's ability to adjust according to the rider's weight and height. The good-looking creation has an electric engine that couples with high-tech robotic technology. Moreover, the on-board batteries of Kobra, recharge effortlessly when one applies the breaks, thanks to the presence of the regenerative braking system.
2. Orphiro Electric Motorcycle Concept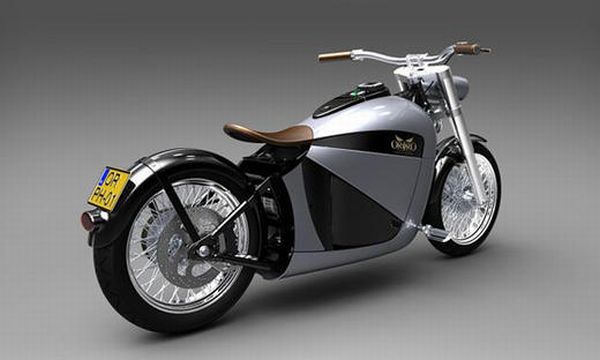 Electric bikes are infamous to have low power. But, Orphiro Electric Motorcycle Concept is here to change this thinking forever. It can touch a top speed 75 mph or 120 km/h and has an approximate range of 60 miles or 100 km. The emission-free creation, has been injected with fun elements and is perfect for a ride around the city. Orphiro has an aggressively carved wide-body that will manage to fetch unending attention.
3. E-bike Concept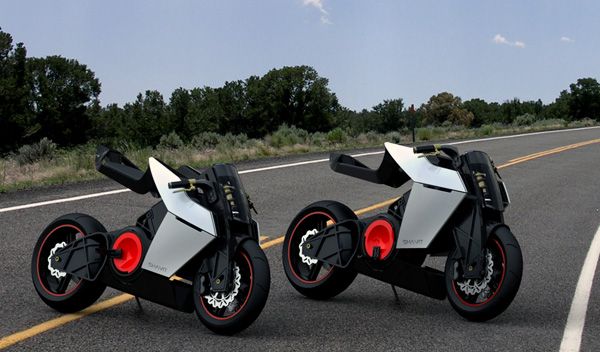 Shavit Electric Sport Motorcycle is the brainchild of Eyal Melnik. The sexy bike can morph from an upright posture to a lean stance in no time, thanks to the unique riding pose. One can accustom the seat height, handlebars, and foot-pad of this fascinating E-bike separately, and that morphs it from an everyday bike to a superbike.
4. BMW E 100R Electric Motorcycle Concept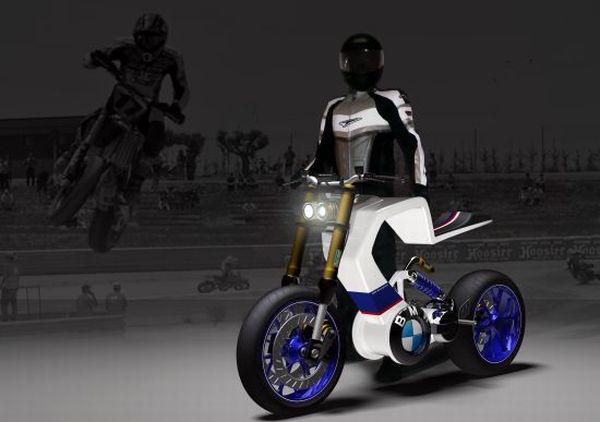 The name BMW itself sets pulses racing, and here to accelerate the excitement all the more, is BMW E 100R Electric Motorcycle Concept by Miika Mahonen. The sumptuous creation is a perfect blend of good looks and power. It has a power-packed electric engine. Furthermore, its lightweight frame compliments that engine. It makes the bike all the more energy efficient. BMW E 100R is eco-friendly in nature. In fact, it can drive in the city, race track and even in hills.
5. 4 Wheeled Electric Motorcycle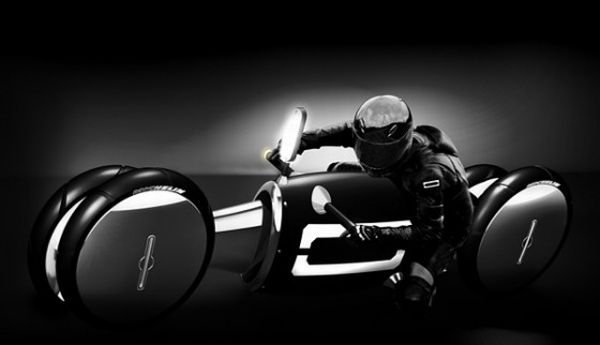 Now, this concept sure comes draped with wicked looks. The 4 Wheeled Electric Motorcycle provides an eco-friendly ride that ranks high on the style-o-meter. Designed by Wes Rhoad, it is a zero-emission bike that vows to keep the environment clean and green. It has an exceptional silhouette, managing to capture a lot of hearts.
6. SE Electric Motorcycle Concept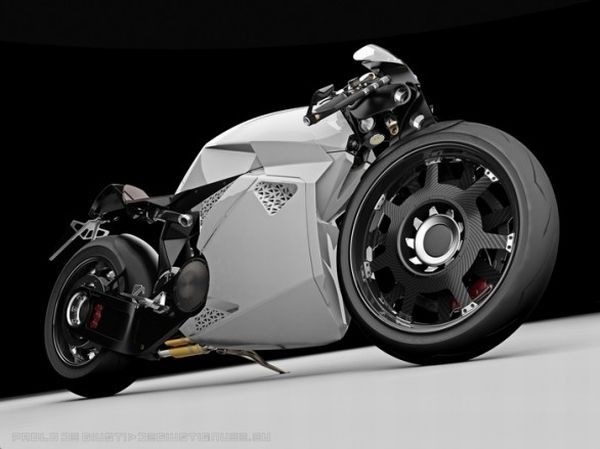 The SE Electric Motorcycle Concept, also called the big battery electric bike, has an electric motor each in the front and rear hub. Both the motors, smaller one at the front and bigger one at the back, will fetch power from a single battery pack. It owes its inception to Paolo di Giusti and will definitely give a tough competition to gas powered creations.
7. ZEVS Electric Motorbike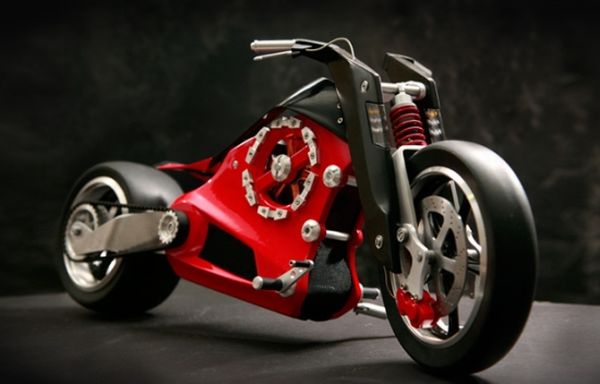 This bike with brawny features can be any bike lover's dream. Dubbed the ZEVS Electric Motorcycle Concept, it has been designed by Anders August Kittilsen, Bernhard Ranner and Rudolf Stefanich. It is set to zoom like an angry monster and force heads to tilt in total amazement that too in an environment-friendly way. So, if you are an eco-conscious rider and love the aggression that bikes come coated with, then ZEVS will leave you impressed.
8. Honda Oree Electric Motorcycle Concept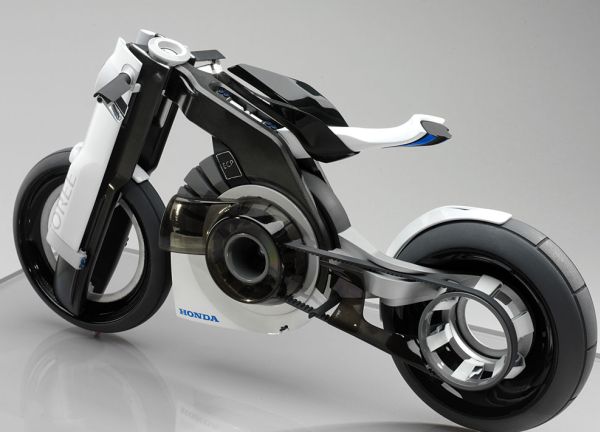 Andre Look and Nike Albertus, design students from a German college, have come up with an impressive electric bike concept that will leave you wheezing. These bike crazy students have blended their passion with their love for environment, and came up with the Honda Oree. It produces a 90 plus horsepower and torque measuring 125 lb-ft. The bike will send in thrill chills as it can touch a top speed of 120 mph. Depending on the number of batteries used, Oree bikes weigh between 290 to 375 lbs and have a range that varies between 80 to 190 miles.
9. E-Carver Electric Motorcycle Concept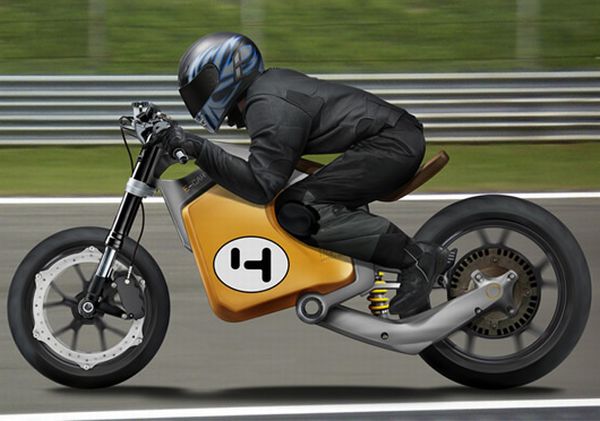 Another brilliant addition to the world of electric motorcycles, is E-Carver Electric Motorcycle Concept. Luca Bar has designed E-Carver enveloped in an impressive outer skin. Its hub comes fitted with a motor. The most striking feature is the wheels, that are different sized. The front tyre is smaller than the rear wheel, which give the overall designing a new meaning. It has a horizontal riding position and provides a zero emission ride.
10. Nucleus Motorcycle Concept Would Be Interesting in a Wind Tunnel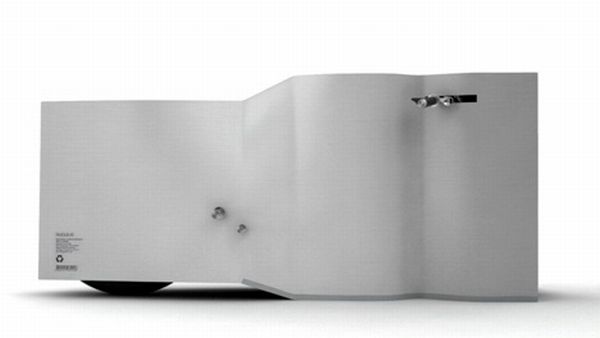 Nucleus Motorcycle Concept by Non-Object, literally looks weird. It seems as if the bike has been fitted with blinders on either side. The seat is quite thin and comfortable. It only rises when the vehicle is in motion. Since, it is still in conceptual stage, there is no surety that it will actually hit the streets any sooner.
11. Tryton MM2 Motorycycle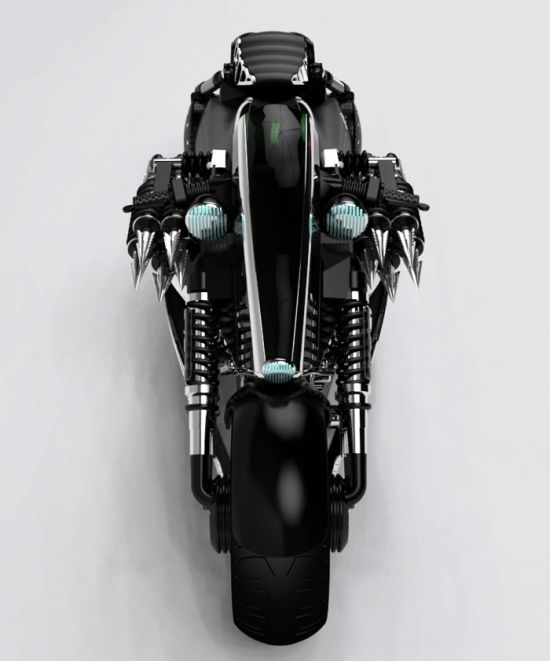 The Tryton MM2 concept is the brainchild of auto designer Vil Tsimenzin and has been designed for individuals who want both performance and zero-emission credentials in their next-gen ride. The concept motorcycle with a full bore classic power styling has a visual connection with jousting imagery echoing the battles of daily life and the perceived romance and elegance of a long-gone era.
Powered by electric batteries, the Tryton MM2 has a range of about 132 miles on a single charge and its onboard battery pack can be refueled in just two and a half hours via a conventional 110V outlet. The motorcycle includes a carbon fiber frame with re-enforced thermoplastic body panels. The lightweight motorcycle shoots to a speed of 100mph in just 4.4 seconds with a top speed of a whopping 160mph.
12. Kobra all-electric motorcycle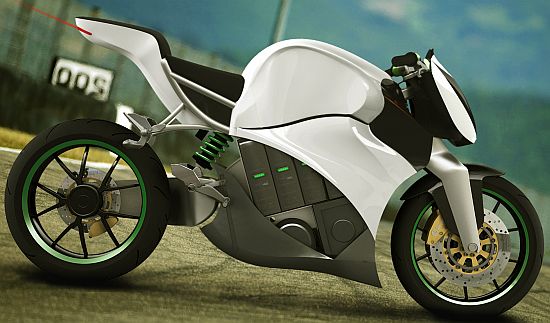 The Kobra is an electric motorbike designed by Cristiano Giuggioli that is able to satisfy the needs of the three main motorcycle categories including touring, sport and city. The Kobra is also able to adapt itself to the rider's height and weight. Powered by an electric engine, the Kobra is a motorcycle that aims to reduce emissions.
The zero-emission electric engine of the motorcycle is combined with advanced robotic technology in the actuation field that changes the rider's setting to make them more ergonomic. Moreover, the Kobra features a regenerative braking system that recharges the onboard battery whenever the brakes are applied.
Final Words
People are opening up to electric rides and always look forward to new creations. Sustainability is fast becoming mainstream. The new-age electric bikes have been designed in a way that gives a tough competition to gas-guzzling beasts, but bike lovers are still skeptical about the kind of performance they deliver. Eco-friendly automotive technology has grown over the years and has managed to impress people.