Thanks to the over the popularity of the mineral water industry, we generate tonnes of trash plastic water bottles. A large part of these escape recycling. Therefore, it is not a rare sight to see them piling up high in landfills where these literally stay forever. However, not everyone likes to go to landfills, so generally, people don't know about the dangerous amount of waste that they are generating. Nevertheless, keeping this fact in mind, many artists are digging the streets and landfills for old plastic bottles to create houses, Igloo designs, bus stops, rafts and what not. Let's check them out.
Eco Arts: Igloo created from bottles collected after the London Marathon
Eco Factor: Sustainable shelter made from recycled plastic bottles.
Do you ever think about what happens to the thousands of plastic water bottles that are used during a marathon event? They would most probably become part of landfills. Only if green-minded artists like Ashley Phillips aren't around. The artist has shown his skills in designing a sustainable shelter known as the "Igloo" from the plastic waste collected after the London Marathon.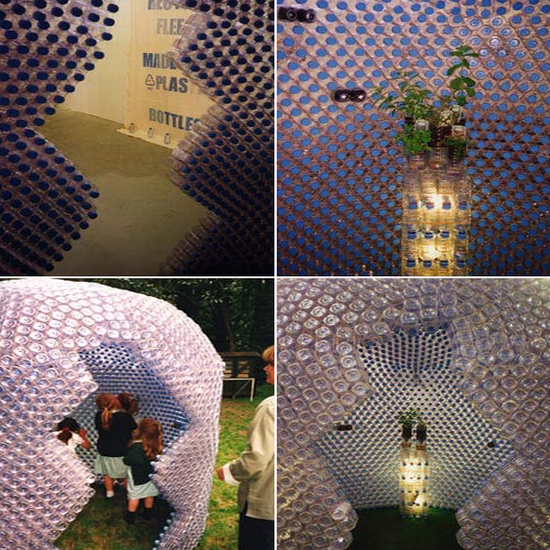 The Igloo bottle shelter makes use of plastic bottle waste that blight the environment. Furthermore, it also inspires others about circular metabolism. Therefore, the shelter consists of over 4,000 plastic bottles that hold together by only one piece of wire and 40,000 rubber bands. These are sourced from sustainable plantations. Moreover, the shelter can easily dissemble the shelter and mount it on a small trolley to ease its transportation.
Via: DesignBoom
More creative ways to use plastic bottles like Igloo bottle shelter
1. Blue Rock Station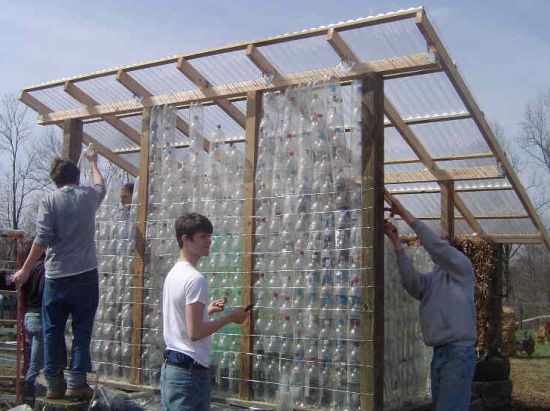 Eco factor: Greenhouse made out of recycled plastic bottles.
Plastic products have become one of the biggest hazards to the environment today. Throwing plastic waste into the trash after using it is what we do to get rid of it. But how about managing that waste in a creative and useful way? Have a look at the latest project at Blue Rock Station. In fact, it is a greenhouse completely consisting of old plastic bottles. Students from Clark Montessori High School gave a helping hand in the construction of this cool project that includes over 1000 2-liter plastic soft drink bottles as its walls.
The north wall was raised by building 55-gallon rain barrels one over another. The whole structure stands still on a foundation made out of recycled tires. Now go through the pics, and if you find it inspiring then you can get all the information in a $5 booklet that contains the whole step-by-step procedure.
Even though this greenhouse accommodates the waste that must have spoiled soil or environment in one way or another, but still only making recycled chandeliers and greenhouses is not the perfect solution. You can construct these structures for fun but the very evil named plastic still remains present on earth.
2. Reusable raft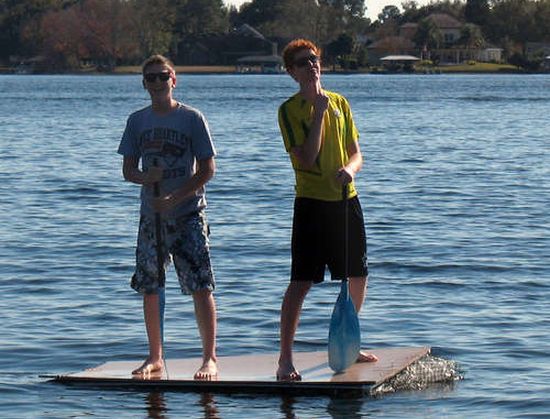 Eco Factor: Recycled raft brings old plastic bottles to great use.
Plastic bottles have always been a fantastic source of waste for creative designers to test their skills. Check out this amazing raft that uses 450 empty, label-less bottles to keep two young souls on the surface of the water. The bottles were collected from roadsides and from junkyards, their labels have been removed to reduce water pollution and unintended advertising. These bottles are then packed in garden mesh and attached with a plywood board.
3. Recycled plastic bottles: Similar to the igloo concept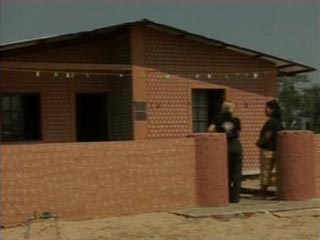 When we talk of recycled products, a boring image conjures up our minds immediately. Most of the recycled products are often converted into decorative pieces that add visual appeal to home decor.
A group of young environmental activists in Bolivia went a step further by making use of recycled bottles into something practical. Just like in case of Igloo, they collected about 25,000 plastic bottles that were disposed and built a home out of them in six months time. They filled the bottles with sand and reinforced it with steel and cement to create sturdy walls. The final result turned out to be a great piece of practical art.
Bolivia is the poorest country in South America and is heavily dependent on foreign assistance to finance development-projects. More than half the population does not have homes and the country lacks even the basic sanitary services. The plastic bottles and bags that are disposed end up in the rivers or fields adding to the pollution.
The first of the 'bottle houses' was completed in Warnes, an impoverished town in the eastern province of Santa Cruz. The enthusiastic group plans to build ten more houses and turn the place into a tourist attraction to educate people about recycling products and the environmental issues.
4. Lighting fixtures made from recycled plastic bottles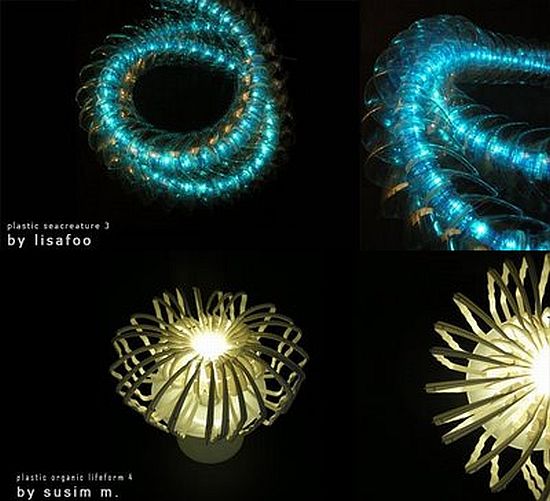 Recycling is all the rage these days and turning old plastics into art is almost the fashion fad of the decade. Of course the most obvious choice for recyclers has been the dastardly plastic mineral water bottle which is pretty much useless after you've polished off all the H2O inside and we have seen the old plastic bottles being put to some very creative uses in the past with absolute stunners like the recycled PET bottle suit from Bagir, the lovely plastic bottle lamps et al.
Joining the green brigade are artists Su Sim & Lisa Foo, who took their own share of plastic bottles and interpreted them into the most stunning yet functional bits of art lights. By turning the plastic from the bottles into gorgeous organic shapes, the designers have effectively been able to do away with the unattractive ordinariness that a plastic mineral bottle posses with mythical shapes bringing their creations to life.
5. Bridge made from recycled plastic bottles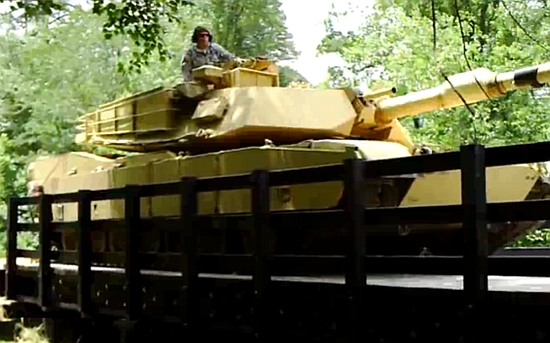 Eco Factor: Bridge for US Army made from recycled plastic bottles.
After changing the lifestyle and the power sources soldiers depend on, the US Army is looking to brighten its green image, by announcing the world's first bridge made from recycled plastic. The recycled bones aren't making the bridge fragile, as the bridge has been tested to support a monster 70-ton Abrams Main Battle Tank.
The bridge has been made from high-strength thermoplastic that has been processed from 100% recycled plastic bottles and such. The recycloplast bridge, made from recyclothermoplast developed by Axion International and researchers at the Rutgers University, is corrosion resistant and needs almost no maintenance. Officials are hoping that there would be a 34-to-1 return on the extra expense of plastic bridges from reduced maintenance cost.
6. Yacht Sails Made From Recycled Plastic Bottles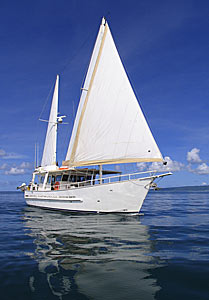 The old days in the seas seem to be back. Experience a journey to the seas in a eco-friendly vehicle. As yacht sails take their material from recycled materials previously, it is also done today. The sails of "SUNTORY Mermaid" consist of recycled materials.
The sails are consist of ECOPET, a polyester fiber. Using the technology of TEIJIN Ltd, the fiber consists of recycled plastic bottles. It is for protecting natural resources, that the company has been active in researching and developing recycled chemical materials. And its technologies are popular in the world market.
Widely used for many products, ECOPET fibers is strong enough to make durable sails. And the ropes for the "SUNTORY Mermaid" use strong and durable alamid fibers for its core material.
7. Recycled Plastic Bottle Coaster Set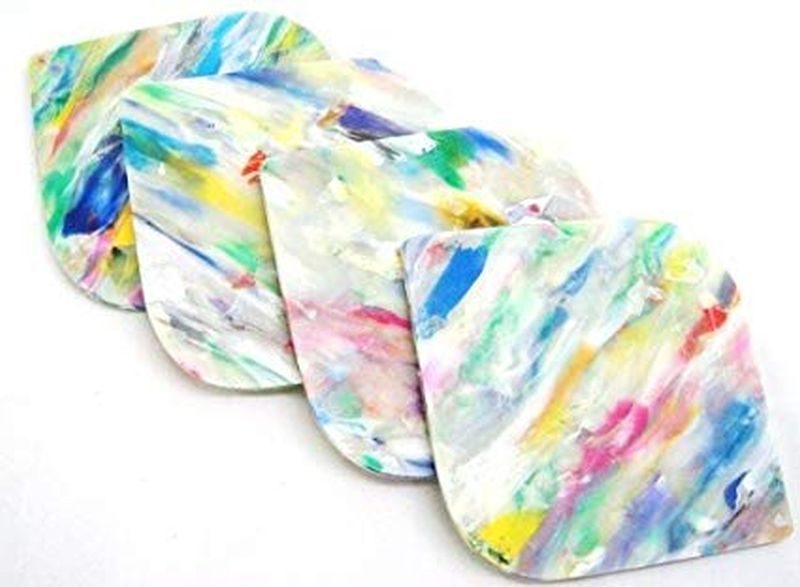 Used plastic can create a mess with nature. They mostly used the material; a problem with plastics is its being non-biodegradable. What do you do with the used old shampoo bottles, milk bottles and detergent bottles? Just leave them to go to the landfill? I suppose, most of you would say – Yes. But, Acorn Studios did something useful with these post-consumer wastes.
These attractive coasters come into being by recycling these old plastic wastes. It's a great way to contribute towards nature. These coasters are not only strong and sturdy but are also easy to clean.
Each coaster is unique in the way that no one matches the other, they are completely different. And their colors depend on whatever bottles were you recycle for that coaster!