The world is buckling under the overpopulation. Although it can sustain a much bigger population, however, not if they greedily devour so many of its resources. With so many people living on this planet, they also require as many houses. The world, nevertheless, doesn't have that much material for constructing new houses. However, if we find a way to utilize outdated, discarded, or rejected materials for construction, we can meet this demand. Engineers and architects from around the world are doing the same to help people save money and also to promote sustainability. So, here are few examples of eco-friendly greenhouse ideas that are doing the same.
Eco-friendly greenhouse made from recycled materials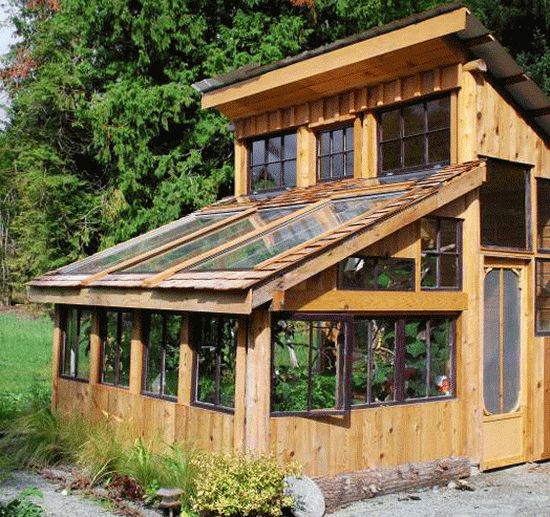 Eco Factor: Greenhouse made out of recycled material.
Fraser Koroluk, who owns a small lodge in Bella Coola, B.C, created this greenhouse from entirely recycled materials. The material includes windows from an old house, and the framing and cedar siding. It takes the material partly from a big renovation in 2007 and from the deck of the old pool he removed in 2006. The lovely eggplant purple shine on windows came from leftover oil-based paint pots that were from an old collection. Paints were mixed and used again. Even the cedar shingles and the tin on the backside of the roof derive their materials from the leftovers from the new roof he put on last year. Fraser saw the design of a shed in a magazine. This inspired him to create something useful out of discarded materials.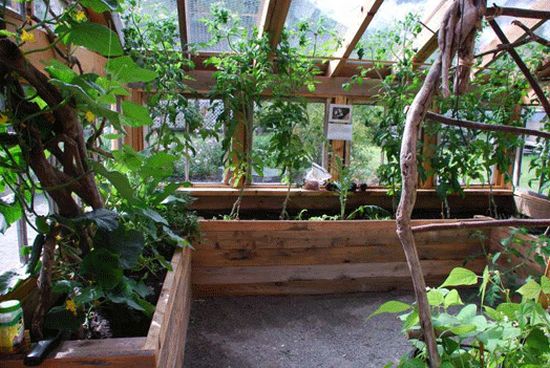 For Fraser, it's a sort of hobby to collect waste material. Although he never had thought of constructing something in particular, still his spirit of reducing consumption and waste led him to end up with such a useful structure. Fraser is very glad after watching his tomatoes, tomatillos, cukes, eggplant, artichokes, beans and habanero peppers growing well inside the greenhouse.
The Dark Side:
Fraser himself accepts that he became a little lazy with the window glass panes and door. Including these two and foundation material, he used new material instead of recycled. However, the job is appreciable as it was Fraser's first attempt.
Via: GardenWiseOnline
Some more eco-friendly greenhouse ideas
1. Modern home built from recycled materials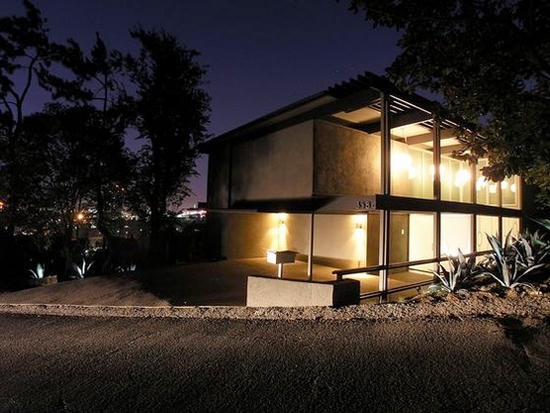 Eco Factor: Hi-tech home utilizes recycled materials.
The need to go green has left many homeowners living in dwellings. These mostly don't offer anything more than the basic living systems. However, with the growth in technology people do want hi-tech systems to be a part of their homes. These transform their lifestyle and make their life easier. Home-building is an art. Making use of recycled materials in your home not only lowers the carbon footprint but also ensures that you're using what others thought to be trash.
A post-modern house has been constructed in the Hollywood Hills that shows how technology and green sense can live together. The house consists of recycled glass, recycled marble, and cork flooring. However, these green integrations don't come at the cost of technology. The house still features all gadgets and appliances that promise comfortable living to the owners.
2. Eco-friendly greenhouse from recycled plastic bottles and CD boxes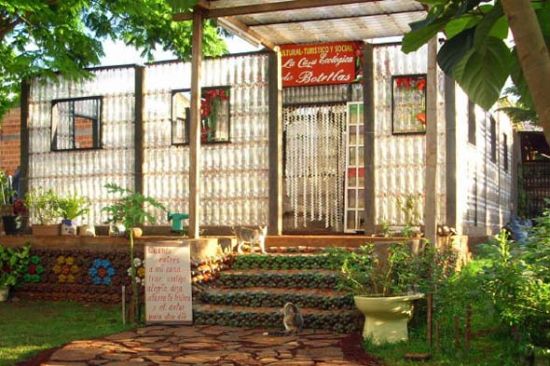 Eco Factor: House made using recycled materials.
We've seen temples made from recycled beer bottles and several pieces of art designed using discarded plastic bottles, but one family in Argentina has succeeded in designing and constructing an entire house from discarded plastic bottles and compact disc boxes. Lovingly named La Casa de Botellas or "The Ecological Bottle House," the dwelling has everything from walls to beds made using the same recycled materials.
The homeowner (and builder) has also designed a smaller playhouse version of the bottle home for his young daughter. The owner claims that the house uses 1200 PET plastic bottles in its walls, 1300 milk containers in the roof, 140 compact disc boxes in the doors and windows, 120 PET plastic bottles in the couches and about 200 PET plastic bottles in the bed.
3. Sea Train House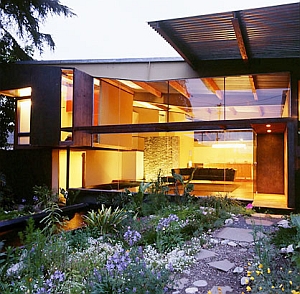 This 3,000 sqft residence has it s place in a 300 loft live-work artist community by the Brewery in downtown Los Angeles.
The large glass panels dominating over the entire house allow uninterrupted floods of light and overlooks the beautiful private garden oasis and artists' community. However, the Sea Train House by Jennifer Siegal's design firm Design Mobile isn't just another pretty house. What makes it even more beautiful than what it apparently is, is the fact that it is ecologically sustainable, consisting almost entirely out of storage containers and steel from downtown LA, combined with bits of steel and glass! The house witnesses some other ingenous ideas too. Grain trailers then transform into Koi fishpond and lap pool!
The storage containers were waste for the people. However, these find their perfect place within dwelling spaces inside the house. As a result of this, the house has everything you can ask for–entertainment area, library, dining room, office space allowing a view of the garden, bathroom and laundry room. The most stunning feature of the house is the spacious master bedroom at the upper part of the house, offering unparalled aesthetic pleasures.
4. Corrugated fiberboard house: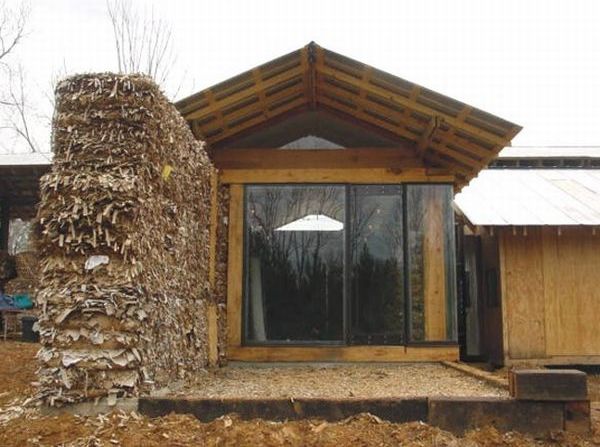 Auburn University students have created a small fully functional house using waxy corrugated fiberboards as walls, bond beam on top along with a simple roof. The foundation utilizes bails of these fiberboards wrapped in plastic. Thereafter, a thin concrete base has been poured over it for supporting the walls.
5. House from rubbish material: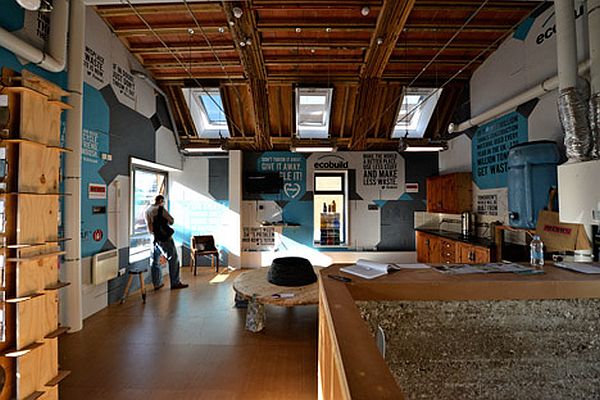 This house has been created using waste products with walls created using carpet tiles with junk being used as insulation. The house has been designed by BBM architects from Sussex studio with assistance from undergraduate students of University of Brighton.
6. The eco-friendly greenhouse that utilizes recycled bricks: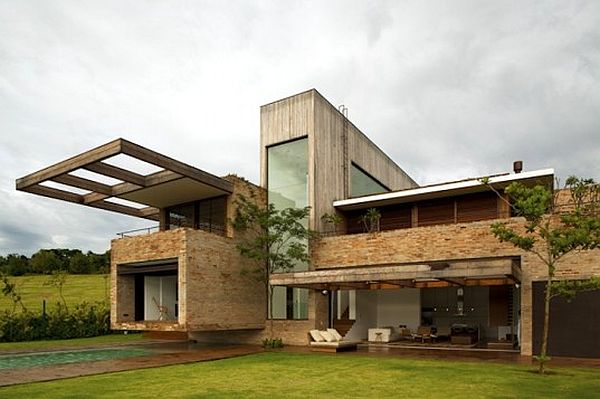 The special thing about this house is that it is built using bricks reclaimed from a demolition project in Brazil. Some of the other sustainability features of the house include use of long narrow windows that allow sufficient light into the house and reduce the energy load of the house. Additionally, horizontal louvers facilitate shading, thereby lowering solar gain.
7. Recycled fiberglass house: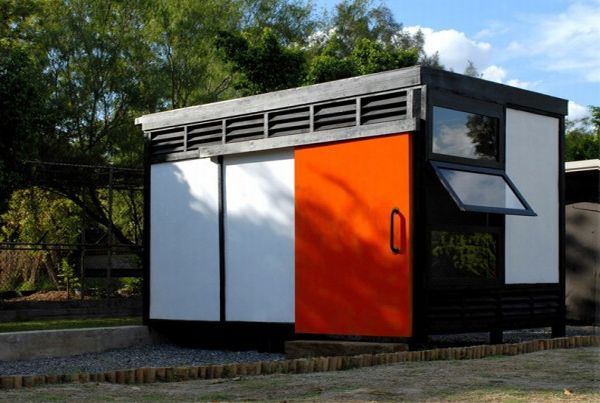 As the name suggests, the house is made using fiberglass panels from building projects where they are used as framework or scaffolding. There are louvers in the roof that can be opened as required to let in fresh air into the house. In addition, the foundation is created using concrete and recycled tires.
8. Eco-friendly greenhouse made from recycled bottles: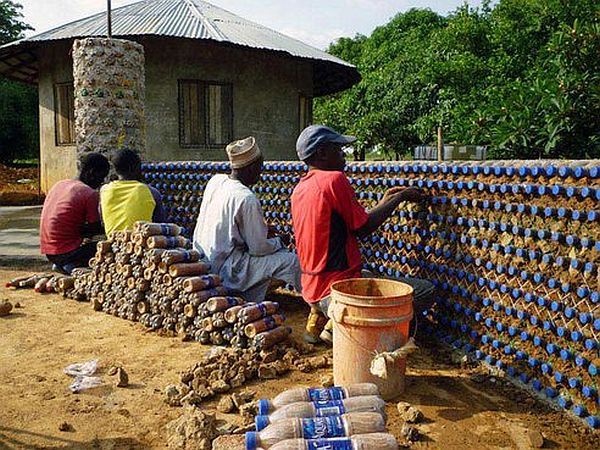 This home has been built using recycled plastic bottles and is quite cheap to build. Dry soil is filled into the plastic bottles, which are then used as building blocks for the house. Other features present in the house include solar panels for generation of electricity, urine filtration system and cooking stove that uses fuel-efficient technology.
9. Shipping container house: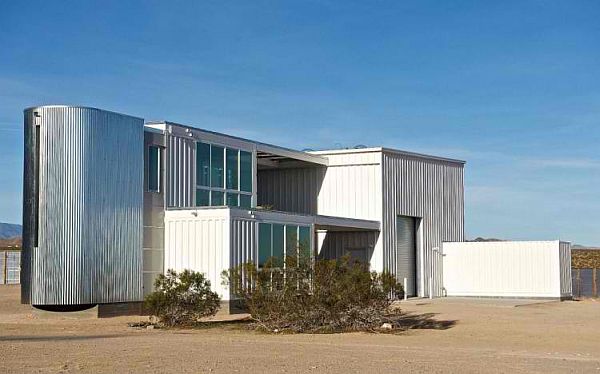 This is another way of creating a strong and yet cost-effective house, keeping the environment in mind. Constructed by Ecotech Build, this shipping container house has been named The Tim Palon Studio.
Summary
Eco-friendly greenhouse ideas made using waste material are good ways of saving the environment as well as reducing cost. Such houses are a lot cheaper than conventional houses while being sturdy and long-lasting.