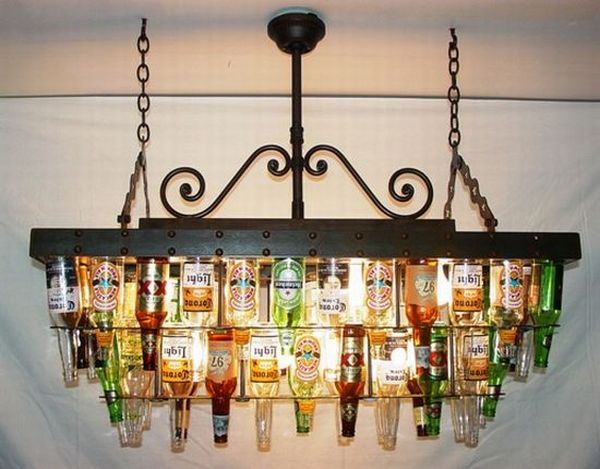 What do you do with your empty beer cans and bottles? Throw it in the dustbins. But do you know that these cans and bottles can be used to design marvelous sculptures? Here're 10 ways to recycle beer bottles and cans. Read on.
1. Beer bottle chandelier
This chandelier is made of 52 empty beer bottle. Recycled bottle art is a thing worth promoting as it will prevent environment from getting ruined. This chandelier is much cheaper than chandelier made of fancy glasses, so it is a good thing for those who want to add that special feeling to their house without spending huge bucks for it. This chandelier has eight bulbs on two levels and the design can be altered as per customer's requirements.
2. Buddhist temple made from one million beer bottles
Recycling is a great technology and some Thai monks have taken it to the next level by designing a temple using recycled bottles of beer. The temple named Wat Pa Maha Chedi Kaew temple designed by the monks from Sisaket province is made up of a million recycled beer bottles. The monks have used green colored bottles of Heineken Beer and brown colored bottles of Chang Beer to build this temple.
3. Bottle solar heater
Chinese carpenter Ma Yanjunx is not a renowned designer but a simple villager from Shaanxi Province who has designed and built a solar water heater using beer bottles and hose pipes. Ma has fixed the bottles on a board and these bottles are connected with hose pipes to allow the entry of cold water. The board faces the sun and the water inside the bottle gets heated when the sun rays fall on them. Ma came up with this unique solar heater as he wanted to give warm water to her mother to take bathe in winters.
4. Beer can clipboard
You can use beer can to design several small items which can be used as decorative pieces in your homes. You can design an airplane, guitar, trumpet and things like that using empty beer cans.
5. Beer can house
Most of us prefer to throw things after using them but there are some who prefer not to throw things in dustbin and try to use the used articles to come up with something artistic and useful. Beer can house is the result of such thinking and vision. The empty cans are used brilliantly to design a house which looks beautiful and unique.
6. Recycled radio
We all listen to radio but how many of us listen to green radio? The green here means technology of recycling. Some South African visionary has come up with a radio, which is made up of used beer cans, tops of the bottles and scrap metal. The casing of the radio is made up of beer cans and bottle tops.
7. Beer bottle as a brick
Alfred Heineken, who is a beer brewer by profession, came up with an idea of using beer bottle as a brick and Dutch architect John Habraken designed the "brick that holds beer". Heineken was visiting the Caribbean island when the idea of the Heineken WOBO (world bottle) hit him. The WOBO comes in two sizes – 350 and 500 mm versions.
8. Recycled vase
Modern eco-friendly products industry is based on recycling and the Transglass vase is just another example of designing aesthetically rich products using recycled materials. Emma Woffenden has given a new meaning to the word recycling through Transglass vases, which come in various shapes, sizes and colors. The Transglass vase is worth $38 and upwards which means that recycled materials are not always cheap.
9. Beer urban glasses
Have you ever thought of using unused beer bottles as spectacles? Most probably, the answer would be "no" but someone has made urban spectacles using unused beer glasses. The glasses look one of a kind and yes they are eco-friendly. It's certain that the person who will wear these glasses will stand out in a crowd.
10. Recycled beer art
Benjamin Franklin once said that "Beer is proof that God loves us and wants us to be happy." Beer is definitely a unique thing and not many things can match its qualities. But what is the use of empty beer bottles? The answer will be trash, but not all people think so and some are recycling these bottles to design artful pieces of arts.