Stairs and stair railings add an element of class and elegance to the interiors. Even though we find a lot of innovative designs and materials to make the stair railings, wood is something that has dominated the world of decor since times immemorial and continues to do so. It goes well with any style of interior design from contemporary styles to modern. There are many varieties of wood available in the market. However, when it comes to choosing wood for key aspects of the décor, it is very important to note that an overall color composition of the selected wood gives a glow to the interior of your home. If there is too much of color everywhere, the interior ends up looking out right hideous to the eyes. Wood can also be stained to give a nice color composition to match your requirements. But, these days the common trend is to keep the original composition of wood as intact as possible. Hence, it is very important to choose the type of wood carefully in order to give a very good aesthetic appeal to your interiors. Here is a description of the best varieties of wood perfectly suited for stair handrails.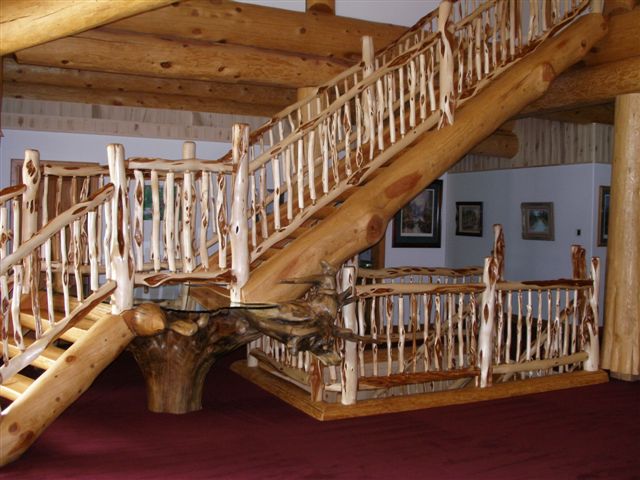 1. Oak
Oak has been well known for its strength and durability along with its natural beauty and has always been the favorite among the hardwoods. It has its own distinctive color and the unique grain structure, which adds to its beauty and elegance. Red oak is the most famous variety of oak; it has a lot of tannic acid in it, which gives the red oak its distinctive red color. The white oak has a beige type of color and it does not soak in water unlike the red oak, which is known to soak water into it. There is also the European oak, which is native of Europe but can also be found in parts of Northern America. European oak is unique light brown in color and has an immense strength. However, it is not available easily and is expensive as compared to its counterpart's red and white.
2. Poplar
A variety quiet familiar along the parts of Eastern US is well known for its fine appearance, which adds an element of delicacy to it. It has a slightly whitish or yellowish appearance to it. It goes well with many different types of railings, which are designed to be thin. It can be stained to any shade you like but care must be taken not to use Poplar in outdoor furniture as it sometimes darkens with the exposure to sunlight.
3. Maple
Maple has a very large family with numerous species of wood. Not all types of maple wood are capable of being used as railings because of their soft nature. Varieties like Rock maple and Black maple can be used for stair railings. They have a pinkish brown appearance.
4. Cherry
Cherry wood has a dark reddish brown tinge to it. It darkens with age and with exposure to sunlight to a distinctive dark red color, which can be seen in most of the antique furniture. It is comparatively less dense as compared to the likes of oak, which makes it a favorite choice, as when it comes to intricate shape as it can be worked upon easily. Cherry is the least common type of wood that is used for railings and hence is very expensive. It also changes color as it ages and has a unique and distinctive color that makes it very difficult to use in synchronization with other themes and colors.
5. Birch
Birch is also a good choice to make stair railings as it can also be worked easily. Yellow birch and white birch are the most common species used for woodwork. It is commonly available in a whitish color and has a nice wavy grain pattern. Birch is a good choice compared to cherry because it is not very expensive and it does not have the aging problem, which is common in cherry. It also complements almost any type of decor theme and it can be worked easily.
Conclusion
Choosing the right kind of wood is an intricate art, which requires a thorough knowledge about the right kind of wood and an incredible vision in order to determine what best suits your needs. To all those concerned about eco-friendliness can purchase wood from suppliers who claim to derive their wood from trees that die of their own accord and are not cut down purposely. This option would definitely be a very expensive one but it sure does add a unique element of nature to your home and soothes an eco-friendly soul without losing the sense of style and elegance.