Since for the most part, it is the expression of an individual, only a genius can understand art. In fact, there is much that we lose in artistic interpretations. However, there are artists from all around the world that are using it to express their concern for the planet. By creating their work using waste material they make clear what meaning they want their art to give. No matter whether it is an eco-friendly installation or a chandelier or a Christmas tree, their message is always clear. Save the planet. Let us see some such artworks and how they are impacting the world.
Eco-friendly installation from recycled medicine bottles
Eco Factor: Eco-friendly installation made from recycled materials.
Eco-conscious artist Jean Shin believes that the advancements in medical science have has escalated the overall consumption of prescription drugs which has increased our bodies' dependency on these chemicals. In an effort to map the society's chemical intake, Jean has created an art installation, which signifies that the issues of health reach far beyond the physical.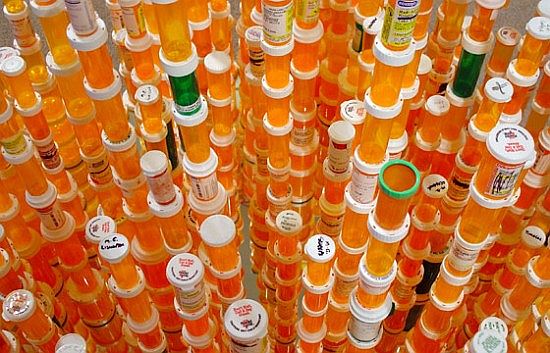 The eco-friendly installation, Chemical Balance, consists entirely of empty prescription pill bottles. These have been collected from nursing homes, pharmacies and from personal medicine cabinets. The construction hangs from above and grows upwards from the floor below.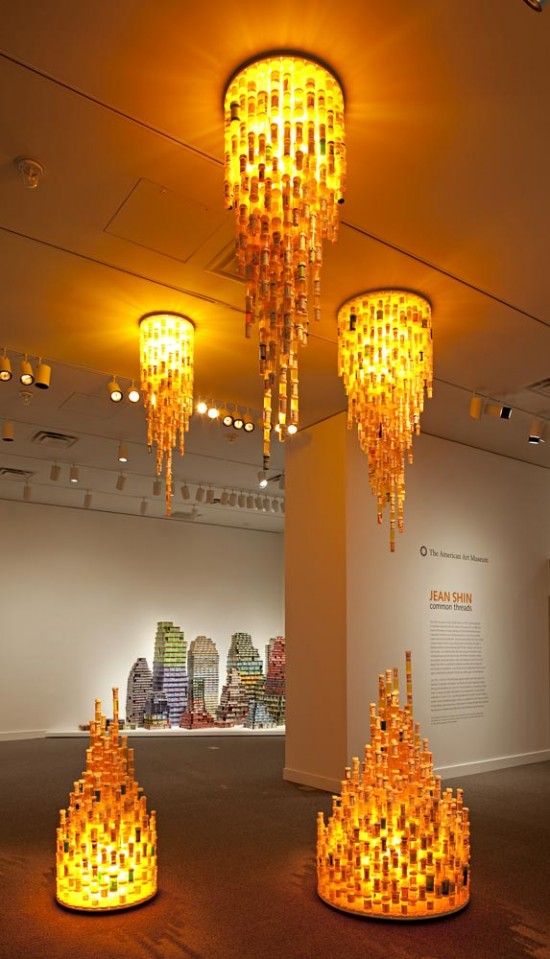 Via: RecyclArt
Some more inspirational eco-friendly installation ideas
1. Recycled bike part chandeliers under a Texas overpass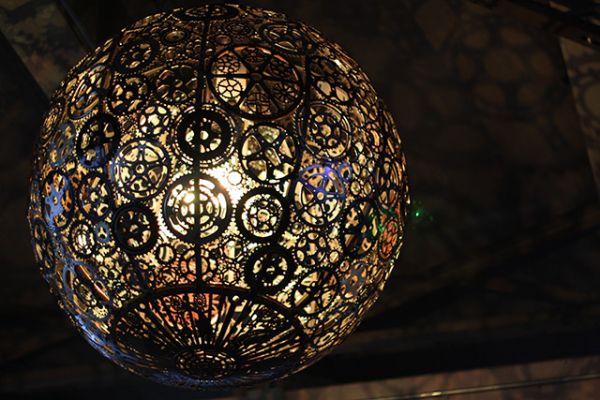 Recycled bike parts never looked as cool as this. This light fixture by artist Joe O'Connell and Blessing Hancock consists of custom steel and bike parts. It uses Led lights to light up the underpass. The chandelier was a public art project that was commissioned by the Department for Culture and Creative Development. It is part of a long-term goal to revitalize San Antonio neighborhoods. The name of the chandelier is Ballroom Luminoso. It has a distinct Latin American feel. The small detailing that surrounds the light fixture is small icons from Hispanic history.
2. Recycled bottle canopy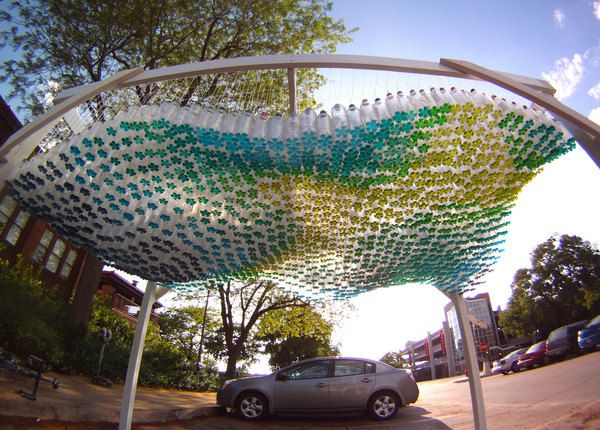 This is a beautiful way to reuse plastic bottles. These bottles definitely will not end up in any landfills. That is what designer Garth Britzman was thinking when he created this stunning canopy of rainbow colors. He wanted to find a way to stimulate interest in new ways to recycle. He surely accomplished it. This is an art piece that would surely get people talking and conversations going about recycling.
3. Tree of 40,000 bottles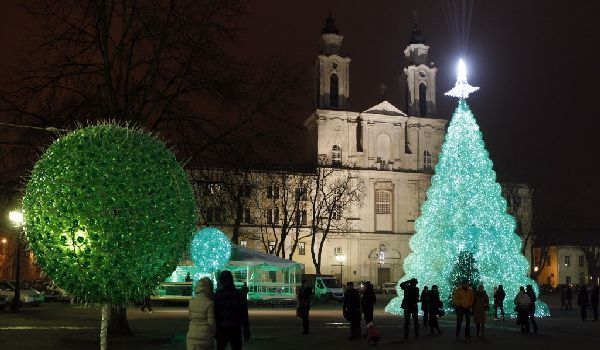 The scope of this project is breath taking. In 2011 this tree turned heads in a Lithuanian town as this 13 foot tree was erected. The city had been going through financial trouble so in order to conserve money Artist JolantaSmidtiene to build something creative that wouldn't cost a lot of money. Smidtiene came up with this. It has now become a town tradition.
4. Wine cork art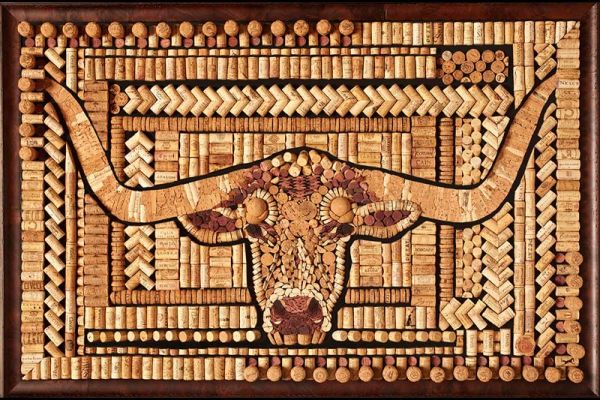 What an interesting style of art. Although cork is not harmful to the environment and is a sustainable choice for various products, it is still a good way to make sure the corks don't end up in the garbage. Artist and illustrator Scott Gunderson collects thousands of wine corks to use in his art. They are labors of love. His wine cork art can take anywhere from 4,000 corks to over 9,000.
5. Keyboard Horse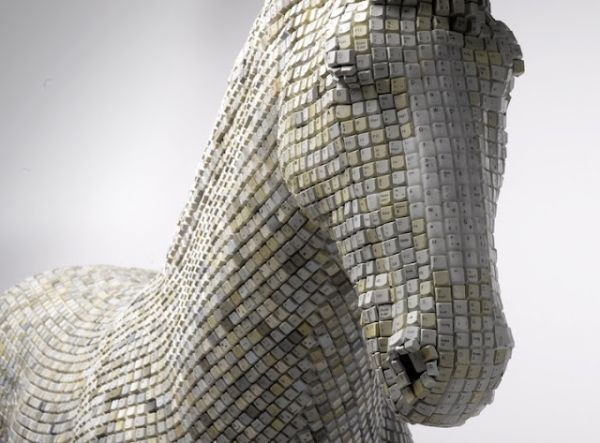 Babis Cloud has a creative way of exploring concepts. Hedonism (y) Trojan is a prime example of this. For all intents and purposes, it is a Trojan horse consisting of waste resin keyboards. It seems that he is comparing the internet and technology to sneaky invaders attacking from the inside. It is an interesting concept. The sheer amount of computer keys that it took to pull this artwork off is admirable.
6. Artwork made from natural materials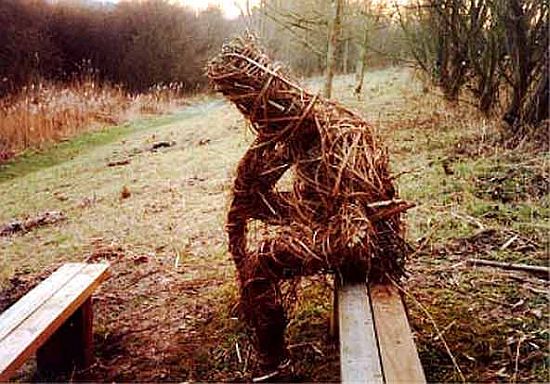 We've seen eco-artists with their weird art-forms, which they hope will instigate a sense of environmental conservation and recycling in their viewers. While not many would have succeeded in their efforts, Paul Goodrick is one such artist whose efforts don't often get unnoticed. The award-winning environmental artist tries to focus on the relation between natural materials and urban environments in stunning pieces of art.
The British artist uses natural materials to create unique sculptures and is a regular curator of both community and school environmental art projects. The artist's work includes interactive DNA projects, willow sculptures, outdoor Fibonacci sculptures and installations of a wide variety. The artist is very popular for his evocative use of natural materials and the gentle messages they contain.
7. Zero Pétrole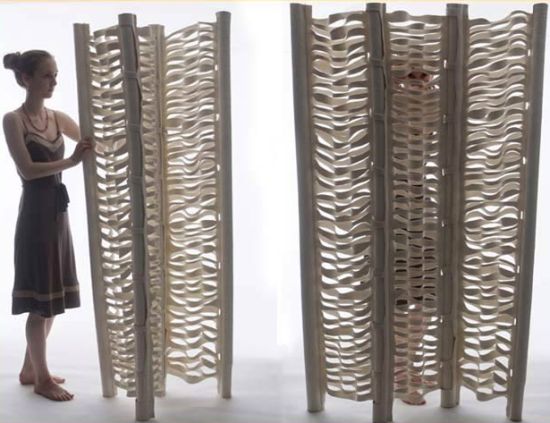 Creating sustainable habitats for tomorrow is becoming a more and more popular trend as people are getting aware of environmental hazards popping up due to even smallest of human activity. Recycling existing materials can contribute a lot to the environment. Recycled objects aren't so ugly, especially, in the case of these panels made up of natural woolen felt, which is renewable. These panels are the result of research and experimentation with recycled cardboard tubes, natural starch, and natural material for maximized utilization of thermal and acoustic qualities.
The flexible panels look optimistic in style with ensured durability. Natural felt weaves the tubes together. The spaces between the design let natural light travel into space inside. A model with just two such panels, a larger structure within and smaller support tubes, became a part of the exhibition at the Zero Pétrole House, at the Ecoles du Design exhibition, VIA Gallery in Paris.
8. Sticking screws together to illumine green hearts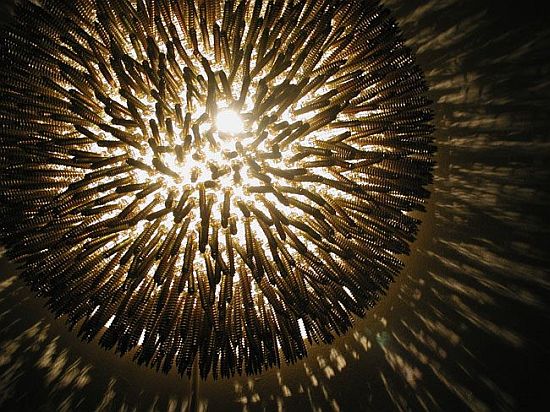 Recycling junked objects for something new always results in a product that's unique to the core and one-of-a-kind. Creating inimitable products is usually the driving force for most eco-minded artists when they start a new endeavor without knowing the exact outcome. Eco artist Georgi Porgy has mastered the art by crafting exceptional pieces of art from objects no one ever bothers to look at.
The artist has crafted a stunning lamp from thousands of brown screws. These are just right as a retro makeover for your wall. In addition, these provide a dimly lit environment to make your room a bit more romantic perfect for a nighttime party.
9. Sustainable bus shelter from soft drink bottles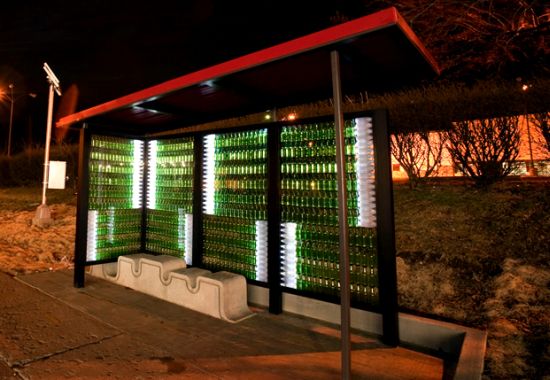 We've seen glass bottles being recycled to make houses and even temples. Eco-minded artist Aaron Scales has his hands on bottle recycling and has come up with a sustainable bus shelter that has been constructed from soft drink bottles.
Designed for a national design competition, the Bottlestop project makes use of recycled green bottles of Kentucky soft drink Ale-8-One to integrate art, architecture and advertising into a new public transit concept.
LED lighting, since it is energy efficient and eco-friendly, is engineered to illuminate the clear bottles with solar energy collected by day, and a series of laser-etched bottles adorn the shelter with unique art. The "street furniture" bench rises from the ground plane to form differently sized seating options for diverse users, prevents sleeping, and continues outside of the shelter to house an integrated trash receptacle.