There's no dearth of people who believe that modern architecture is one of the reasons behind environmental degradation. No doubt, that building consumes a lot of energy but it is equally true that these days, concrete forests are spreading all across the world.  These buildings end up further burdening the already decreasing natural resources. Furthermore, since the entail huge carbon emissions, they also contribute significantly to global warming. Due to this, more than 40 percent of global energy is being consumed by the world's greenhouse gas emission. To tackle this very problem, modern architects are coming up with innovative solutions. These focus mostly on aspects like sustainability and energy efficiency of the building. Nowadays, there are many designers and architects who after a careful study has come up with some of the best energy-efficient buildings that along with saving energy also creates more energy.
12 – Most Sustainable and Energy-Efficient Buildings in the World
Given below are some of the most sustainable and energy-efficient buildings that offers better material, light and clear air while maintaining a good environment.
1. The Dixon Water Foundation Joset Pavillion, Decatuar, TX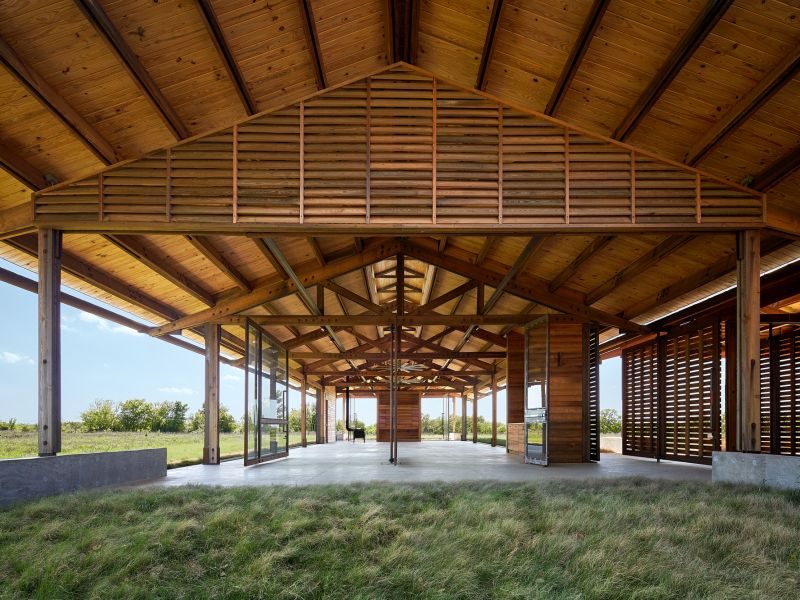 Image Source: images.adsttc.com
This is one multi-functional meeting and education center. The focus of this center is to promote healthy watersheds with the help of better land management services.  This is one certified living building which offers better facilities and has a better understanding of how to gaze livestock and create an environment that can be more helpful than affecting the environment. It follows the same definition as that of the Heritage Live Oak that along with maintaining a good environment enhances the experience of visitors by providing a better view while blocking the excess wind and harsh UV rays.
2. HEB at Mueller, Austin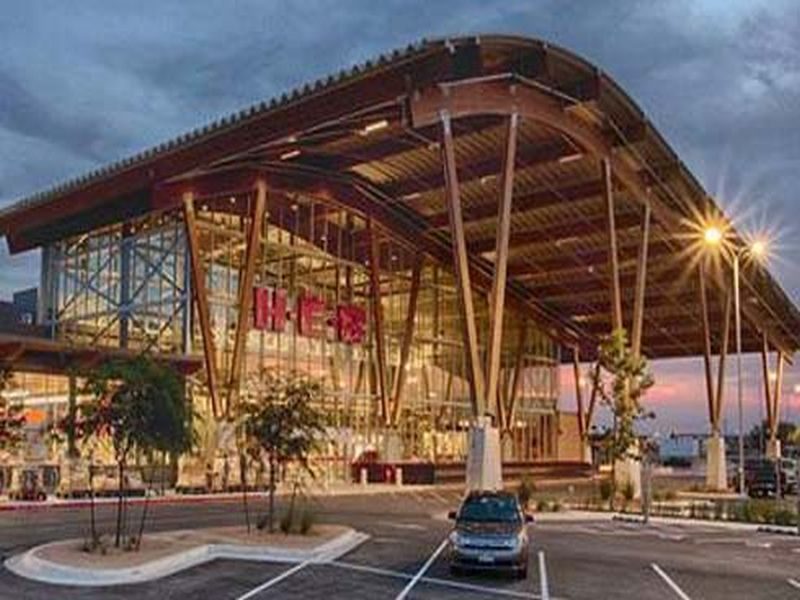 Image Source: muelleraustin.com
This is another popular commercial building, which is an energy saver. If you compare it with a supermarket, you will realize that it consumes more energy per square. However, this one is an incredible store in Austin that uses less than 64% of the average grocery. It has solar panels that power the store lights. There can also be season temperature and humidity sensors that you can use so that people will not get a freeze at the same time energy are well saved.
3. Exploratorium at Pier 15, San Francisco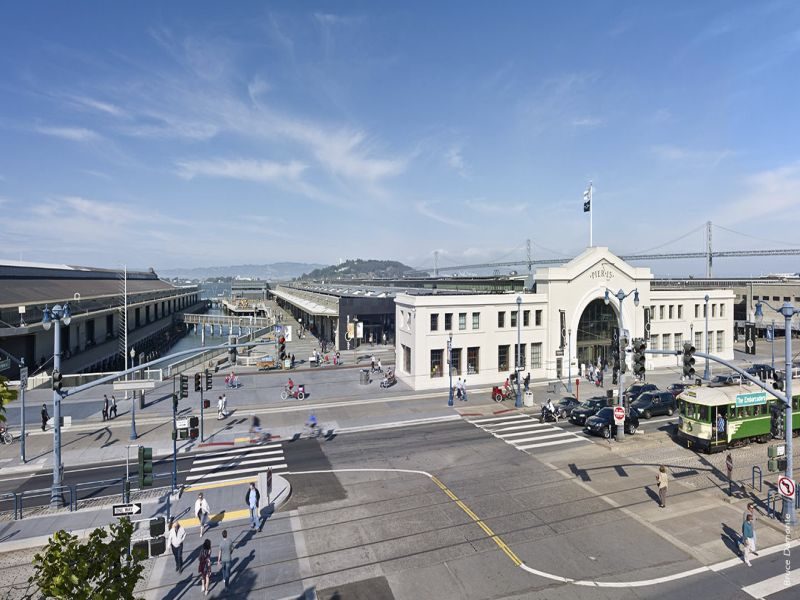 Image Source: page-turnbull.com
This is another well-known commercial building, which is a popular interactive science museum. Its prime focus is to enable the visitors the better sustainability and energy-saving ideas with its design and architecture. This is one of the energy-efficient buildings that utilizes the natural lighting shed and has an 800-foot-long roof. It also has a water bay, which is primarily used for heating and cooling. This project is a well-certified LEED Platinum, which reaches the goal of being the largest Net Zero energy
4. Center for Sustainable Landscapes; Pittsburgh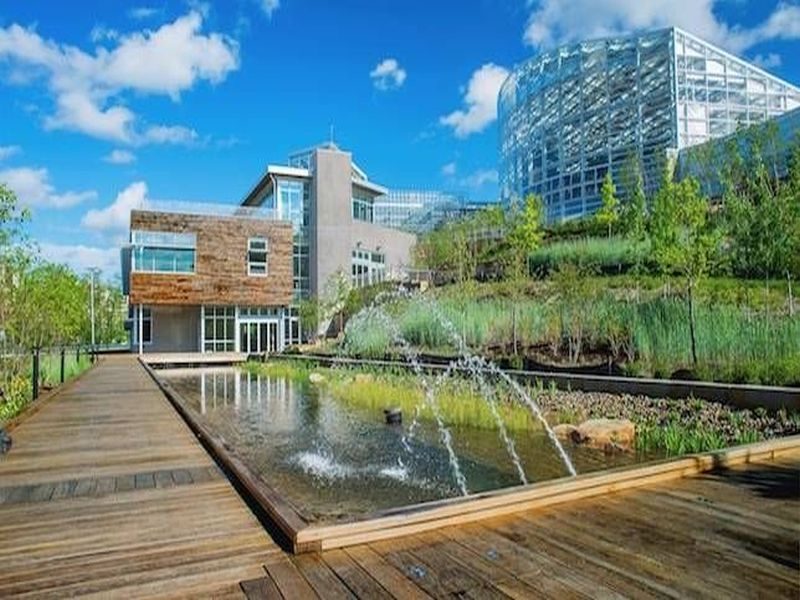 Image Source : media.mnn.com
It is a popular administration, education and research center, which is located at Phipps Conservatory and Botanical Gardens. Furthermore, it is amongst the most energy-efficient buildings that create their own energy and captures all the sanitary water and storm and treats it on site. It is the first building that has managed to reach all the types of certifications Four-Stars Sustainable SITES, Living Building Challenge, and WELL Building Platinum.
5. Rene Cazenave Apartments, San Francisco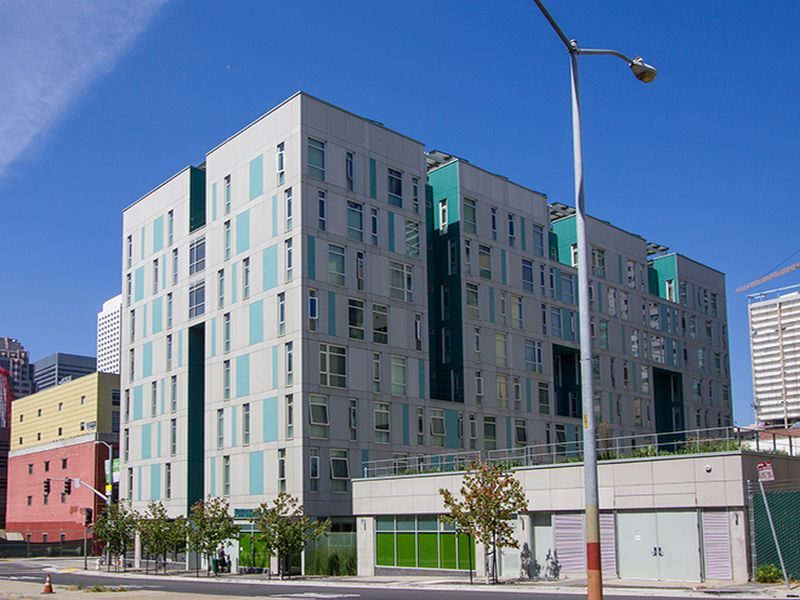 Image Source : tippingstructural.com
This is another popular place in San Francisco which is energy saving. It is ideally a parking lot, which also has a freeway off ramp that is quite best for homeless people. Even if it is a budget friendly option, but architects has accumulated the best possible features. It utilizes the fresh air instead of air conditioner due to its mild climate. With solar water panels, the hot water is available for most of the time.
6. Jacobs Institute for Design Innovation, Berkeley, CA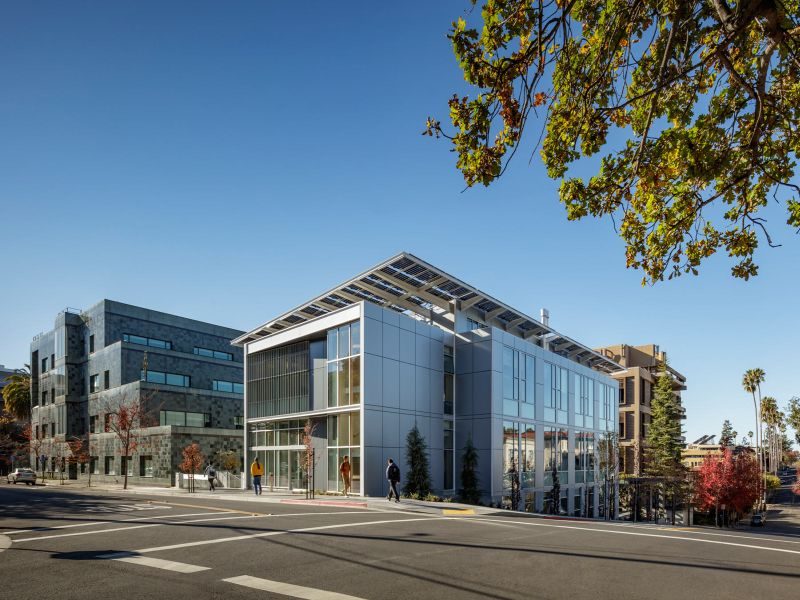 Image Source : lmsarch.com
This building was made to address some of the challenges that society has been facing. It is all devoted to introduce the better sustainable innovation at the core life of university. The project is considered a hub for those teachers and students who offer better technology and designing and is considered product based education area which is also a sign of region for University's commitment
7. The J. Craig Venter Institute, San Diego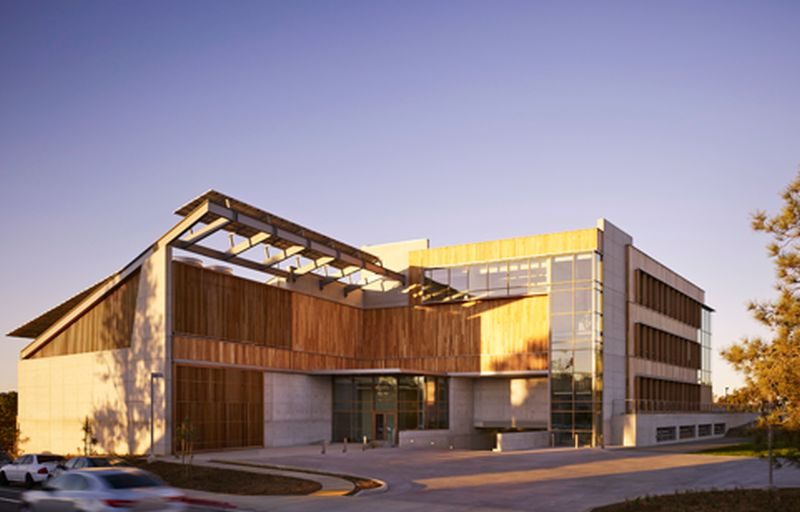 Image Source : chi-athenaeum.org
The sole purpose of this institute was to offer a better example of science advancement. It is committed to offer the solution on some challenging design and energy utilizing problems. The place is LEED-Platinum certified and consists of wet lab and dry lab, which is all covered with a central courtyard.
8. Powerhouse Kjorbo, Oslo, Norway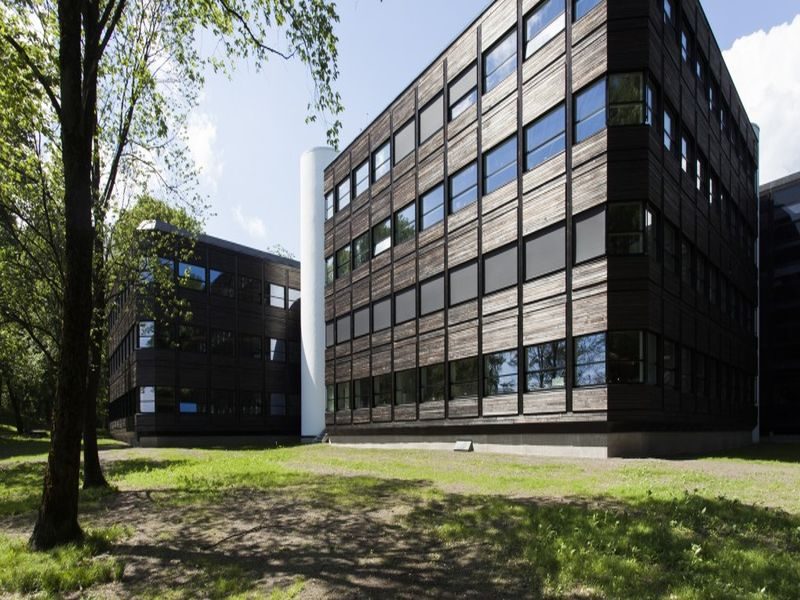 Image Source : powerhouse.no
This is once incredible innovation, which is sustainable and consists of two buildings that were renovated and again built from all the recycled material. It consumes less than 90 of energy and is considered to be an energy plus" which create power more than it needs for regular functioning.
Above mentioned are just a small list of such buildings, which are well noted for consuming less energy and saving more. There are other constructions too; however above-mentioned are the ones, which have been proclaimed worldwide.
9. The BIQ Building: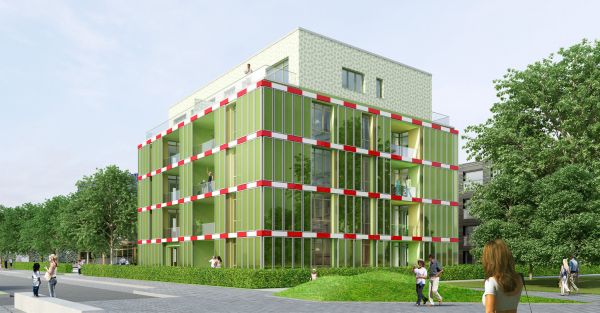 A few decades ago, no one would have given a serious thought to algae and its unique properties. However, some architects in Hamburg, Germany had come up with an outrageous plan to power an entire building with these tiny microorganisms, which are commonly found in freshwater bodies. The results of their hard work appeared in front of the world in the form of a sustainable glass-clad building christened the BIQ Building. This sustainable and innovative piece of architecture features algae bio-reactors on the façade, which produce everything from heat to biogas. The building has been in operation for more than a year, and helps conserve up to 50% energy.
10. Solar and Wind Powered Dynamic Tower: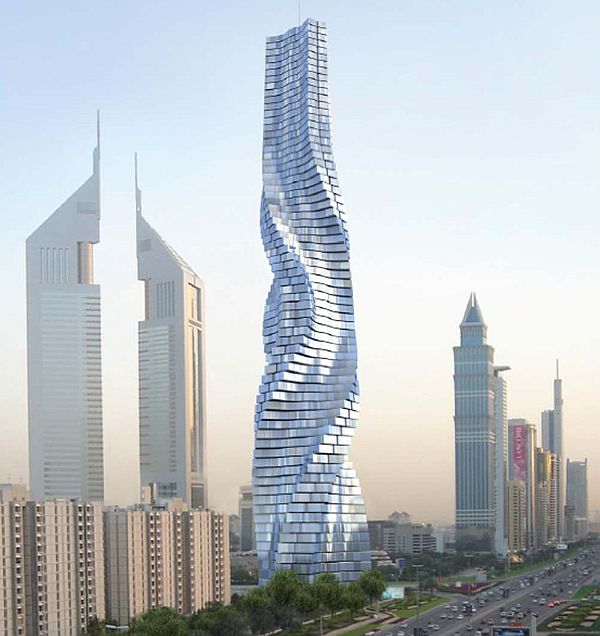 Nobody has seen the wonders of modern architecture as much as the residents of Dubai. Architects aren't just stopping after creating the tallest building in the world and have envisioned the Dynamic Tower for the country – a completely self-sufficient building that will be powered by wind and solar energy. The tower has 70 independent, rotating and prefabricated floors, and a horizontal wind turbine installed between every two floors. The energy generated by the wind turbines is complimented by solar energy, generating enough to power the entire building.
11. SunCarrier Omega Solar Powered Building: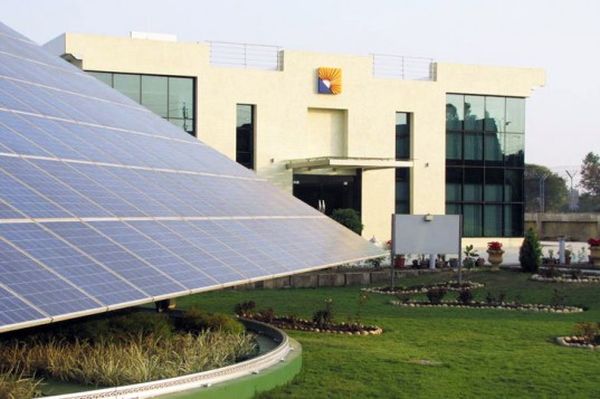 The wonders of modern architecture aren't just available in the developed part of the world, but architects also have planned out similar designs for the developing world. The results of this beneficial plan can be seen in India in the form of the SunCarrier Omega building – a self-sustaining wonder that is the first in the country to run entirely off the grid using nothing but the energy beamed by the lone star of the solar system.
12. The ZCB building in Hong Kong: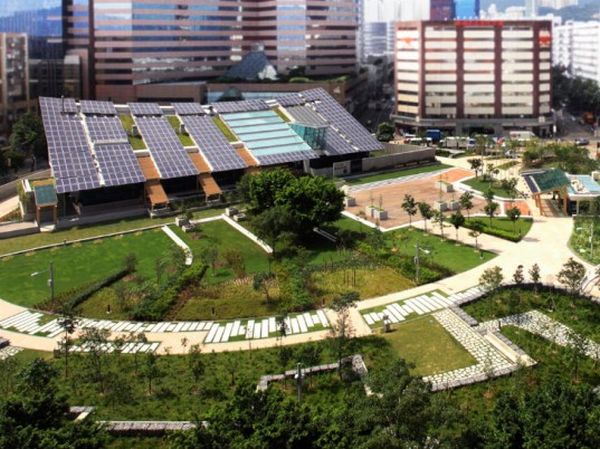 The ZCB building has surely attracted a lot of attention by being the first building in the country that can boast of its zero-carbon attributes. The building features an expansive array of photovoltaic solar panels that generate enough energy to power the energy-efficient fixtures inside. Additionally, the building also features a plethora of energy saving designs and appliances, making it a zero-carbon marvel of modern architecture.