Who wants marble or bronze when you have automobile trash? The specific parts of the trash not only provide you with new creative options, by using them, you are also contributing positively to the environment. No matter whether its gears, wires, car barters or rims, if you are creative enough, everything would have its specific place in your creation. Seems difficult, doesn't it? Well, not quite. At least not when you see some of the artists doing it so effortlessly.
Here are a few innovative creations made out of old metallic automobile trash. They look very aesthetic and betray their origins:
11 – Recycled products made from automobile trash
1. Bull sculpture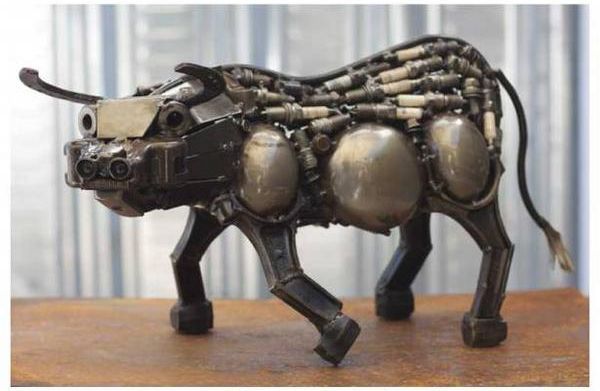 Armando Ramirez, an artist from Mexico has turned junk auto parts into a magnificent Rustic Brave Bull. He has cleverly put together various old auto parts such as cogwheels, pistol rods and rocker arm to create the sculpture. The artist is dedicated to turning old, scrap items into new creations. The Bull costs US $108.70 and would spruce up your interior decor.
2. Alien Motorbike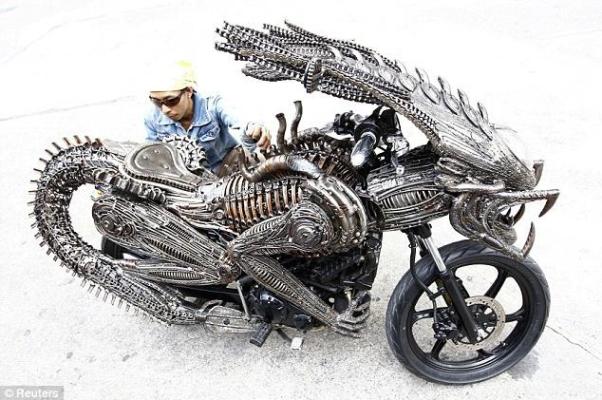 The Alien Motorbike is an amazing work of art that has utility too. Designed and built by Roongrojna Sangwongprisarn, an artist from Bangkok, this bike has been constructed entirely by recycling old auto parts from bikes and cars. The bike that resembles a serpent is can be ridden.It is available for sale at Ko Art, the artist's workshop in Thailand. His innovative pieces of art are exported to various clients around the globe.
3. Rustic Bull Ride Sculpture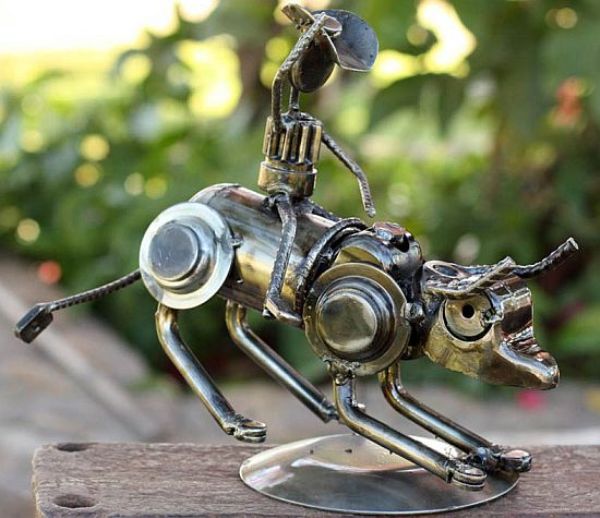 The Rustic Bull Ride sculpture is yet another creation by Armando Ramirez. It is being promoted by Novica – a platform that promotes artisans and artists the world over for selling their merchandise. This particular sculpture has been made out of old automobile parts and is a mechanical structure that shows a bucking bull with a cowboy atop it.
4. Alien Queen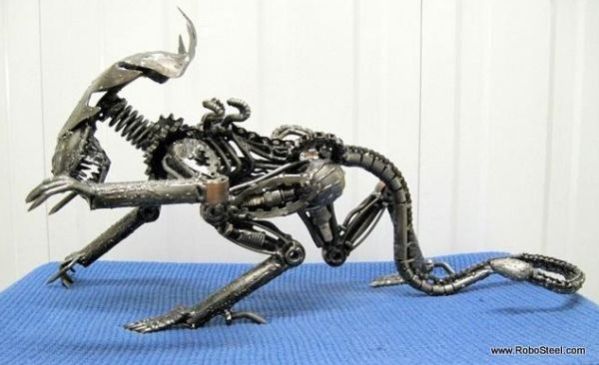 Most of us have been fascinated by the concept of aliens and extraterrestrial beings. Robosteel, an Irish company has been designing models of aliens and the sculpture of the 'Alien Queen' is another such remarkable work by RoboSteel. This sculpture is quite special and innovative as it is made by using old parts from a motorbike, a boat an a car. After assembling these parts, the sculpture was given a shining lacquer finish that makes it look impeccable and new. Priced at 180 Euro, this sculpture is a must-buy for alien-enthusiasts.
5. Recycled three-wheeler by Max Scott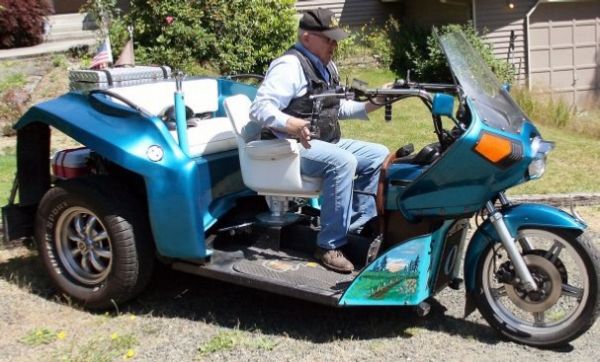 Max Scott from Bremerton is passionate about recycled automobiles. He is specially interested in three-wheelers because his wife is physically challenged. Max developed a motorcycle with three wheels called the Sam O' Max that is made entirely out of old auto parts such as handrails. The mobile is powered by a high speed engine from a Volkswagen Beetle and also has Audi's hydraulic control features. The back seat of this three wheeled motorcycle can seat three people.
6. Recycled metal sculpture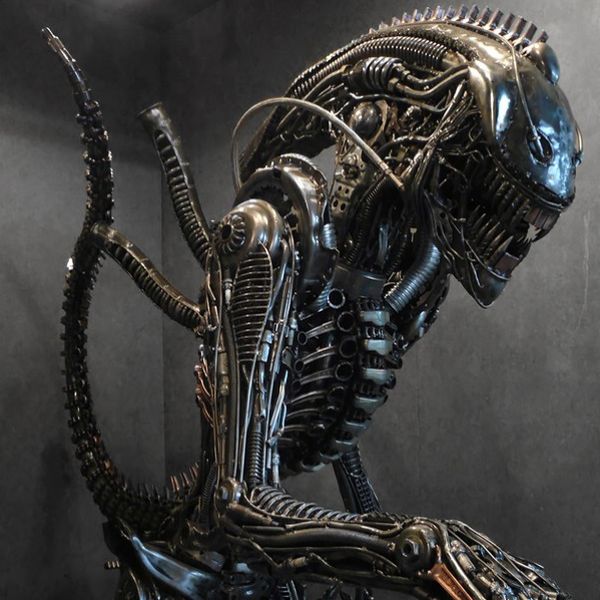 A lot of artists are turning junk into treasure, using old scrap material to shape their ideas into fine creations. These sculptures not only look exquisite but are also eco-friendly, which makes them very special. Krittayakorn Chaijit is an artist who creates fascinating artwork by using discarded chunks of metal from automobiles and machinery. The sculptures made by him look so fine and perfect that no one can tell the origin of the pieces. His three masterpieces, 'The Real Size Metal Alien', 'The Climbing Metal Alien' and 'The Metal Scorpion' can be ordered from Esty.
7. Robots built out of junk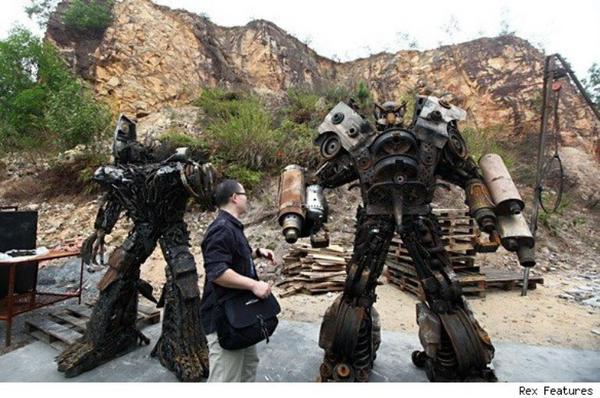 A transformers fan from Southern China, Yang Junlin has taken his passion for the alien-like metal machines further by creating his own versions of Transformer robots out of old steel sheets and scrap from cars and other products. The Chinese sculptor has even displayed and sold his eco-friendly metal robots in his factory called the "Legend of Iron".
8. Transformer sculpture made from actual auto parts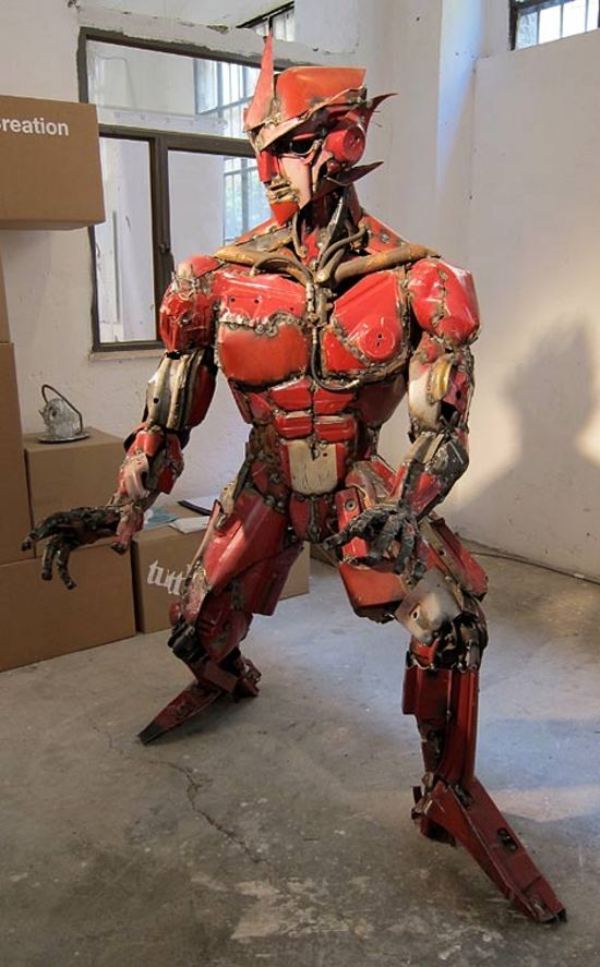 Nikola Nikolov, an artist working for Studio Re-Creation has made a sculpture that looks like a Transformer robot by using old car parts. The sculpture does not actually transform like a Transformer but is a great work of art which is made in an eco-friendly way.
9. Junk auto parts transformer

The Junk Auto Parts Transformer has been placed at the Bird's Nest Olympics Park in Beijing, China. This transformer is ten meters in height and is made entirely from discarded auto parts from jeeps, trucks and cars. It is another great, green sculpture from China.
10. Recycled Auto Part Chess Set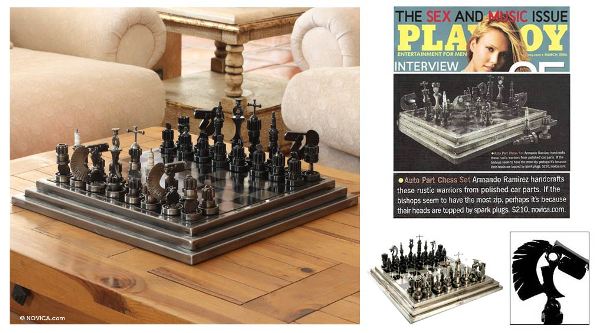 The Recycled Auto Part Chess Set is an exquisite work of art in which each piece is carefully crafted to make it look individualistic. The chess pieces resemble rustic figurines and have been crafted from old metal junk. The chessboard is one of the popular chessboards made out of recycled materials. It is made by welding old metal. The heads of the bishops are made out of old spark plugs. The pawns are made out of sprockets and heavy bolts. This chess board is a delight for those who are interested in rustic art pieces.
11. Moto Horse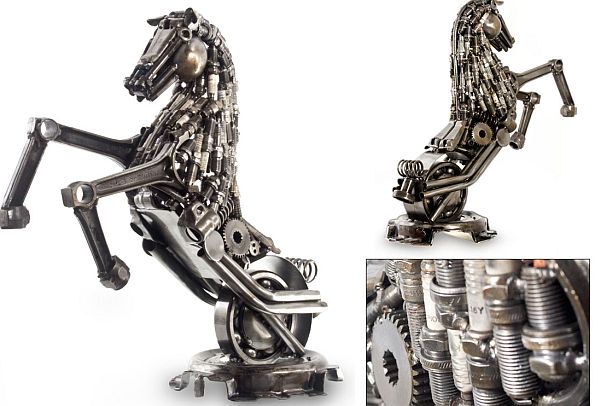 'Moto Horse' is a bizarre half motorcycle and half equine sculpture that is crafted entirely from recycled metals and auto parts. The front part of the sculpture is a horse that is making a jump, while the back part is a motorcycle with the rear wheel and platform to rest on. Famous designer Armando Ramírez is the man behind the Moto Horse sculpture.
The designer has made use of recycled auto parts and discarded metals to create this big sculpture. It weighs at 22.4 lbs and has 19.7-inch height, 9.1-inch width and 20.5-inch depth. Armando hasn't polished the sculpture and so it looks rustic and rugged. It is better not to touch 'Moto Horse,' which may injure you as it has many sharp points and a rough body.
This giant sculpture's head and rear motorbike wheel are made from different pieces of car's clutch pedals. The structure's body is built with spark plugs and front legs are shaped by connecting rods and other parts. Lots of wires, bearings and other abandoned pieces from a die machine have realized this structure, which will attract anybody at a glance.
Summary
There are a lot of things that we can make out of old stuff. Many artists and sculptors make amazing creations out of old and unwanted things, giving them a new lease of life. It is important that we incorporate the three Rs – reduce, reuse and recycle – into our lifestyles, to reduce our carbon footprints and prevent the trash from accumulating and harming our planet.