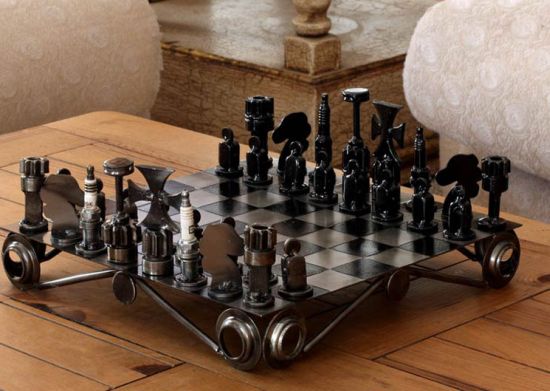 From the days of the industrial revolution, non-biodegradable waste remains a serious threat to sustainable development, which is a cause of concern for many governments and scientists across the globe. However, there are some modern artists who have become highly successful in transforming waste into a unique chess sets. Their efforts have started a new age art form which has enlivened the game of chess forever. Strap yourself in… as we are going to cover 10 amazing chess sets made from recycled materials.

• Auto parts chess set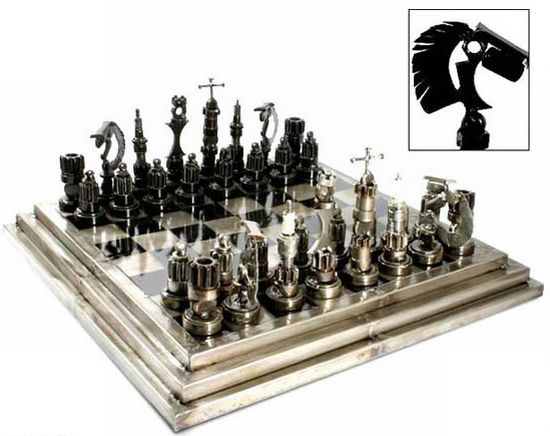 The auto parts chess set is made by designer Armando Ramirez using NGK and AC DELCO spark plugs and spare parts. The precision in providing the metallic finish to the set has been achieved by carefully welding these materials. The art work has got respect from many people – and one has to shell out a whopping $176 to own one such set.
• Battery Chess Set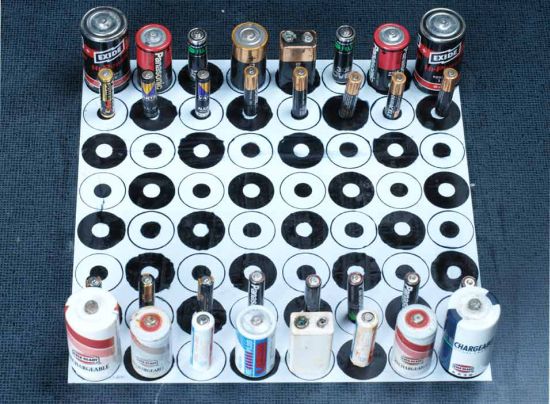 While most designers find recycled metal as a preferred material for chess sets, this unique chess set has been created using recycled batteries. While you might have to spend some time in recognizing the pieces, this colorful chess set is sure to attract your eco-conscious friends.
• High Octane chess set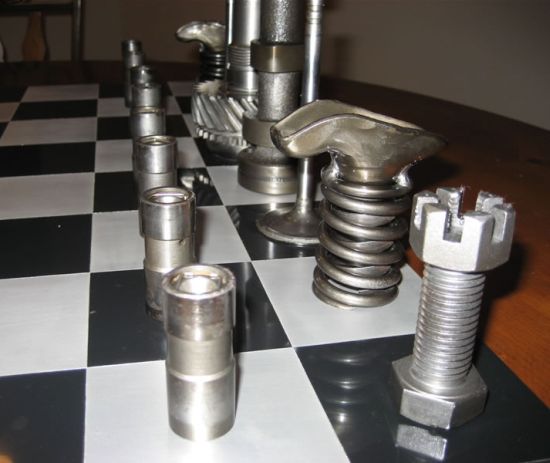 This beautifully crafted High Octane chess set is made especially for the car guys. Instead of dumping old engine parts into the bin, the folks over at RevMod decided to make one of the heaviest chess sets ever built. Each of the pieces featured in the chess set have been created using different spare parts that have completed their original life.
• Steampunk Hardware Chess Set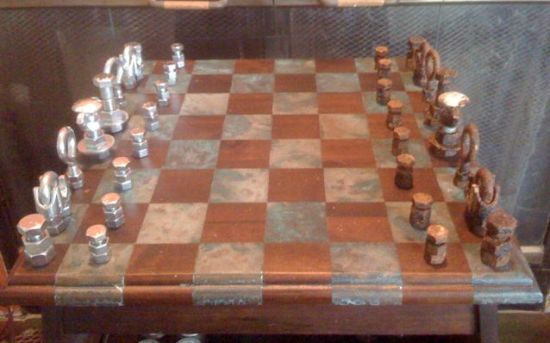 This amazing Steampunk Hardware chess set has been carefully crafted from assorted hardware, an old table and some common chemicals. The project has been developed as a DIY creation and the original creators believe that the DIY process is fast, easy and the end result is quite unique as well.
• Chess set made from nuts and bolts

This unusual chess set is the brainchild of designer Eric Claverie, and presents an innovative design that will take you by wonder. Made of several metal parts, including tubes, bolts and nuts, the chess set by the French designer takes an artistic form, giving a new dimension to the classic game of chess. The custom-made chess set is available for €1,300.
• Scacchie-Re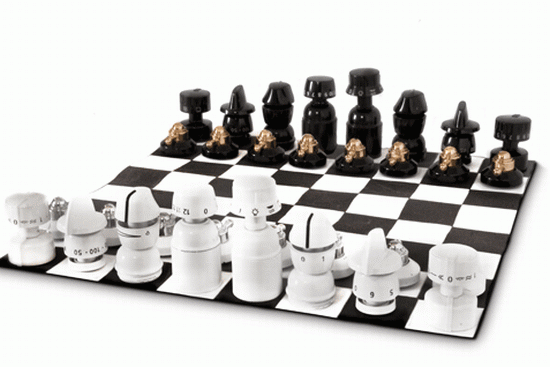 The Scacchie-Re is a chess set created by Italian designers Alessandro Garlandini and Stefano Castiglioni using recycled whirlpool knobs and components. The market price of one set of Scacchie-Re is fixed at €98.
• Formula 1 Chess Set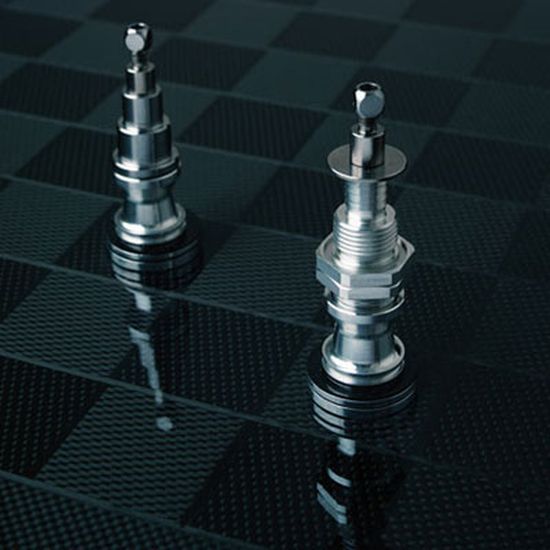 People who think that chess is actually a boring game, should think once again, as the F1 team has arrived with an all new concept of chess game. This chess set has been made from actual parts of the F1 Renault team. Priced at a whopping $36,511, this chess set uses every part of the car and the board is made of the same carbon fiber as the F1 cars are made out of.
• Micro Processor Chess Set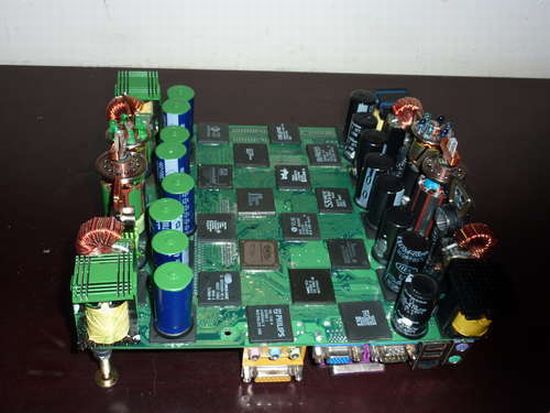 The Micro Processor Chess set is made using 32 microprocessor chips, while the board is the underside of a discarded mother board. The pawns and other pieces of the chess set are created using other discarded computer hardware that might be lying around in your cupboard.
• Another Auto Parts chess set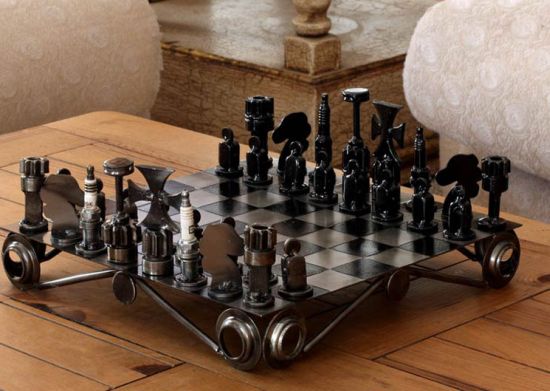 Designed by the imaginative mind of Armando Ramírez, this product is made up using scrap metal that has been converted into a sleek, black and silver chess set. The designer collects leftover metal pieces off a die machine and shapes them into pawns, horses and other pieces to complete the set. This unique chess set retails for $109.95.
• Lamp parts chess board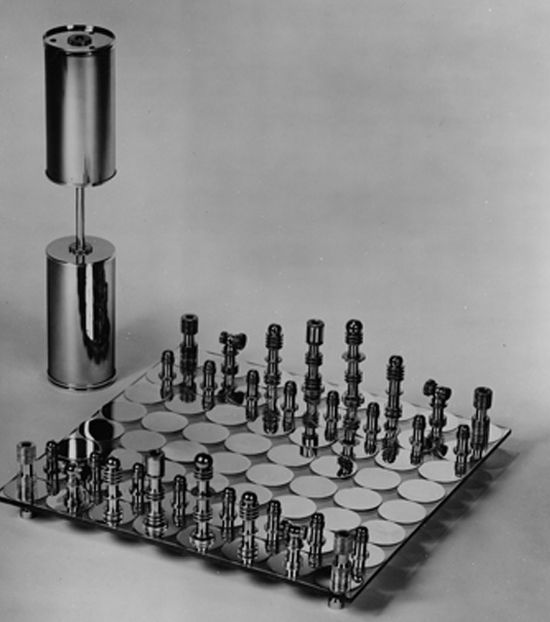 This unique chess set was created by designer Jesse Dean in 1968 using 428 lamp parts, one half silver and the other gold. The board is plexiglass with silver and gold discs and the carrying case is a silver barbell, each side holding a color.