Go green- this is one of the most popular slogan that you get to hear these days. It means to adopt more sustainable ways of living in order to save the planet from various demons such as global warming and pollution of various kinds. These demons are let loose by us and it is our moral duty to curb them before they cause any serious damage to our beautiful and giving environment. The importance of sustainable methods is being realized by people all over the world now and they are working together to make this world a better place to live. One such great initiative was taken in Singapore and the world's very first green library opened shortly in Singapore.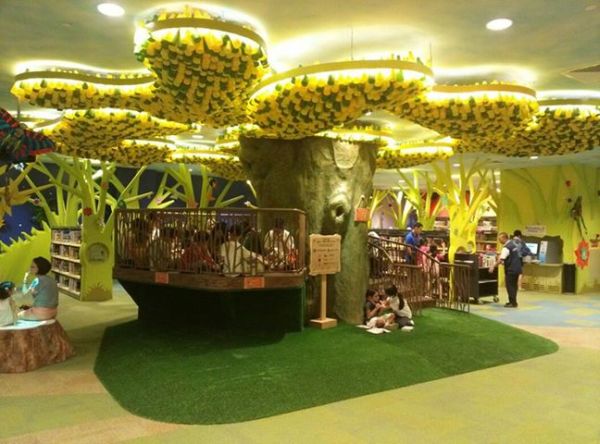 First ever green library
The green library that opened this Friday in Singapore kept in mind the use of sustainable and eco friendly materials and hence it is first of its kind in the whole world. This library is meant for little kids and it is name 'My tree house' and it is located in Central Public Library in Singapore. This green library has the concept that is not at all threatening to the environment and the building materials used in the building process of this library are also eco friendly which means that no detail has been spared when it comes to making the library sustainable.
Due to the many great things about this library it has already grabbed a lot of global attention and was presented with Building and Construction Authority's Green Mark Platinum award in the month of May. This award is a prestigious one and it rates the structures according to their eco friendly design plus performance. This library will definitely work as an inspiration for the people all over the world to follow the example and build more such sustainable structures in the world. Let us dig deep in this newly opened green library to understand it in a better manner.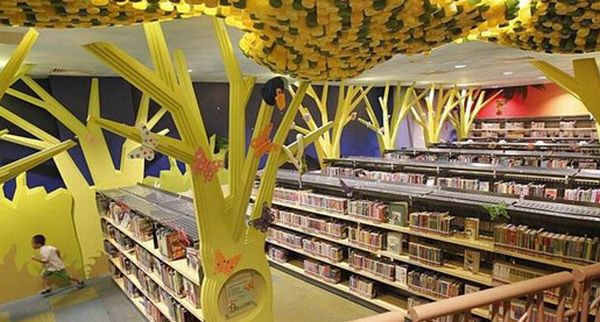 Sustainable building things such as refurbished book shelves, eco friendly carpets and sustainable lighting are utilized in the building of this particular library. The library has many great features and one of them happens to be the center piece which is actually a tree house and the canopy of the tree house is made from no less than recycled plastic bottles which were gathered from the people. This wonderful green project is a joint venture by one of the most reputed builders in Singapore, CDL or City Developments Limited and NLB or National Library Board.
This green library was opened by none other than Dr. Yaccob Ibrahim who happens to be Minister of Communication and Information. Dr. Ibrahim spoke a few words at the launch of this library and he addressed it as a wonderful achievement. He also said that that the authorities want to encourage more such buildings in the future. The minister observed that there are no less than forty five thousand books available in the library and almost one third of them cover the topic of going green.
A lot of effort has been put in the development and building of this green library and it can be clearly seen as well. This particular library is impressive in every manner. It helps in creating an enjoyable atmosphere for the kids to study and learn about the good things in life. The people responsible for this green library have done a brilliant job undoubtedly and have provided a great place for the kids to learn about the importance of saving and conserving the environment.