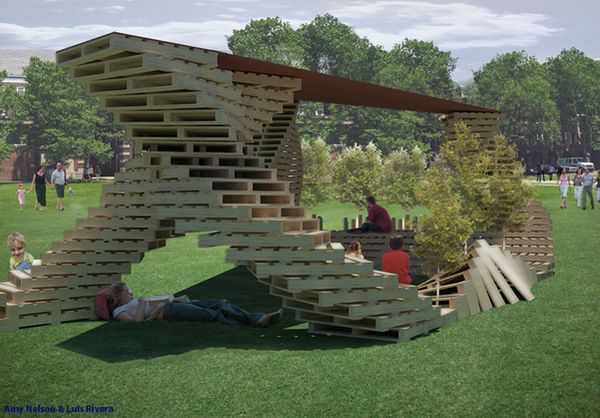 Discarded wood is a sad sight to behold considering the many uses reclaimed wood can be put to. What's more, it is cheaper and far more rewarding to recycle wood than to go out and purchase new products crafted out of this limited resource. One of the more neglected items is wood pallets, which are blocks or slats used in shipping products. Once the items have been transported, these pallets are usually discarded, ending up in landfills or the corner of a garage. But, these nondescript items can be tastefully transformed into functional and decorative items with a bit of imagination.
The Dream Weaver Pavilion Concept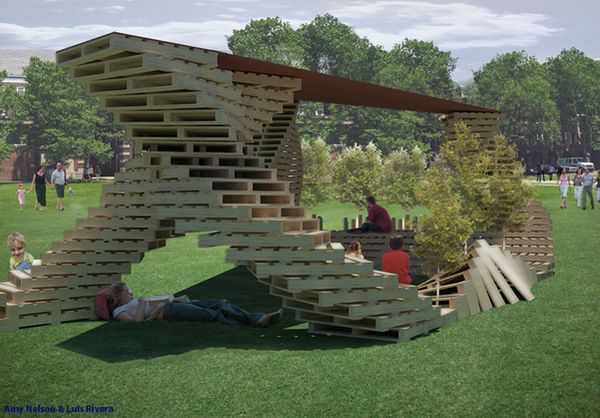 Situated in New York, the Dream Weaver Pavilion Concept is a functional and artistic piece. The pallet based pavilion will be set up in various degrees, sometimes as a simple seating area and other times as tall spiraling pillars. The concept can be applied in a recreational area, providing people with shade and acting as a place where lectures, picnics and performances can be held.
Pallet house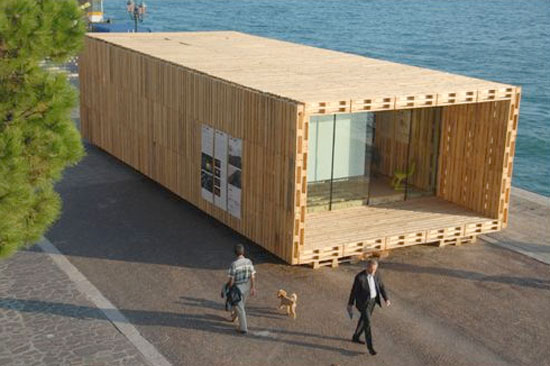 Soared high costs of housing have left low income people with fewer options. Thanks to innovative designers, who have been presented with cheap options that provide adequate shelter. Designed by University of Vienna students, Pils Gregor and Andreas Claus, the pallet house offers low income groups with an affordable housing option. Energy efficient and modular, the house is constructed out of 800 recycled pallets in an area of 60 square meter.
Christmas tree of wooden pallets and wreath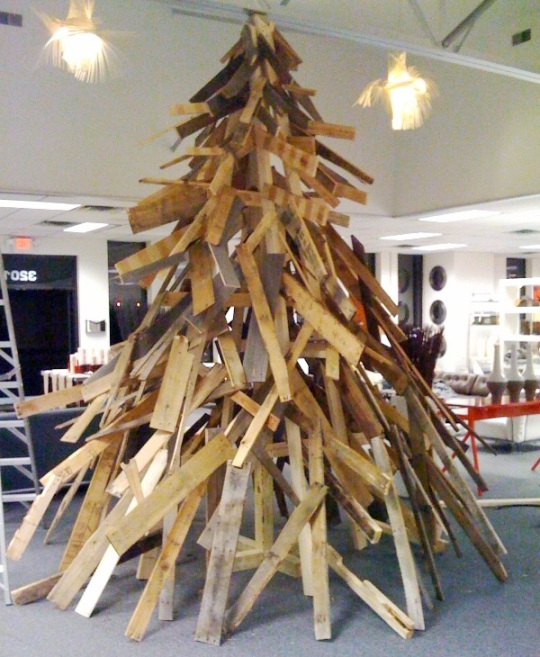 While it may not be a traditional Christmas tree, this wooden pallet version does stand out. The thirteen and a half foot tall tree salvaged from old wooden pallets can also be reused for other purposes. The designer works at Nashville's Nouveau Classics and also created a wreath out of the same material.
Recycled wood pallet furniture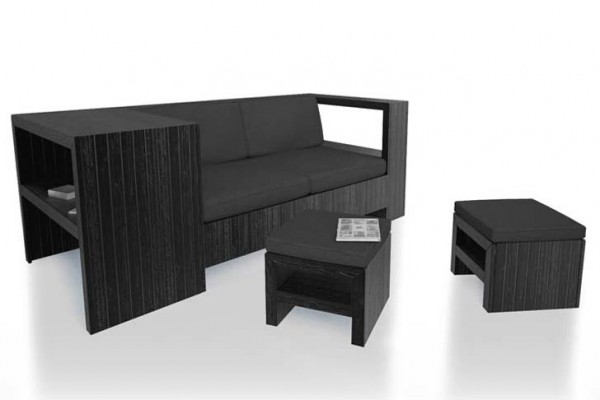 The most obvious use for wooden pallets is furniture and here we have something that looks far from recycled. Created by French design firm Studio-aparte, the pieces are contemporary and chic. The black sofa and stools that fall under the Woodstock line of furniture items have been designed for small spaces and are so well crafted that they look like something out of a high end home décor magazine.
DIY homes using recycled pallet wood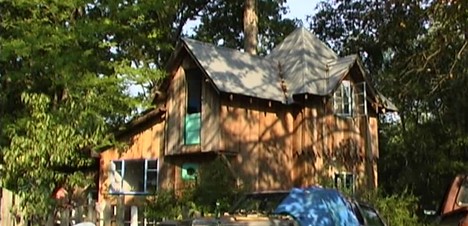 While attempting to build a house yourself may seem like a daunting task, for Rollo the project was well worth the effort. Using recycled pallets, tree limbs and reclaimed trailers, he built houses for himself and his pals on seven acres of land. His work has even been featured in a documentary, which was showcased at several film festivals.
Headboards made out of wood pallets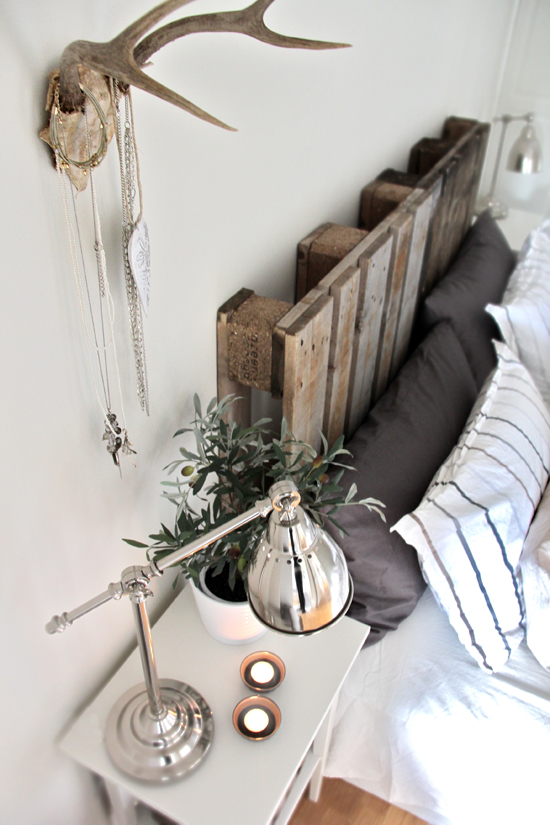 If you are fond of the rustic looks, then you'll definitely like these wooden pallet headboards. Easy to create and very different, they make a comfy headrest and you can even choose to paint them or have them made in more complicated designs.
Wood pallet outdoor chair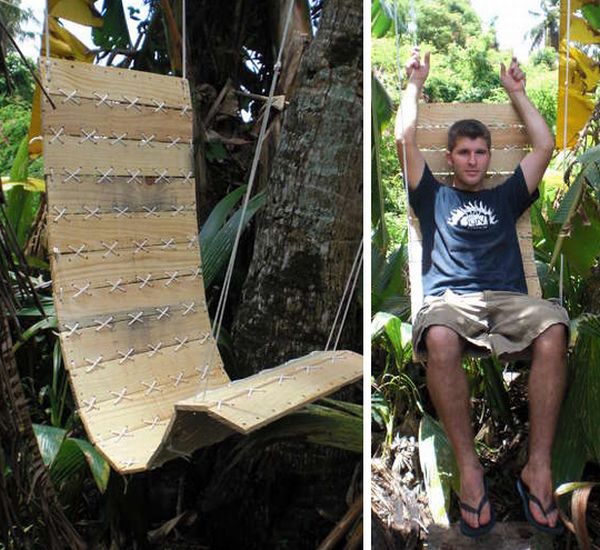 Why spend a fortune on outdoor chairs when you can make them using reclaimed wooden pallets? Feng Shui consultant and interior designer, Hero, has created a very cool and stylish outdoor chair from 18 to 20 wooden pallets. Holes were drilled through the boards and a rope tied in a crisscross pattern. Additional holes were drilled on the outer boards for hanging on a beam or on the limb of a tree.
Compost bin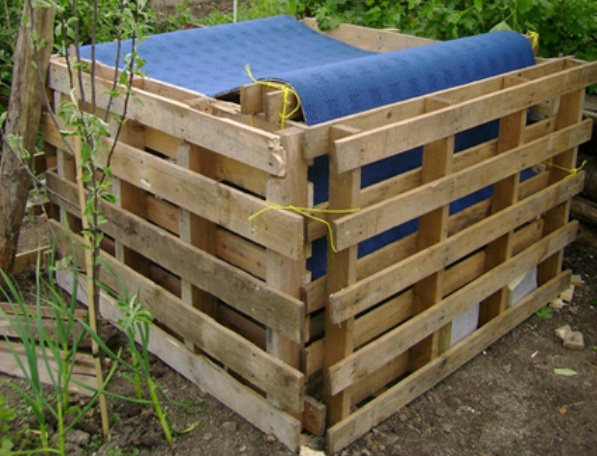 Compost bins help shorten the time taken to break down degradable materials. Making one out of reclaimed wooden pallets is cheap and makes for a rewarding DIY project. All you need are pallets, brackets, hinges, screws, a latch and a 14 gauge wire.
Shed made from recycled wooden pallets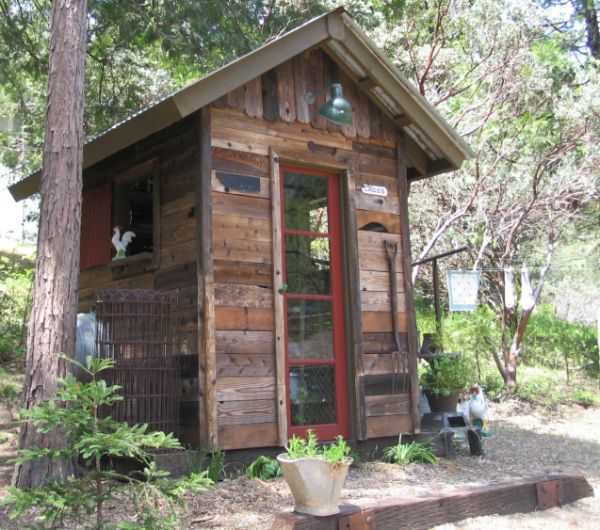 Help stores get rid of their wooden pallets by using them to build yourself a lumber shed. It's dirt cheap and you can save yourself a lot of cash while also helping clean up the neighborhood. You may need some help if you aren't too adept with construction.
Wooden pallet shoe rack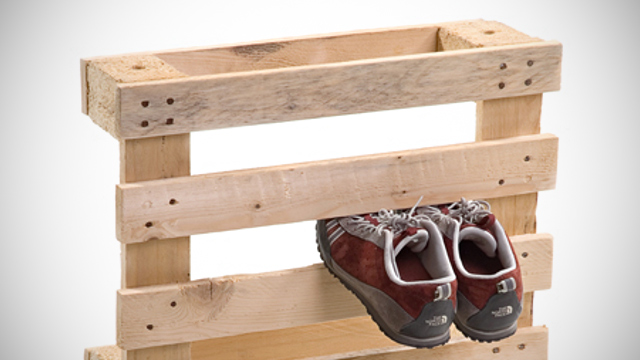 Store all your footwear in a shoe rack made out of reclaimed wood pallets. Easy to make and economical on your pocket, you can source the materials from any store of the neighborhood, wanting to get rid of their pallets. Arm yourself with a hammer and nails and set about making this DIY rack.