Volkswagen's largest selling Jetta marque is an apt example of a compact sedan steeped in modern automotive history. In fact, the German automaker has previously dabbled with a multitude of green technologies to give low emission variants of Jettas in the form hydrogen fuel, biofuel and even electric powered drivetrains. And, now in the present state, Volkwagen will continue its sustainable credentials with the newest hybrid version of the exalted Jetta brand.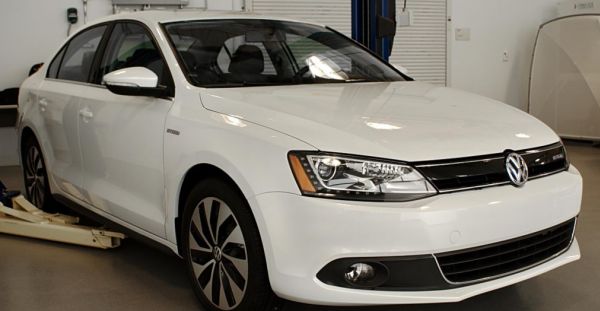 Visually, there is very little difference between the earlier conventional models of Jetta and this hybrid variant. According to the company, the front bumper has a slight streamlined feel to it, while the wheels are uniquely draped in alloy, which is quite indigenous to this model.
However, the real 'improvement' can be witnessed beneath the chassis, with a completely new drive mechanism. This powertrain consists of a Volkswagen's 1.4L turbocharged gasoline engine and a 27 hp electric motor, for a combined output of 170 hp. All of these will be complimented by the very first commercially available 7 speed dual clutch gearbox, in the form of DSG automatic transmission. This robust set up is touted to give the car a substantial acceleration from zero to 60 mph in 9 seconds, with a combined fuel efficiency of 45 mpg.
Coming to its low emission features, the vehicular mechanism will utilize the bulkier lithium ion battery packs, because their relatively higher energy density and propensity to operate at higher voltages. In fact, in a fully electric mode, the Jetta can reach a top speed of 44mph (70 km/hr), with a range of around 1.2 miles (2 km).
The green credentials are continued on the inside of the vehicle, with seats upholstered in fully recycled ecotec fabric. Moreover, the designers have also included some pretty convenient user oriented attributes like a gauge that exhibits the status of the hybrid system, and a touchscreen monitor in the center stack, which has the ability to display a real time graphical image of the hybrid system's power distribution.
Via: TheWeeklyDriver