Last year at the Detroit Motor Show , Mercedes unveiled its SLS AMG E-Cell Electric Sports Car. Recently, Mercedes shared few details and images of the drive train system that will be featured by SLS AMG E-Cell. The sports car is the new member of the SLS AMG family that will feature an E-CELL after the SLS AMG Roadster and the SLS AMG Coupe.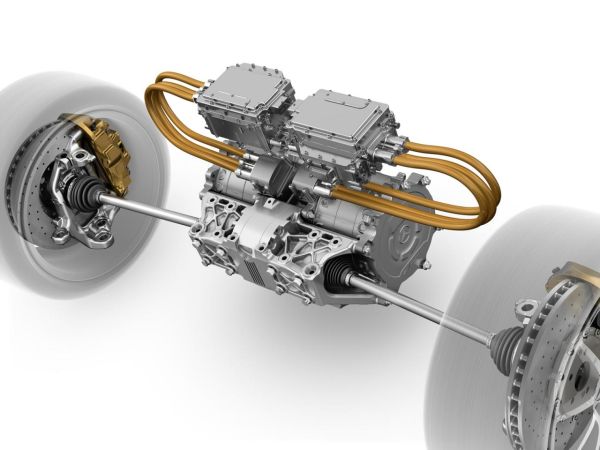 As stated in the press release, the drivetrain has been under development since 2010 and is the result of the collaboration between Mercedes AMG High Performance Powertrains and Mercedes AMG, in Brixworth. The Electric drivetrain system of SLS AMG E-Cell is just another glimpse of the latest development project of Mercedes AMG GmbH. Since it's the first electric car of Mercedes Benz, the Formula 1 Division of the company will also be directly involved in developing the SLS AMG E-Cell and the car will be using the KERS (Kinetic Energy Recovery System).
Four electric contemporaneous motors are going to be used for powering the vehicle, which will be placed close to the wheels so that unmoved masses can be decreased. A combined total output of 526 bhp and maximum torque of 880Nm (649 lb/ft), which will allow the sports car to go from 0 to 100 km/h within just 4 seconds will be provided by these electric four motors. The production of the SLS AMG E-Cell will begin next year and the availability will be in limited numbers.
Via: Inautonews