Over time we have been seen a plethora of wonderful and innovative projects that take advantage of simple, everyday materials. The latest addition to such products has been made by Heather Jennings, who recently introduced the sculptural paper orb lights, which are made using decorative cupcake liners.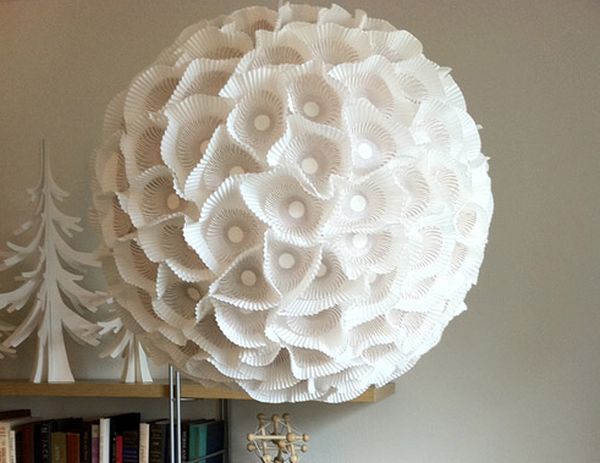 Inspired by the Rhododendron Chandelier, a handmade paper lantern, which Heather came across in the local Anthropologie store, the eco artist designed these orb lights giving them a beautiful effect by layering them with enhancing cup cake liners. Though in the first look it appears to be very complicated but this lovely piece of artwork can be done very easily. Some standard size paper cake liners, petit fours papers with vertical stripes, a white paper lantern, hot glue and a string for lighting are the only things required to make these globe lamps.
If you wish to try making this yourself at home, begin by placing a paper lamp top up, in a spacious bowl to give it support, and then paste the cup cake liners, keeping them half an inch away from the wire ring, on the top of the lantern with the help of hot glue. Press the cupcake liner till it is firmly attached. Set the papers in such a manner that the circular bottom is placed just about an inch apart, to help the outer ends to mingle and take their own distinct shape. After applying the cupcakes around the whole lantern in rings, the petit fours papers are placed in the center of each white paper, starting from the bottom of the lantern and then gradually covering the entire lantern. Finally work on the outer papers to give it a desired form and drop in a light.
A striking paper lamp is ready which gives beautiful effect, both unlit during the day and glowing at night. These globe lamps are not only stunningly beautiful but the best part lies in its relative simplicity.
Via: Designsponge