A backpack is one of those accessories that keep your stuff safe and easily accessible. Whether you are a student, an IT professional or a teacher, you need a certain set of things to keep your daily routine in place. This set also includes personal gadgets that give you access to the internet, especially social media.
But have you ever wondered what if the backpack that keeps your things secure can also give you an Eco-friendly charging solution? In recent years, that is what the backpack manufacturers are developing. Especially, in an age where users constantly carry their smartphones and laptops. Reliable and stylish, these Eco-friendly backpacks allow you to charge your electronic items via a solar panel and keeps you connected wherever you go.
1.     ECEEN hiking backpack with 7 watt Solar Panel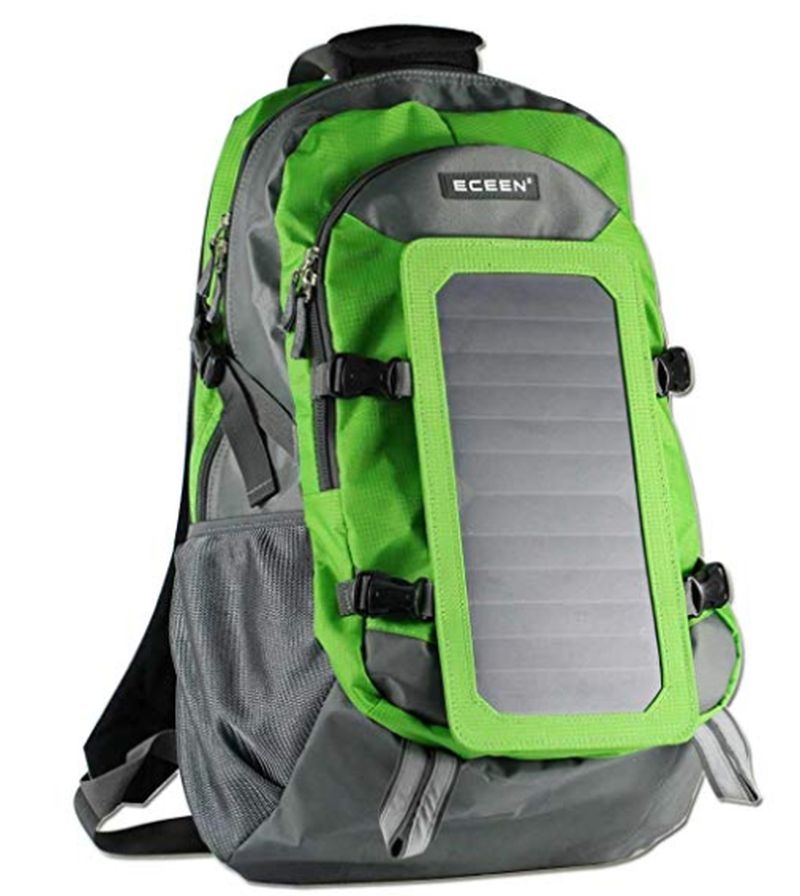 Regarded as one of the best Eco-friendly backpacks, the ECEEN hiking bag absorbs more sunlight than regular solar panels and has the capacity to produce more power. Made with water-resistant, environmentally friendly and ultra light fabric, it gives you long-lasting performance.
It has many pockets to accommodate maps, documents and your daily use gears. The 21-inch go-anywhere backpack has a capacity of 42 liters and weighs only 1.8 pounds.
Features:
10, 000 mAh Li-Polymer battery
It's powerful battery comes with dual output – 1A and 2A that can fully charge your tablet or mobile phone twice or thrice.
Voltage Stability Controller
Using its 5V USB port with in-built Voltage Stability Controller, you can charge smartphones, MP3 players, Bluetooth speakers and all other portable devices.
Micro USB cable
One of the latest sustainable products, the stylish backpack also comes with a micro USB cable, if you need one.
Adjustable mesh straps
Featuring comfortable and adjustable mesh traps, it gives you a feeling that you are not carrying anything heavy on your back.
2.     Energizer PowerKeep PRO Solar Executive Backpack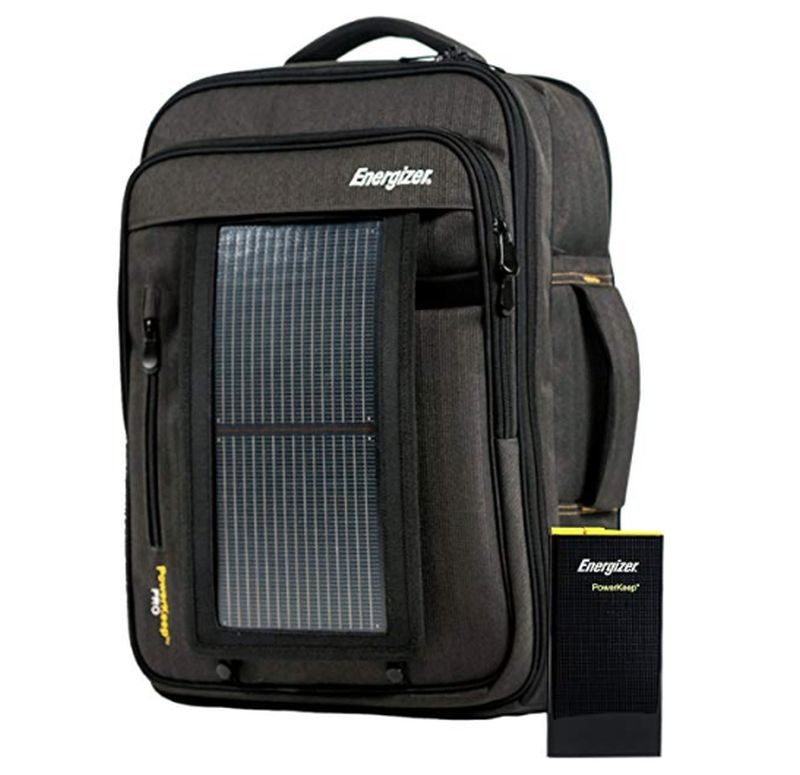 One of the most Stylish and lightweight Eco-friendly backpacks, the PowerKeep pro allows you to carry your tablet, laptop or any kind of documents with ease. Its robust charging system offers fast charging for all your electronic devices on the move. Common features are included but its innovative solar-integrated technology gives an upper hand on other similar products.
The backpack's capacity is 20 liter while its length is 19.3 inches and has a weight of 3.4 pounds.
Features:
10, 000 mAh Li-Polymer battery
The battery features dual 5V/2A outputs that can easily charge your smartphone or tablet whenever needed.
Detachable power bank with micro USB cable
Its power bank can be charged from the sun or any USB/AC charging port and also features a LED light.
Short-circuit and over-charging protection
For your portable devices, it has this brilliant feature to protect them while getting juiced.
Briefcase backpack
As an additional attribute, the backpack can also be carried like a briefcase which makes it ideal for business tours.
3.     SolarGoPack Solar Powered Backpack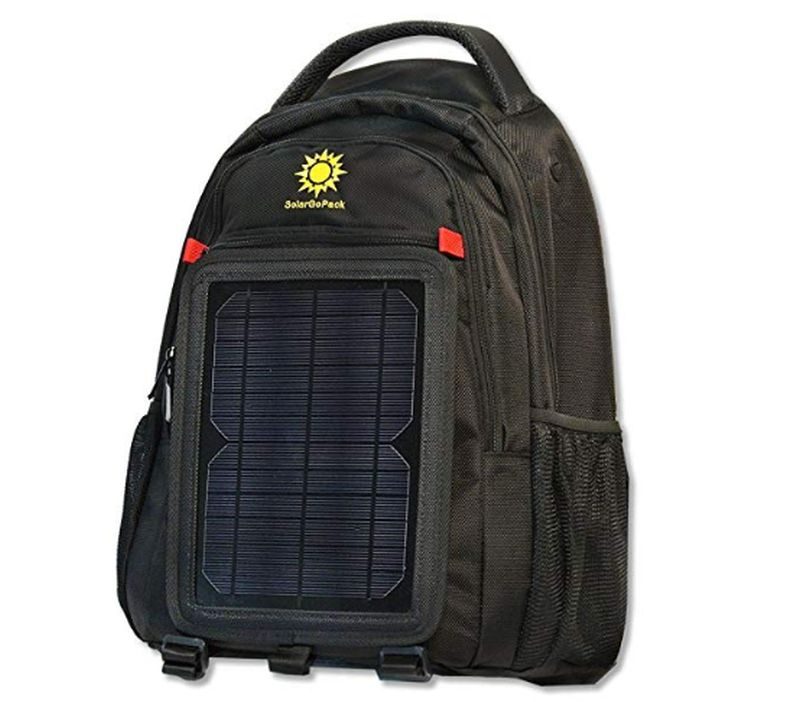 This is trendy, but a heavy product in comparison to other Eco-friendly backpacks. One of the latest sustainable product, the bag can charge several smartphones or many other portable devices quickly. Nylon and polyester material used to make the bag makes it water resistant, robust and perfect for outdoor activities.
It has several compartments, laptop sleeve and padded shoulder straps for extra comfort. The backpack has a capacity of 35 liters, weighs 2.8 pounds and is 17 inches long. Its dimensions: 27-liter, 3-pound, and 17-inch.
Features:
12, 000 mAh battery
It has a powerful lithium-ion battery to charge all kind of smartphones, cameras, tablet and many more.
Removable solar panels
Its 5W solar cell can be easily detached and directed towards the sun. Once charged, it can repower your portables in small duration. Moreover, it can be charged using indoors light as well. Brilliant, isn't it?
Sternum Strap
Apart from padded straps, it features sternum strap to grip the bag around your waist for added stability, making it ideal for hiking, long trips, and other outdoor activities.
4.     Kingsolar Multiple Function Solar Backpack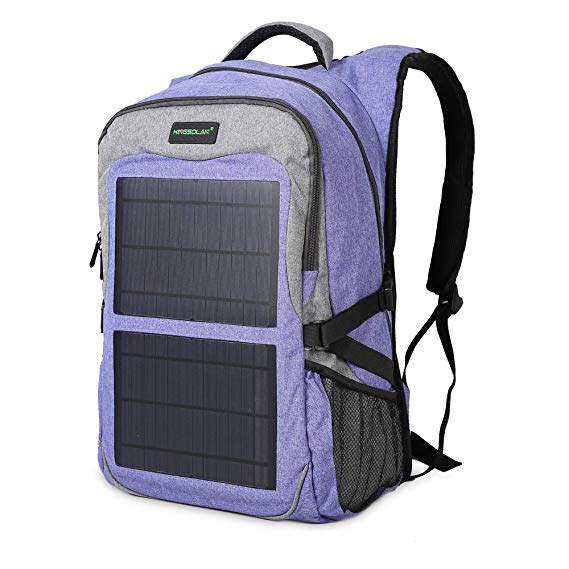 The backpack employs 12W solar panel to give you maximum converted energy on the go. However, it comes without a battery to charge power banks, mobile phones and other devices with built-in power storage.
In the backpack, there is enough space to store a laptop, files etc. Its length and weight are 23.5 inches and 3.6 pounds respectively. It comes with 18 months warranty wherein you can get help from experts from the solar industry. This is a major addition because most of the Eco-friendly backpacks come
with a 12 months of warranty.
Features: 
Dual USB port
This creatively designed backpack comes with two separately located 5V USB ports – one at the shoulder strap and another inside it.
Long lasting built
It is manufactured with anti-scratch and water resistant Nylon/Polyester to ensure weather resistant travels.
Secret pocket
This environmentally friendly backpack comes with freely adjustable straps and a safety pocket that allows you to dodge thieves.
Ergonomic and comfortable
It has Airflow back design with thick and soft padding to provide maximum comfort while you travel. In addition, the adjustable padded shoulder strap minimizes the stress on your shoulder.
5.     EnerPlexPackr Commuter Solar Backpack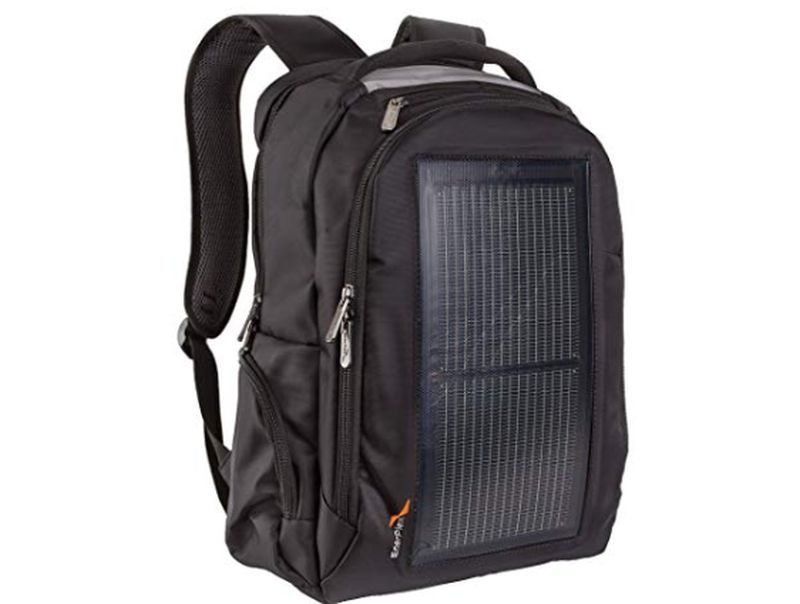 The Packr Commuter is a solid backpack with dual main compartments, some small compartments and adjustable straps. It is not sold with any battery but still you can charge your gadgets in direct sunlight. It has capacity of 18 liters, weighs 2.18 pounds and is 17.7 inches long making it perfect to store official and personal belongings. The padded straps give you minimal stress on the shoulder.
Features:
CIGS photo voltaic solar technology
The backpack employs plastic on solar technology that makes it light weight and flexible. Its solar panel works find under low light conditions as well. There are 5V charging ports in the backpack for any device that uses USB 2.0.
Zippered pockets
This special product has two external zippers, one to hold a water bottle and another on the top to keep smaller objects.
Padded laptop sleeve
It has a padded interior compartment with pass-through grommets, perfect for storing your laptop.
USB Cable
It is a small addition to its features, but still beneficial to those who are outdoors for a long duration.
Remember, there are wide varieties of Eco-friendly backpacks available to attract you, but it is important to check the specifications and design that your needs before you make the buying decision.