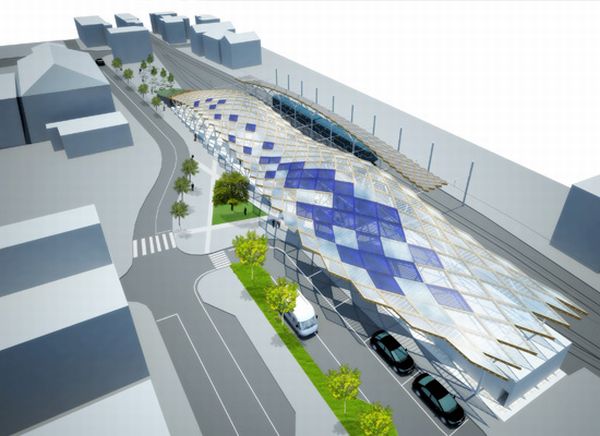 Tomioka station as designed by Daisuke Nagatomo and Minnie Jan for the MisoSoup Design competition provides a very modernistic and appealing architectural design to the station. The Tomioka station is essentially supposed to be the gateway to the erstwhile legendary Tomioka silk mill that would soon become a world heritage site, and this amazing design would give justice to the reputation of the silk mill and would prove worthy of its name. The modernistic design would be a stark contrast to the silk mill, but its green functionality and features would be apt making it merge with the historical surroundings.
The entire design of the Tomioka station is on the lines of creation of silk with an innate weaving pattern that creates a canopy that highlights the entry to this world heritage site. The canopy of the station is created by using a wooden frame with tensioned member that act as louvers. The surface of this amazing canopy is covered with three types of glass: clear, high-reflection and PV cell laminated. The architecture of this station is done in a way in which daylight is used optimally, making it a very Eco-friendly and energy-efficient station. From a bird's eye view, the canopy of the station has a wave-like roof that looks very attractive. The canopy or the roof of the Tomioka station starts from ground level – and it has many spots where attractive colorful plants and flowers would be grown on the canopy itself and gradually the canopy starts to heighten and broaden as it goes over the station.
This unique architectural design makes the station look like a work of art. The environmental aspect of the station with the flowers and plants adds a lot of appeal and aesthetic quality as well. The station would be constructed at various levels which are not that high as that would make the best use of limited space. This would enable the station to look quite spacious as well as multi-functional. Furthermore, the glass canopy would increase natural light without heating up the interiors. Energy conservation and sustainability are two of the most important elements that this building would use as a basis for functioning. A lot of greenery would be provided along the sides, making it attractive visually and Eco-friendly as well.
This design by Minnie Jan and Nagatomo is a very appealing one that juxtaposes modern with historical to produce a praiseworthy building!
Via: Misosoupdesign