Spain recently witnessed an elephant bursting into flames. But wait! It is not a real elephant we are talking about there, but an elephant sculpture that was actually lit up as part of Valencia's annual Fallas Festival. The elephant in question was made of recycled cardboard, and constituted over 6000 recycled paper tubes.
The Fallasfestival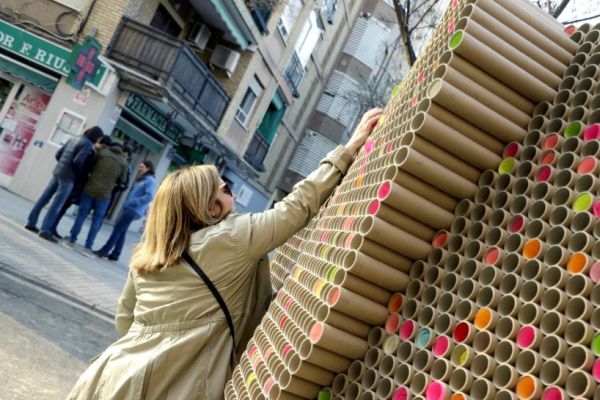 Image Source : VisualNews.Com
The Fallas Festival is an annual event celebrated by the city of Valencia. It features plenty of festivities, including parties, firework shows and temporary installations set throughout the city. The last night of the city usually features a final celebratory act that involves burning these temporary installations.
Nituniyo designs cardboard elephant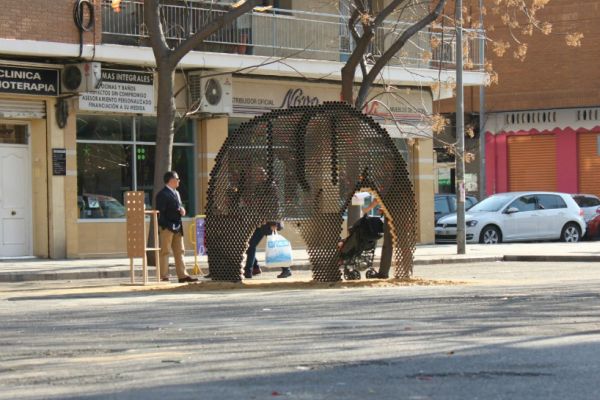 Image Source : VisualNews.Com
This year, the responsibility of creating these installations went to Spanish based design studio Nituniyo. Translating to 'Neither you nor I', Nituniyo took it upon itself to create a really memorable installation this year for the festival. Enter the extremely cute looking and realistic elephant sculpture that the studio erected on the streets for passersby to see and interact with.
In sharp contrast to previous years where the installations were kept cordoned off from the public behind fences, Nituniyo decided to place the monument in such a way that it could be approached, touched and played with by the viewers. They chose the theme of an elephant for their 'somnis de pes' aka 'dreams of weight' project in order to make the installation more children friendly.
The design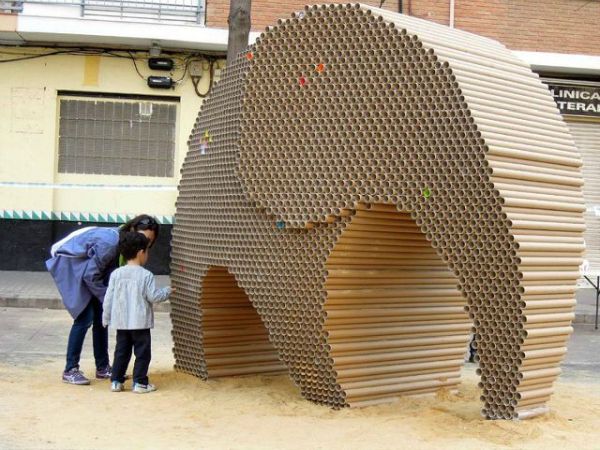 Image Source : 4.Bp.Blogspot.Com
Nituniyo used hollow cardboard tubes for the installation rather than standard polystyrene, as recycled materials burn much more easily than polymer. Nituniyo also settled for cardboard tubes over polystyrene in order to create a unique design in the form of a cell pattern resembling an elephant.
After completing the sculpture, Nituniyo encouraged visitors to write their desires and dreams on colored papers. These papers were then rolled up and inserted into the tubes. This in turn would make the otherwise monochrome colored design look outstanding as pops of pastel and neon colors light it up. Thus, the sculpture served its purpose of encouraging interaction with the public, becoming more colorful as more people interacted with it.
The elephant sculpture remained in its place until the last day of the Fallas Festival on March 19th when it was burnt down along with the other installations in the city as part of the final celebrations.
The FallasFestival in Valencia this year saw a cardboard elephant taking life as it was transformed into a colorful art form by visitors. Designed by Nutiniyo, the elephant sculpture was made of recycled cardboard and paper tubes.