Global Warming is at its peak and energy sources are going extinct so it is essential we promote architecture which is self sufficient and has the least carbon footprint on our environment. This eco friendly example of green architecture is designed by Abdullah Kocamaz for "Ministry of Education High School National Architectural Design Competition Sisli". An environment concerned plan is addressed through fiction with this design. The topography, land geometry of the place is very well utilized to make an efficient use of natural light and available land. Emphasis is placed to make the building self sufficient and energy efficient.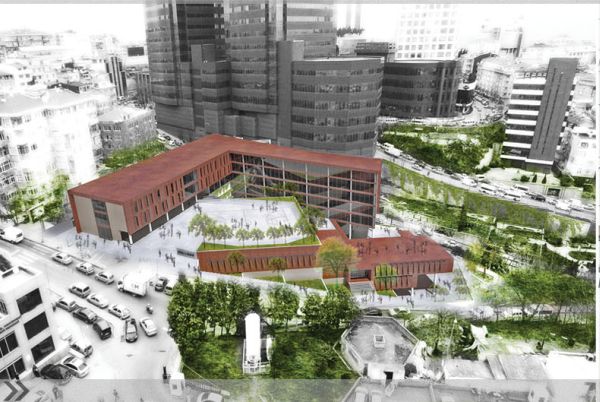 The architectural plan divides the given area into two main departments; the education department and the management department. At the main entrance, there is appropriate place for parking, designed keeping in mind the green factor. For setting up classrooms, different floors have been well planned and each class room is designed for easy accessibility.
The management department is a quiet and isolated place and functions independently. Natural light and air is provided to multipurpose halls like sports hall and office hall, making them self sufficient for light and air conditioning. External windows are placed by studying the directions of the sun in order to utilize maximum direct light. Demountable glass walls are purposed for dividing office space into various sections rather than walls. Natural light and air is efficiently used, cutting down the energy cost, which would otherwise sum to a huge amount.
The school campus makes provision for all types of social activities too. There is a library, a park and a self study area, designed with a calm ambiance. The open space has in fact been designed keeping in mind a specified correlation between the number of students and the total area available.
Via: Annex