In the light of global warming people are making a few changes to combat the phenomenon and to save the environment and our planet. Global warming has now become a global issue and it is a concern the entire human race has. To save the environment a few manufacturers and enterprises are taking drastic measures. For instance Sprout is a company that manufactures mainly watches, and believes in making the current times greener for everybody and so at Sprout they make eco friendly watches made out of sustainable materials. These watches are reasonably priced and a wide range of options are available for buyers who want an environment friendly, pocket friendly and green watch. Sprout is a renowned watch manufacturer so their range of eco friendly watches is very popular and always stays in demand. In fact nobody can resist the charm of a Sprout watch.
Newest Addition to Sprout Watches
Sprout eco-friendly bird print dial watch is the newest addition to their collection of green watches. It was launched some time after Earth Day this year. It is a striking watch in the true sense of the word. It will catch your attention in the very first look, the design and details of this particular watch are enough to intrigue anyone. It is mystical and whimsical at the same time. If an individual is a watch enthusiast and also is interested in saving the environment then this watch is a must have for him or her. Yes this watch is a unisex watch. Just like other Sprout watches this watch too has a corn resin dial case. The watch's dial is made up of mineral crystal and bamboo and it is a fairly large dial. The strap of the watch looks metallic but is of a pale silver color and has links as opposed to having one continuous strap these links can be added or removed depending on the user's wrist size. Sprout does have other watches that have organic cotton straps. This watch is one unique timepiece and it has a beige colored and intricately textured dial. The texture reminds you of a floral web. It looks embossed and the floral pattern does standout from the beige background. The most interesting feature in terms of looks and design is the little blue bird that looks like it is sitting right inside the dial of this watch. It is perched comfortably on a branch that protrudes toward the center of the dial and which has three lime green leaves that sit in perfect harmony with the other colours and elements of the watch. The bird which is a cool blue colour beautifully contrasts the pale silver almost white strap of the watch. The design of the watch is very lively and exudes a very spring, summer feel. That means this watch is just in time. It definitely has the potential of being the perfect spring summer accessory this year.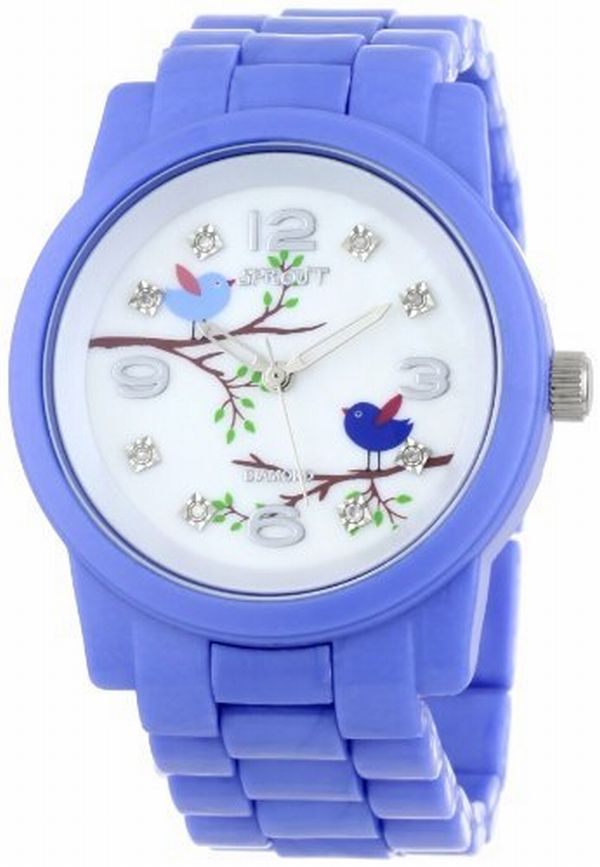 Reasons to Buy This Watch
If you are still not sure whether to buy this watch or not a few more reasons to buy this watch are given below:
It is reasonably priced at $60, which is a bargain keeping in mind the design and other features of the watch.
It is 100% eco friendly. If you are the kind of person who likes to wear green clothes and environment friendly accessories while being stylish then you cannot afford to miss out on this watch.
It is perfect as a spring, summer fashion accessory. You can very easily make this watch a part of your overall style statement.
You can do your bit for the environment by using and wearing this eco friendly watch.