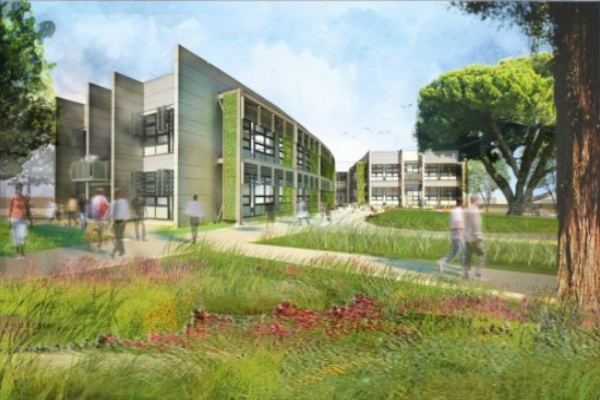 Eco friendly buildings are required in present scenario to deal with the increase in global warming and other natural disasters. To deal with it, sustainable technology is developed which offers a complete eco friendly surrounding and doesn't pollute the surrounding and the environment. This has been taken as a step toward a greener tomorrow and people are supporting it in every possible way.
These buildings are not only beautiful, but are also Zero CO2 emission building which is a great contribution toward our green planet. There are many such buildings in the world. Here we are with a list of five of the smartest eco friendly buildings in the world. Have a look!
1. NASA Sustainability Base by William McDonough Partners
William McDonough is an architect who has built an international reputation as a sustainable design visionary. Among his better known accomplishments, he re-designed Ford Motor's River Rouge factory with a 10-acre green roof, built a grassy-roofed building near San Francisco for retailer Gap, and created furniture-maker Herman Miller's GreenHouse offices. His radical cradle-to-cradle philosophy demands that every product be designed for disassembly at the end of its lifetime, either returning harmlessly to the soil or going back into a 'closed-loop industrial cycle' to be reused. Designed for approximately 200 people, the new facility optimizes passive design strategies and is projected to demand only 12 percent of the electrical power and only 10 percent of the potable water that a conventional, code-compliant building would demand. All irrigation is provided by recycled and reclaimed water.
2. VELUX Sunlighthouse by HEIN-TROY Architects
Sunlight House is Austria's first carbon-neutral single-family house. Nestled in a wooded, mountainous region, the home's sloping roof and other exciting architectural elements take full advantage of the sun to ensure maximum daylight and solar energy. The home's design was the result of a competition between nine up-and-coming Austrian architects, and the winner was Hein-Troy Architekten. VELUX Austria is monitoring the project along with our partners at Danube University Krems and the Institute for Healthy and Ecological Building (IBO). Sunlighthouse is the recipient of the Austrian State Prize for Environment and Energy Technologies.
3. Ecological Children Activity and Education Center by 24H architecture
The 6 star hotel resort Soneva Kiri is located on Koh Kood, an island in the Gulf of Thailand. At this unique site, 24H architecture designed a series of ecological icons to contribute to Six Senses' high ambitions in design and ecology. Most prominent is The Children Activity and Learning Centre, which will provide visiting children a wide range of entertaining activities as well as raise the level of ecological awareness with them. This Den provides an Auditorium/Cinema for films, lectures and plays, a library with books on permaculture and local traditions, an Art room, a Music room and Fashion room, thus giving children both creative and ecological education while playing.
4. Im lost in Paris by R&Sie(n)
I'm Lost In Paris is considered to be one of the best designed Eco-friendly building in the world. This was designed by architect R&Sie(n) and is located in the French capital. This house is completely surrounded by the trees and eco friendly nature and it actually looks like it is swathed in ferns, hiding it like a birdwatcher's lookout. This house also includes a huge bacteria farm and is equipped with 1,200 ferns which are fed by the hydroponic tubes which carry water from the roof to the plants. This is one of the best examples of a green building and it includes everything that makes it a masterpiece. The beakers are available in house in a quantity of 300 and are completely hand-blown by craftsmen into a steel mesh, which makes each one subtly different. The beakers in the house contain a solution of water and rhizobia which is a kind of bacteria used in the huge bacteria farm of the house. These bacteria brew in presence of the sunlight and are then harvested during the summer season.
5. Jellyfish Theatre by Folke Koebberling and Martin Kaltwasser
One man's trash is another's man treasure, says Martin Kaltwasser. Koebberling & Kaltwasser have worked alongside volunteers to create The Jellyfish Theater, London's first fully-functioning theater made entirely from recycled and reclaimed materials. Focusing on energy-efficiency, co-operation and human-scale construction, The Jellyfish Theater was showcased as part of the London Festival of Architecture in July and will open to the public at the end of August. A temporary structure, The Jellyfish Theater will be made of materials from all sources; junked theatre sets, reclaimed timber from building sites, Covent Garden market pallets, old kitchen units that the public bring along.