We all believe that green architecture is what the future demands from architects and architects with a green vision are leaving no stone unturned in designing futuristic buildings that are either powered by renewable sources of energy or help in conserving energy, thereby helping reduce global greenhouse gas emissions.
They are designing multipurpose green mega structures that bring a touch of green to the skyline of the city where they will be built. A few examples of such green marvels are:
1. The green cell
The mega structure
Green Cell is an idea proposed by Japanese architect. It has placed in the new capital city of Taipei in its museum art. The museum connects to the train station through the main hall. Addition to this park pavilion adds as a contribute to the city.
The most important main hall serves as a source for communication and a place for gathering people, conducting workshops, exhibitions, etc. Sprawling canopy takes a crucial part in this great structure. The outer skin touches the ground which leaves some place continuously which are combined through out the gallery.
This great structure includes different types of cushions, ventilators, solar panels, and green roofs. It is an ecofriendly structure.
What makes it mega
It's structure depicts splitting each space in to spheres which adds more attraction to the city. Keeping this in mind many design teams have made their designs so that there structures provide all facilities of residences, offices, entertainment, shoppings, i.e., commercial places. It has a good transportation system and it does not effect any ambiance. It has become the centralized commercial zone. It is a mixed use development.
Eco Credentials
It is Eco Friendly as cars are not allowed as transportation facilities are provided with some structures. It also adds power to its structure.It is built away from commercial and living places. It is constructed with steel in a cell – like pattern. This makes many residentials with parks.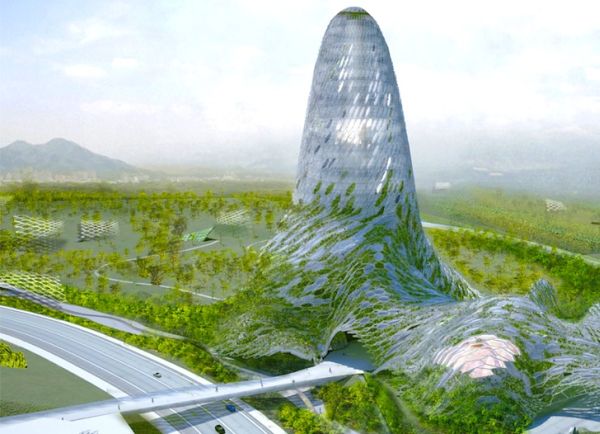 2. Bosco verticale
The mega structure
Eco architectures introduce innovative features of green structures. They also deal with natural and spatial evolution without any expansion keeping in mind the urban parameter according to their urban design. This leads to the development of a part of the city or the entire city.
In addition to this architecture of Milanese boeristudio has proved their interest and innovative design for two residential towers which are unique. According to this the design of Bosco Vertical came in to picture which has become the world's first vertical forest. It is a fantastic design and made realistic in Milan.
As it is an ecofriendly design it has to follow reforestration. This leads to solve the problem and a solution to expand city and increase the urban diversity. As it is a vertical construction it does not increase any physical area. Vertical structures also represent view of good side of affairs which are natural. Thy acts as bridge between reforestrarion and regeneration which can be grouped in to single entity.
What makes it mega?
Same as Garden of Babylon these towers rise up to 110m and 76m, respectively. It covers a surface area of 40,000 sq m. Its construction is near to the center of Milan.
Architects feel that this structure can act as device which is used for environmental survey of European cities. Designers went with whooping more than 900 trees ranging from 3m to 9m. Latest estimation is that by laying all trees flat on ground they occupy 10,000 sq m.
Eco Credentials
It has capability to recover and generate energy. It can control temperature with cooling techniques. It helps in not allowing dust particles coming from outside in to the building. This is most important feature as Italy is the most polluted city. It controls temperature by absorbing CO2 and dust particles. It reduces energy costs in an efficient manner.
Factbox
Architectural Design: BOERISTUDIO
Place: Milano, Italy.
Estimated cost:65,000,000,00 euros.
Area: 40,000 sq m.
Purpose: Residential.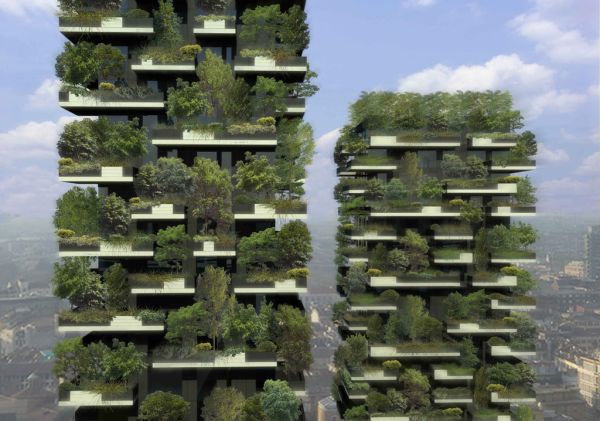 3. Circular Taiwan tower
The mega structure
This design is an advanced design in architecture and structure and is called as a green structure. It is the third largest municipality of Taiwan. It is a massive circular tower. It is the design of STL Architects of Chicago. It deals with the interpretation of unique images which are displayed by the building. It has made its mark on culture and future inventions.
What makes it mega
Tower is 320 meters in height. Architects have taken more care in constructing this tower. Usually much strain factors are seen in modern towers. This creates strength in construction. The massive foundation is in the form of a ring. It can resisting twisting movement. This tower acts as a bridge between junctions of urban space. It has a double skin and a centralized area which is strictly utilized by the users.
Eco Credentials
The outer skin is provided with an opening which causes sunlight to fall directly on to the surface. These spaces are reduced to allow light to fall on the center space. Natural light is used in the day time which reduces the energy usage.