Eco friendly construction is not merely about using eco friendly materials; it is closely related to examining the surroundings to optimally utilize every possible resource available without harming the ecology. Ryntovt Design applied this conception while designing the eco hotel in the forest near Orel River, 30km from Dnepropertrovsk. They went for a comprehensive analysis of the region and observed the surroundings and the energy availability of the land before they undertook construction.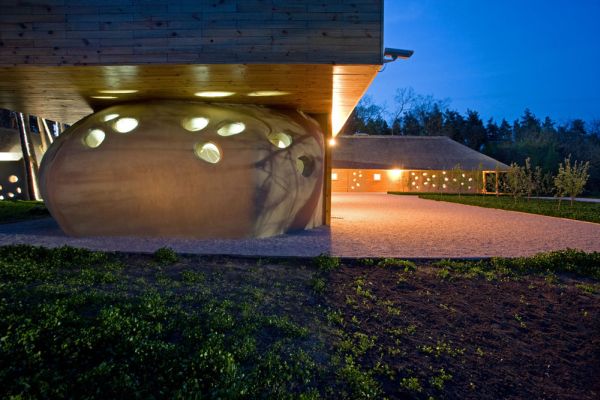 The eco hotel covering 1750 square meters is constructed using every possible ecologically harmless material, including clay, wood and reed. The outer structure is fully draped in wood and shell stone and the network of cocoon style rooms is knit together into a single unit with a roof plate.
The interiors and exteriors of the hotel are intended to be in sync with the river side ecology and the forests of the vicinity, therefore, unlike other high rising hotels, this one has a single storey structure nestling amidst open spaces, gardens, terraces and a parking. Also it features an apple orchard. This was a deliberate addition as the local legend suggests that a farmer must invite guests every spring and during the Transfiguration day, when the apple picking season.
Staying in the eco hotel will take through an all new experience. The warmth of the interiors brings back the reminiscence of village life, culturally rich and diverse. The open spaces give you a feel of the natural habitat of the forests and the river side refreshes your senses, relieving you of all your worldly concerns.