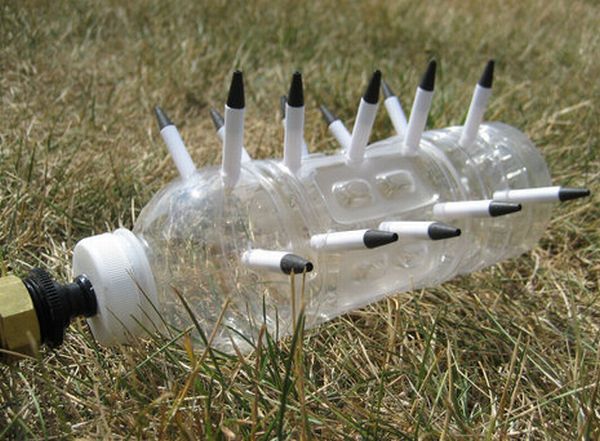 Every year, tons of plastic bottles are being produced around the world and a majority of them ends up in the landfills. There are many cool and interesting ways you can reuse or recycle plastic these plastic bottles and do your bit for the environment. Every time, you reuse a plastic drinking bottle, you are helping the Mother Nature. Once you have consumed the beverage from the bottle, you can use it to create a number of crafty things like a flower vase or a garden sprinkler with minimum efforts. Here are five of the simplest ways you can reuse plastic water bottles.
Water bottle citrus juicer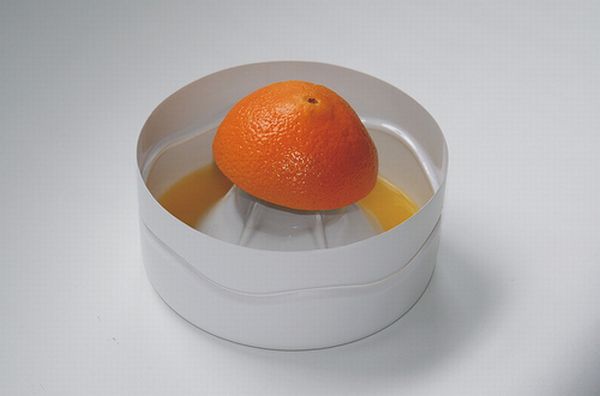 New York designer Scott Amron, who is also the founder of Amron Experimental, has given a new level to re-purposing by creating the juicer from thrown water bottles made of plastic. The innovative juicer, dubbed Re-juicer, extracts juice like an ordinary juicer that you commonly use in your kitchen and extract fresh and delicious fruit juice by twisting it over the juicer. But, its making is quite different from the ordinary juicers. The designer made use of the lower halves of clean Poland Springs plastic water bottles and created this eco-friendly product. Since the plastic design makes it flexible, the pouring is made easier and simple without any spillage. It is though not a commercially-produced juicer, but a very intelligent way of reusing the commonly thrown away plastic water bottles.
Lawn Sprinkler Made from Plastic Water Bottle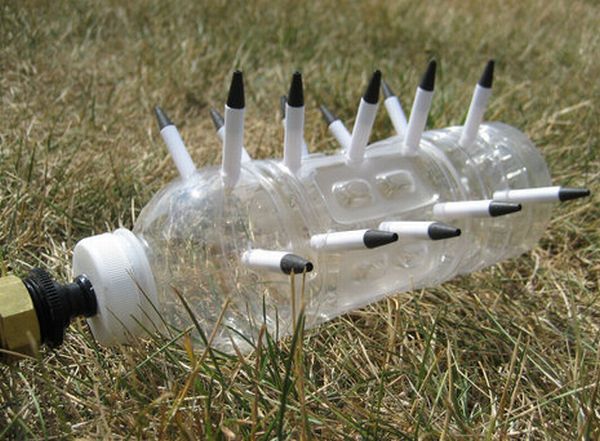 Here is one interesting project for the DIYers, which does not require any technical expertise. With a used plastic water bottle and a few old pens, you can make a nice sprinkler for your garden. You can start the project by making a hole in the cap of a 20oz plastic bottle, and this hole should be slightly smaller than your male hose attachment. Now, you have to make three rows on the bottle vertically, with each row including five holes. After you are done with it, take 15 pens and cut them to a size of 2 inches after removing the refill. Insert these pens into the bottle holes and stick them to it using some adhesive. You also need to apply some glue to the bottle cap, so that the hose attachment stays in place. Run the tap water now and your sprinkler is all ready to use.
Plastic Water Bottle Vase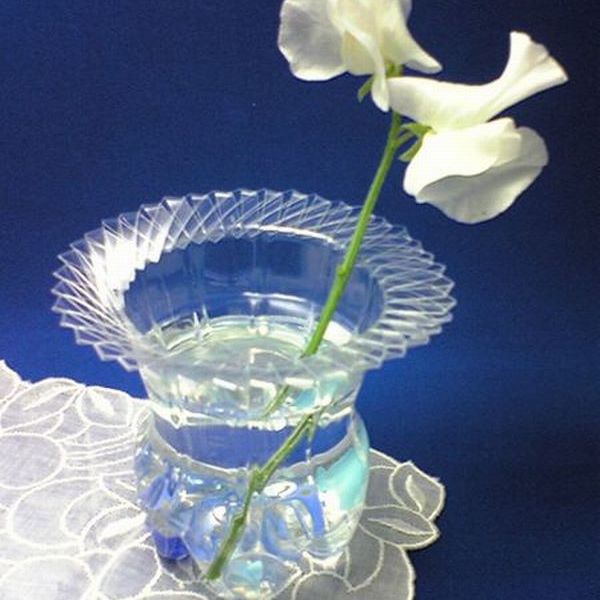 Why throw a used plastic water bottle into the recycle bin when you can create something unique and functional out of it. You can reuse a 20oz soda bottle to create a beautiful vase for your flowers. After cutting the bottle little below its neck, make straight cuts all around the bottle above the bottom. Then, you have to fold the strips carefully towards the outside. Turn the bottle upside down to have a uniform folding. Now, you will need to weave the strips into one another to give your vase a unique and attractive look. Check out the whole process on detail at WikiHow.
PET Bottle Purse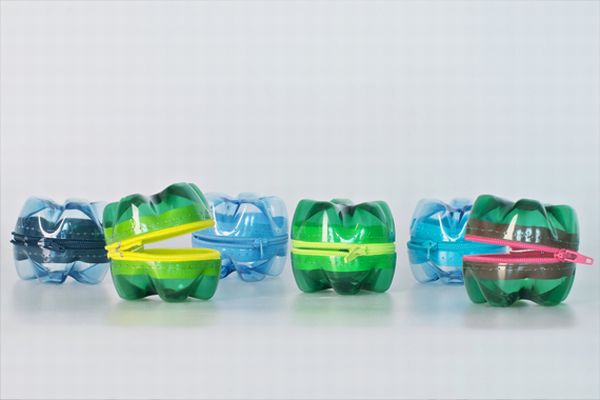 How about making a coin purse using a plastic soda bottle? With two bottoms of plastic soda bottles and a zipper, you can create this beautiful PET Bottle Purse. The process is quite simple. First, you need to cut the bottoms of two bottles with a scissor in same size. To attach the zipper to the two bottle bottoms, you can use a thick needle to make holes for the sewing purpose. The stitching keeps the zipper intact. You can go for bottles of different colors to make yourself a collection of bottle purses.
Make Beads from Recycled water Bottle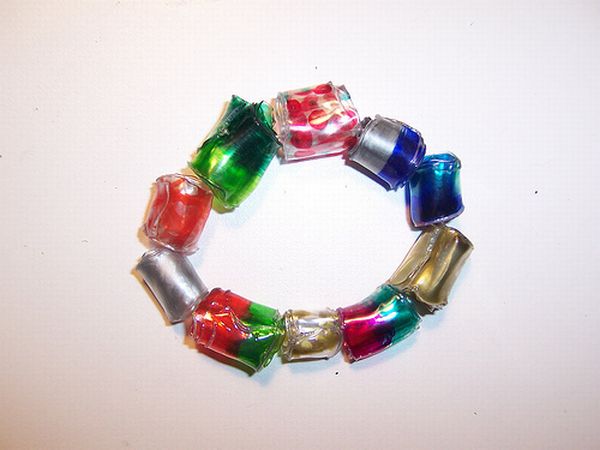 To create jewelry from the unwanted plastic water bottles, all you need is waste plastic bottles, paint or permanent markers, heat gun and craft cord or wire. You need to cut off the top and bottom of the plastic bottle, and then cut the strips across of any width to your liking. You can use either transparent or colored plastic water bottles to make strip. After that color the strips with paint or permanent marker on both sides. Once dry, you need to wrap the strips around the pliers to make a steady grip and by using a heat gun melt the strip in shape of a bead. After letting the beads cool you can string them into a metal wire or a craft cord and accessorize your self with a cool and funky bracelet or necklace.