Trash is trash, what else can it be? If your thoughts are still clinging to this statement, now is the time to change your outlook. Of course, the scrap metal art we are going to talk about here might not please all of us alike, but it will definitely gives us a chance to explore the numerous dimensions that define the word 'art'.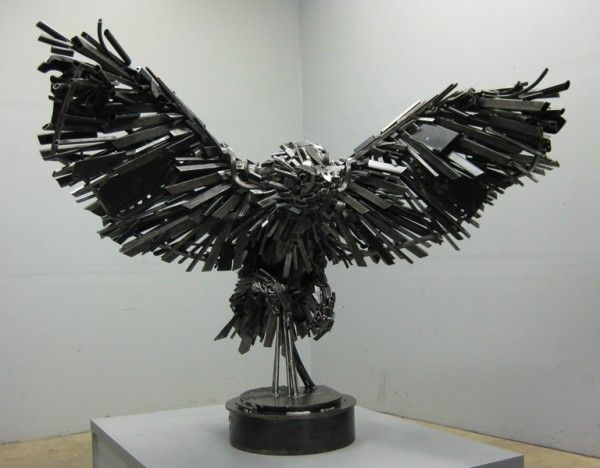 Robert Jefferson Travis Pond is the man who instills life in scrap metal and creates wild beasts. His life-size scrap monsters will send shivers down the spines of a few of us and make the others go crazy for what he's done with useless metal scrap. All he needs is loads and loads of deconstructed motorcycle parts. Once he has his all material ready, he welds together a variety of mass elements including gas tanks, nuts and bolts to create stunning pieces of freaked out birds, fishes, etc.
A 14 foot long dragon he created some time back features amongst one of his best creations. First look at the beast and you will observe it is cacophony braided with exhaust pipes and all sort of metal rods. It has been given a neat reptilian tail accented in tones of bright red. Honda and Yamaha are Travis's two most favorite brands, whose bike trash is most useful for his creations.
Though seemingly fierce, these monsters have a softer side too. They are designed playfully, and at times look comical with their modest stature. This also implies that the artist's work will catch the fancy of a divergent audience, inspiring them all to look at trash and filth in a new light.
Via: Thisiscolossal