Over the past decade, we have seen houses become more water conscious and energy efficient. Most of these homes, however, are mainly built out of brand new materials. You can't help but wonder what the impact would be on the environment if we could build houses out of junk we've piled up over the years. Along this vein, an Iowa-based recycling construction material company, ReWall, has come up with a solution and is out to give new meaning to sustainability and in the process, bring down the environmental impact of buildings with material reuse.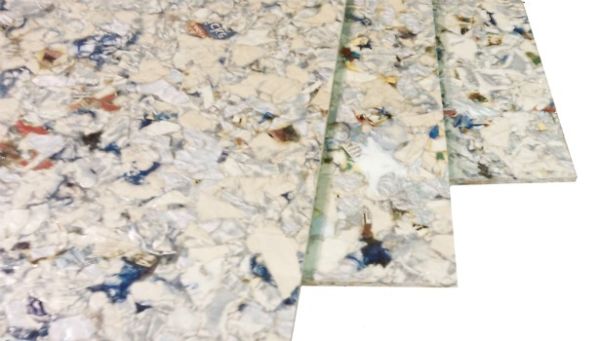 ReWall recycles approximately 2 million tons of polyethylene coated cartons and cups which are dumped in landfills every year. Almost all the materials brought into the production facility are carted in from less than 500 miles away. The products are made from 100 percent recycled materials. Items like ceiling panels, EssentialBoard, ReliefBoard and NakedBoard are created out of recycled polyethylene coated items such as plates and cups to create long lasting and sustainable building components.
Inside the ReWall facility, the production process begins by shredding polyethylene coated items. The ink and plastic are then stripped away in the manufacturing process which the company has had patented. The only product which is salvaged is paper which is then used in the making of ReWall products. The process is also environmentally friendly since water, chemicals and glue are never used to create the building materials.
The company prides itself in the fact that each of its products have been tested according to ICC-ES requirements. The partners that conduct the tests are Priest and Associates, Iowa State University Institute for Physical Research and Technology, and the SBC Research Institute.
ReWall also states that its materials are less expensive and more ideal than similar products found in the market. The boards cost almost the same as mid grade plywood and OSB.
Via: Earth911