American Gothic of Grant Wood has been the face of many newspaper stories in the past. It has been recreated in various forms and has been depicted with tweaks so many times that even if people are not familiar with the name of the painting or its painter, they still find it familiar. Parodies have been made over and over again using the American Gothic. According to Grant himself, it just represents the average American of the time.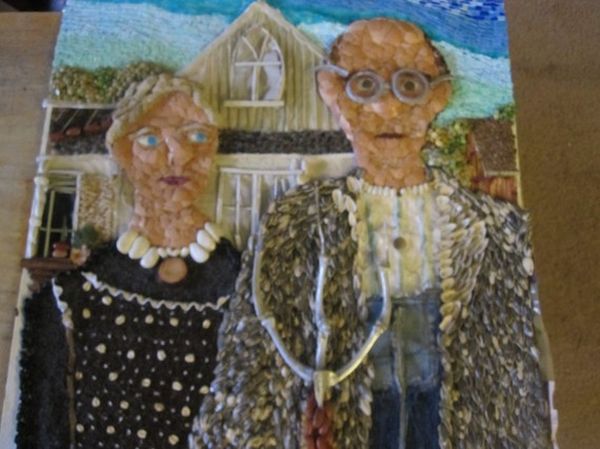 But, one artist has given a unique new twist by crafting the American Gothic with farm leftovers that range from seeds and nut shells to chicken bones and wood. The creative maker of this latest version incorporated even bits of shredded jeans into this unique creation. The idea here seems to be that everything can be recycled and reused, sensibly. By recreating the American Gothic, an iconic image, with recycled materials a strong message of going green is sent across to people.
Of course apart from the eco conscious intent, there is amazing amount of skill and artistry involved in making something like this. The American Gothic does show a farmer with a pitchfork and hence it seems only appropriate that recycled farm materials have been used for this version. The artist plans to use various plastics from yogurt and cheese containers for the sky in the background and while this is yet to be finished, we are eagerly awaiting the day when we will finally see it.
Via: etsy