Biking has to be one of the most rewarding experiences for those who aren't adrenaline junkies. However, some bikers in Costa Rica are taking their obsession to another level. Apart from being a popular destination for medical tourism, Costa Rica also houses some of the most devoted bikers on the planet. These bikers have found a new way to promote eco-friendly transportation. They modify their bikes in such a way that they can easily put them on rails. Like most of us, they too have come across old and unused rail tracks during your many trips. They too wished that they could be put to use again. However, instead of letting them rust, by making rail bikes, they are making use of them. Let's see how they are doing it.
Rail bike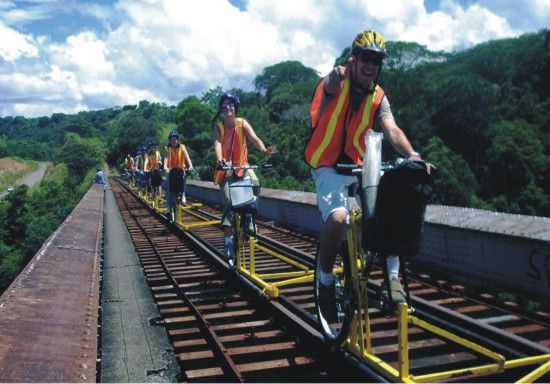 Rail bikes are ordinary bicycles with special attachments that allow them to be ridden directly on train rails. It's a cool concept that allows a bunch of people to pedal on the rail track while exploring. Unlike regular rail transport, which causes tremendous pollution, this bicycle is comparatively cheap with the additional benefit of zero damage to the environment.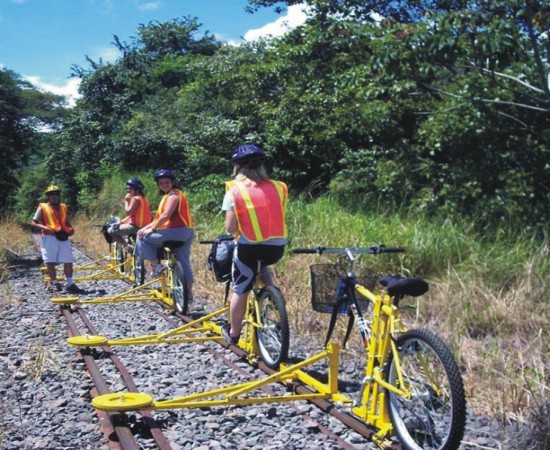 In case you are in a mood to explore with this bike in Costa Rica, you will also get a helmet and safety vest, a tour guide, a support vehicle, lunch box, water, juice or soda accompanied by typical Costa Rican lunch. It is a smart move by Costa Rica, and the bikes only cost $70 in case you possess a student ID card, and $65 with a Costa Rican proof of residency.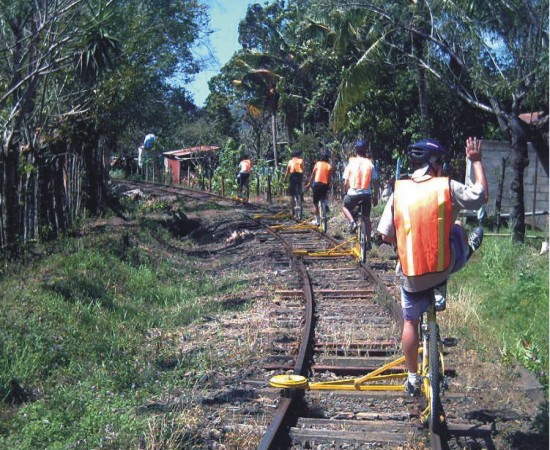 Via: Railbike Tours
DIYers modify bikes to make them rail worthy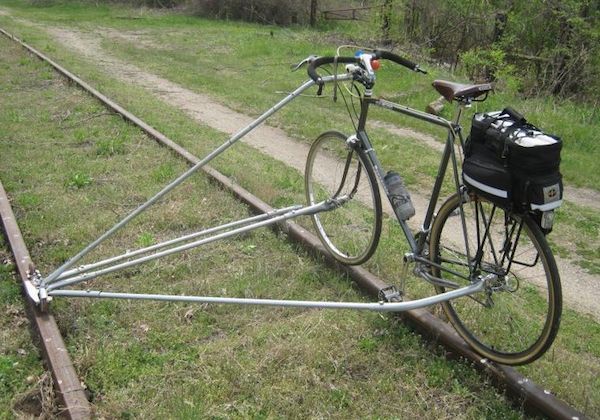 The DIY project is a fun way to make use of tracks lying unused as well as giving you something practical to do. The 'rail bike' utilizes a device on the front wheel to keep the bike in line with the track. An outrigger has been fitted to the bike as well to ride the other track. Will says that he used a conduit, a bike fork, cut up razor scooter parts, retaining pins and numerous nuts and bolts to turn his ordinary cycle into a rail worthy one. Nothing has been welded so almost anyone can turn their bicycles into one of these contraptions.
The tricky part was to get everything measured precisely. However, despite all his calculations and hours of hard work, the rail bike met with a bit of a mishap after the guide on the bike's side caught a railway tie and the frame bent. Will is in the process of perfecting his project and we're looking to hear from him and his work. Till then, we'll be trying our hand at converting our bicycles into rail worthy bikes too so we can make use of the many defunct railway lines that dot the backcountry.
Via: Makezine
Eco-friendly bikes that would make perfect rail bikes
1. Greencycle

Crafted by designer Paul Maringka, this bicycle is all about going green in simple and yet elegant fashion. The Bamboo frame allows it to be both sustainable and strong while overall design ensures that there is plenty of space to carry stuff around. Simple and resourceful, the Greencycle design speaks volumes about sustainability.
2. Recyclable plastic folding bike

If you wish to get to your office in a stylish and sleek bicycle, which folds up and stores easily ,then Omer Sagiv gives you a good option with its 'Recycle Me'. This green bicycle is crafted from recyclable molded plastic and can fold up into a compact unit that can be carried around easily. Also coming with it are dynamo powered lights and inbuilt seat suspension.
3. Wooden Bike by Waldmeister

Do you want to give your modern bicycle frame an antique look? Well, if you are fond of wood, then German designer Marcus Wallenberg Meyer has the perfect bicycle for you. Just one look at its stunning frame and you are sure to fall in love with it. Do not be fooled by its looks; it is not just a 'pretty face' but offers as much sturdiness as all those bicycles with metal frames.
4. EADS Airbike

EADS (European Aerospace and Defence Group) Airbike is surely the most unusual of all the bikes on offer here. It is not so much because of the material used, but thanks to the way it is crafted. This futuristic bike can be just rolled out of a printer as and when you want one. The technology combines 3D Printing with Lasers along with additive layer manufacturing to offer an ultra strong Nylon bike. The individual parts will be crafted by the 3D printer and you can then just assemble them to get your Airbike.
5. Cardboard Bike

This one tops on the unusual list for sure. Crafted by Phil Bridge, entire bike can be put together at mere $30 and that allows everyone to enjoy the benefits of a little cycling. Of course, the Cardboard frame still has to be perfected so that it does not collapse when it gets wet and with industrial packaging widely available for reuse, maybe use of such material would offer greater stability. But either way, this one wins hands down when it comes to 'out-of-the-box' design.
6. Bamboo Bike from Calfee Design

These bikes use the best bamboo available to give you an ultra light frame that is both strong and durable. The green bicycle will also offer you as much comfort in riding as any other out there despite its Bamboo frame. Another 'green' aspect that comes attached as one of these Bamboo Nikes will set you back by as much as $5000. No, we are not kidding, that is the actual price according to its designer Craig Calfee.
7. Frii: A colorful plastic bike with eco friendly traits

Conjured up in its eye catching brilliant form by Dror Peleg, Frii has been crafted from recycled plastic material using injection molding technology. In a world of bland bicycles Frii is like a vibrant and free bird from the jungles of Amazon that is splashed with a multitude of colors.
8. Embira Bike

Here is another beautiful bike with a wooden frame. Somehow all the plastic and metal in the world does not seem to compare to wood when it comes to sheer charm. Embira uses a brawny plywood frame and also has parts like the handle and the saddle crafted from recycled parts. With no brakes on all you need to do is peddle in reverse to slow it down.
9. Cicloviaérea

Crafted ever so mesmerizingly by Jarbas Lopes, these series of bicycles seem like woven work of art than real bikes with wheels that can carry you around. But they indeed perform like most bikes and are made completely from natural fiber. We would love to have one of these for sure.
10. Indonesian Bamboo Bicycle

Seems like Bamboo is the favorite material of designers when it comes to crafting sustainable and unusual bicycles and so, we are finishing off with this Bamboo beauty from Indonesia. Everything about this bike's frame shouts out 'biodegradable' and even the seat is crafted from Bamboo. Despite that, it promises to offer a comfortable and obviously 'emission-free' ride.
Read More:
Hotels are now focusing on eco friendly transportation services
The new era of transportation will be friendly to the environment